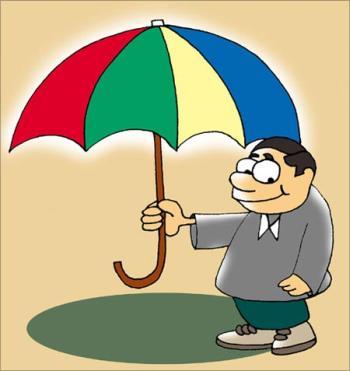 For those who cannot afford costly treatment charges, health insurance provides the safety of an umbrella, says Dhruv Sarin.
Illustration: Uttam Ghosh/Rediff.com
People generally believe that...
Health insurance is for rich people
Saving is the only way to manage funds at the time of emergency
Health insurance is an unnecessary requirement and it benefits the company more than the buyers
Reality check
Before buying something expensive, we, as human beings, typically think it over multiple times before making a decision.
Let's face it -- we want to make every penny count. And why not? it's our hard earned money.
But if you too think that insurance is only for the rich and benefits the company more than the buyers, let's do a reality check about its usefulness and why people should buy it.
Health insurance serves everybody
Getting health insurance is more important for the people who cannot afford the costly treatment charges rather than for those who easily can.
As time and tide wait for none, health insurance is a must have for people whose backbone gets crushed by hefty charges of medical treatments.
It is just a way to secure yourself from the risk that you might face in the near future. Even for the wealthy, a major critical illness can break their back.
Health insurance provides long term benefits at minimum cost.
If you compare various health insurance plans then you will find that for lower premiums you can get high-end facilities.
For a sum insured of Rs 10 lakh, an average individual of 30 years or so will pay premium as low as Rs 5,000 to Rs 12,000 per annum.
The premium for your insurance can be paid monthly/quarterly/annually, depending upon the ease of the insured. This shows that health insurance is made to serve anybody and everybody.
Diversify your assets
The idea of saving is omnipresent and has been a part of our life since childhood.
From saving toffees to trinkets, we have done it all but when we start earning money the criteria of saving changes. Your household savings can give you the mental satisfaction of your money being near you but does it really give the security.
In the long run, mere household savings decrease the productivity of the money and close the other doors of investment.
For example: if you have invested 80 per cent of your wealth in order to increase its worth for the time ahead, then for that 80 per cent invested, you need to protect yourself from the unexpected medical costs, so as to avail the investment benefits.
Both time and life are important and you can protect them by investing in health insurance which secures your present and future, as well as other assets you have invested in.
What happens when you have saved or invested Rs 20 lakh in financial assets like fixed deposits, savings and mutual funds, etc., but suddenly a critical illness like cancer hits you?
With no health insurance in hand, all savings are gone and you are left with nothing in your hand!
Troubleshoot your confusion
Something which provides you security can never be unnecessary. What you have today, you may not have it tomorrow; be it health or money, nobody can define their age of existence.
Stating that insurance benefits a company more than the consumer is not justified enough as it's a give and take process.
Insurance is not charity; it's a service provided by insurance companies and making some profit is a part of their work but providing benefits to consumers is their sole task.
The common mistake made from the consumer end is the negligence of reading documents. If the documents are to be followed from the very beginning then the idea of getting fooled or bluffed at later stages reduces.
Fortunately, the lengthy and bulky paperwork policy has been cut short by the advancement of technology.
By investing some efforts towards becoming attentive and focused could help you feel smarter and choose what's best for you.
Health insurance is like an umbrella which should be present in every home even if you don't use it daily.
Dhruv Sarin is head of health insurance, policybazaar.com