How you spend the last few days in the organisation matters a lot. Here's a quick guide about what to do and what to avoid...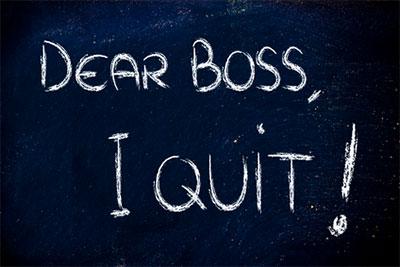 It is natural to experience excitement while joining a new workplace and an eagerness to build relations in a different atmosphere.
Every new venture marks the start of a fresh chapter in your professional career.
Before embarking on a new project or joining a new organisation however, it is very much essential to terminate your prevailing roles and responsibilities in an apt manner.
Resignation is one such move; where planning ahead is advisable.
To begin with, leaving the old job without a new offer letter is foolishness.
While you search for a new job, be ready to serve a proper notice period, which can vary from two weeks to a month.
In a way, the last month spent in the company makes your boss realise how efficient you are.
Sometimes your colleagues get to know your real talent during this time; this is because you tend to work harder to fulfil your remaining tasks and make a hand over for a smooth transition during the notice period.
Before you put in the actual resignation, speak to your boss in person, telling him about the difficulties you face presently or the career growth options in the other company you wish to join.
When the employee specifies reasons for leaving the company, it helps the company in future reference.
A good resignation letter should include an announcement of your intention to resign, the date on which your resignation will be effective and positive statements about the good experience you have gained while working for your current employer.
It should also confirm your willingness to ensure a smooth hand-over of your projects to your successor and your appreciation to your employer for the opportunity of working for them.
After you put in your resignation, some important tips you must keep in mind are as follows:
Hand-over your task to the new employee
Take an extra effort to teach and brief about your work to the employee taking over your role, if requested by the management.
While inducting someone better than you may work against your instincts, your employer will be thankful for your efforts and the gesture will ultimately reflect well on you.
Think about the company's future and betterment
Share your clients and database with other employees before you make an exit.
Be prepared for an exit interview
If the company's human resource team has an exit interview with you, be polite and never say something negative.
Regardless of whether you are leaving immediately or giving notice, and whether you are leaving on positive terms or you absolutely hate your boss and you can't wait to get out, it's important to think carefully about the things you say.
Share positive farewell notes with your colleagues and other working staff
Exchange numbers and e-mails to keep your doors open in terms of networking.
If you are leaving for personal reasons and you don't have a new job offer in hand, it still makes sense to keep good relations with everyone and work hard.
In this case, it might be even more important to leave on good terms, since you might need the references later from your colleagues and boss.
Work on your deadlines and give better inputs
Doing this creates a better impression.
Make it a priority to continue to work hard, attend meetings, and finish projects during your final days at your current company.
Though you may be busy meeting your deadlines and proving yourself, don't create a negative atmosphere by indulging in gossip and idle conversation with other employees; instead concentrate on your work.
There might be many rumours about the employee serving notice period, but to maintain the decorum one should always avoid such intimate discussions.
It is not always advisable to share your new company details and package with the other teammates.
This can create a negative impact on them, giving rise to a sense of inferiority and lack of interest for their job.
Sometimes being in a company for a longer time makes people get emotionally attached to the people around.
Maintaining a sense of decorum, decency and the right state of mind is equally important while severing ties with the company.
Your last impression could seal your reputation in your past organisation hence resigning gracefully is imperative.
Remember that the goodwill and high reputation you inculcate in your last organisation is more valuable than the last pay cheque you take home.
Lead image used for representational purposes only.
The author Sanjoe Jose is CEO and co-founder, Talview.com, a video interview services provider.