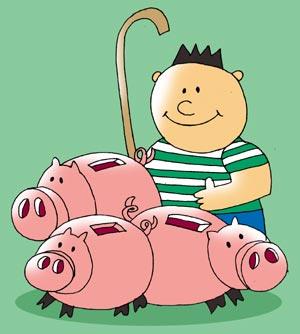 Have you ever thought of options that are safer like the savings bank account, and additionally provide higher returns?
K Ramalingam suggests you invest your idle money from savings account into liquid funds
Illustration: Uttam Ghosh/Rediff.com
Introducing liquid funds
Have you ever thought about liquid funds and its possible benefits? Let us examine what this has to offer.
How safe are liquid funds?
Liquid funds invest only into instruments with fixed incomes and high credit ratings; for example, commercial papers, government treasury bills, certificates of deposits , etc.
Many corporate put their money into liquid funds, because of the very low risks involved.
The total amounts invested into these funds were approximately 2.6 lakh crore, which clearly shows that these funds are popular.
How quickly can you redeem them?
These funds are available with a redemption cycle of T+1 day.
Therefore, if you give a redemption request today before 3 pm, then the funds for the same will be available into your bank account, the next day at most by 11 am.
How much return should you expect?
These funds do not assure you of guaranteed returns, as no mutual funds scheme has the permission to do so. This proves to be one major obstacle. However, in the recent past, the liquid funds are delivering around 8 to 9 per cent.
Learning from the past experiences and rather than earning a meagre return of 4 per cent from savings bank investment, it is always beneficial to go for investing in to liquid funds.
It is therefore a passive decision to let your money remain idle in to a savings bank account.
Alternatively, investing the same into liquid funds can get you higher returns, without having to compromise on liquidity. Moreover, you can also use these funds as a supplement to your savings bank account.
What are the other reasons for moving towards investing in a good liquid fund?
In spite of the RBI deregulating interest rates on savings bank accounts, only a few banks offer 6-7 per cent per annum.
Apart from this, switch to another bank may also bother you, with no guarantee that it will continue offering you the same rate. Thus, investment into liquid funds is always an intelligent step.
Selecting a good liquid fund: The whens and hows
Always choose a fund that has been in existence for over 5 years. Apart from this, the fund should have a low expense ratio and a high corpus of over Rs 500 crore.
Debit card facility
Some of the liquid funds come with an option of debit cards. You can withdraw cash from ATMs using these cards. Also you can swipe and pay with these cards on points of sale. So there is no requirement for you to keep more money in your savings account.
Your entire temporary surplus can be parked in a liquid fund.
Concluding the analysis over liquid funds, we would just like to mention that these funds are good additional routes for investment into savings bank account, regardless of whether you want a temporary or an emergency investment option.
Ramalingam K, CFP CM is the Chief Financial Planner at Holistic Investment, a leading financial planning and wealth management company