We had asked you, dear readers to share your good and bad ATM experiences.
P Nair, 46, shares his bad experience at an ATM. You can share yours too!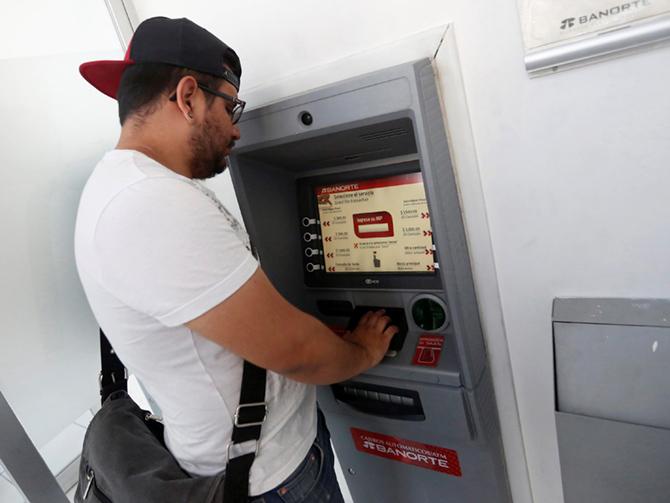 I had a bad ATM experience at Thane West.
I was trying to withdraw money from a HDFC Bank ATM. When I inserted my card into the machine, the card went inside the machine, after a few seconds I heard three beep sounds.
Then I thought the (message on the) screen will (ask me) to enter my pin number and the amount which I want to withdraw.
I do not understand what happened but my card did not come out; the screen stood as usual and my card stuck inside the machine. Immediately I contacted the HDFC Bank next door and they asked me to write a complaint to the branch and after 15 days collect the card from the branch.
These types of ATM machines make the common man's life go haywire.
Photograph: Edgard Garrido/REUTERS
Lead image used for representational purpose only.
ALSO SEE
ATM woes: 'When I inserted my card, I was in for a surprise'
ATM woes: HDFC paid Rs 2,700 as penalty
ATM woes: 'The money was credited in 24 hours'
ATM woes: 'I still haven't received the money'
Dear readers do you have an ATM story to share?
What problems did you face and how did you deal with it?
Mail us your stories and advice at getahead@rediff.co.in (Subject: ATM woes) along with your NAME, AGE and LOCATION. We'll share the best ones right on Rediff.com.
DISCLAIMER: The views and responses published are, to the best of our knowledge, original entries submitted by readers. Rediff.com does not assume any responsibility for the views expressed by its readers.