Maya Vishwakarma gave up her job as a scientist in California to make 'No Tension' sanitary pads for tribal women who have never used one before.
Archana Masih speaks to the real PadWoman.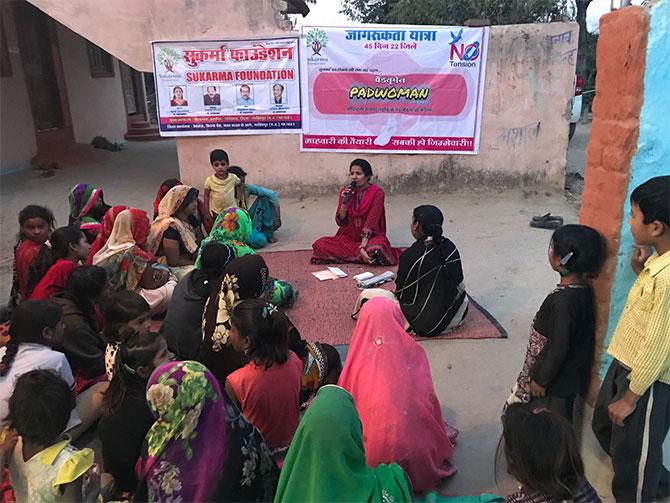 IMAGE: Maya is visiting 22 tribal districts in Madhya Pradesh, speaking to women about menstrual health and bringing them low cost sanitary pads. Photographs: Kind courtesy, Maya Vishwakarma/Facebook
If the telephone does not keep getting disconnected, there is a cross connection.
At the other end of the line is a woman in rural Madhya Pradesh, known as 'Pad Didi', spreading awareness in villages about menstrual hygiene and the use of sanitary napkins for the last two years.
In between the faltering phone connectivity, Maya Vishwakarma -- a scientist from California who spends most of the year in India, taking sanitary pads to poor rural women -- excuses herself to talk to village women.
She visits a couple of villages every day and is travelling through 22 Adivasi villages in Madhya Pradesh from February 8 to March 23 to spread awareness about menstrual hygiene.
A low cost sanitary pad making unit in her native village in MP's Narsinghpur district was inaugurated by local women last week. Manned by 12 women, who work in two batches, the two machines at the factory make 2,000 low cost pads every day.
A packet of thin, extra, large pads cost Rs 25 and is distributed by self help groups.
Aptly, the pads are called 'No Tension'.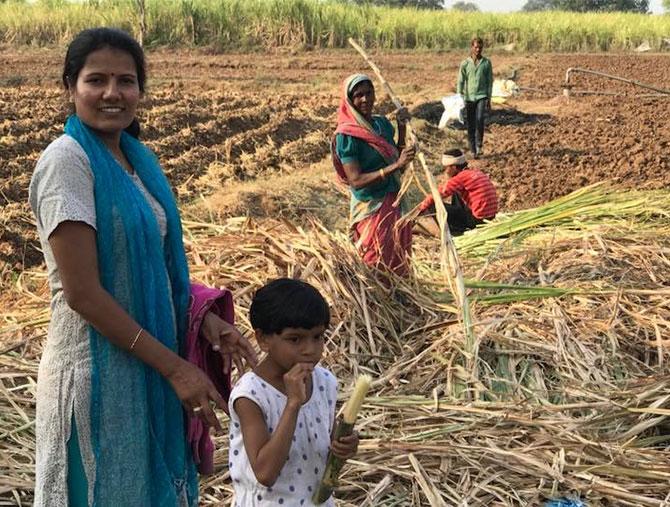 IMAGE: "It is uplifting that now people are talking about periods, hygiene and pads," says Maya. "Men are at least hearing about mahavari (the Hindi term for menstruation)."
"Rural women can easily pronounce it," says Maya, a native of Mehargaon village in MP. She recalls she grew up in a very humble, rural, household and used a sanitary pad for the first time aged 26.
"Most women still use cloth till we introduce them to pads. They don't know how to put them on and have to be shown how to use it," she says.
She speaks to women in Bundelkhandi, which is her native language and helps establish an instant connect. Speaking to me in a mixture of English and Hindi, a faint American twang borders some of her words, a result of spending nearly 10 years in the States.
In her Facebook posts about her work and life, she uses Hindi in Devanagiri script, reflecting an ease and love for the local.
Her rootedness is refreshing.
"I have also realised that because more and more women are wearing synthetic saris as compared to cotton, the availability of old cotton saris that women used to make pads is drastically reduced," she reveals over the crackling phone line, as she continues to give instructions about pads and menstrual hygiene to women along the way.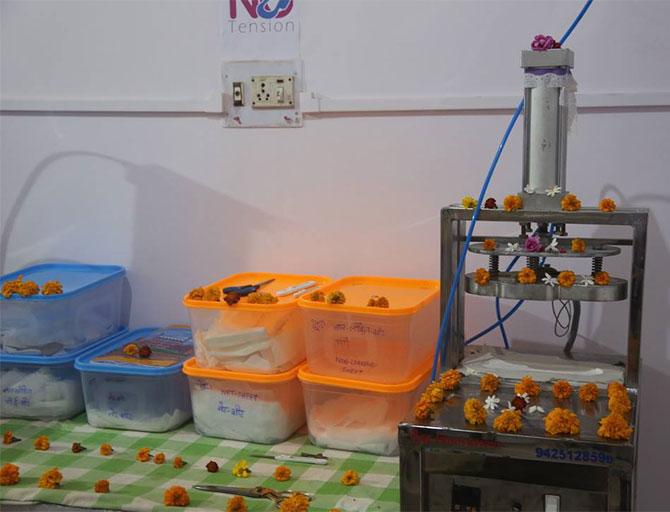 IMAGE: A sanitary pad making machine in Narsinghpur district. The unit was inaugurated last week and is run by 12 women. One packet of pads costs Rs 25.
Conversations with friends on a visit to India four years ago launched this crusade. Two cases in particular really shocked her.
One, when she heard that a common set of cotton cloth pads are washed and re-used by the women of the family.
The other was a horrifying story she read about a woman in Lucknow who had used on old sari blouse as a pad. A safety pin in the blouse got stuck in the uterus and resulted in tetanus. The woman eventually died from the infection.
"This made me think we need to stop this, start having conversations and find affordable solutions," says Maya who studied in a government school, moved to Jabalpur to study bio chemistry, then to the All India Institute of Medical Sciences on a research fellowship in the nuclear medicine department and then to the South Dakota School of Mines and Technology on a scholarship.
"It is uplifting that now people are talking about periods, hygiene and pads. Men are at least hearing about mahavari (the Hindi term for menstruation)."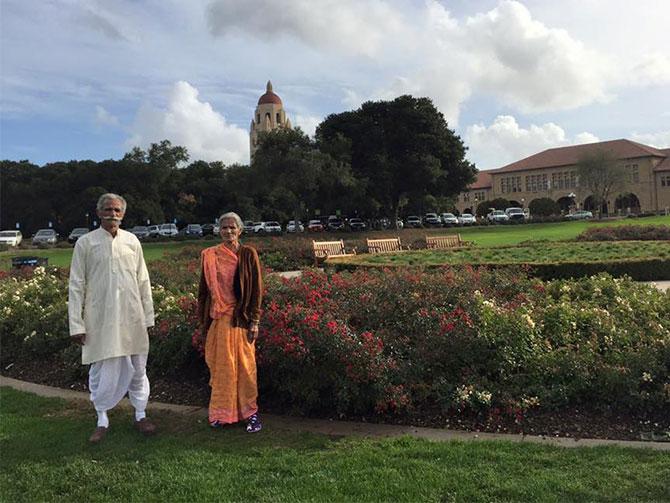 IMAGE: Maya studied in a government school, and later pursued research at Stanford Medicine and University of California Medical Centre. Her parents seen here at the famed Stanford University.
Having grown up with meagre means, Maya's journey itself exemplifies how education transforms individuals and families.
She says her family belonged to the Lohar caste, did carpentry and worked as daily wage labourers. "I too remember going and filling water for the house. We did not own much land for farming."
"It was only after I came out of the village for higher studies did I realised that there was a whole new world outside."
Her parents, she says, are very liberal. They continue to live in the ancestral village home and go to the khet (field). The family situation has improved, she says, "all my nephews and nieces attend better schools."
A highpoint in her life was when her parents got a passport for the first time, after being rejected once because they did not have a birth certificate.
She was thrilled that she could take them for their first foreign trip -- to her home and research lab office in California. The trip was documented for posterity with the love that many Indian children can readily identify with.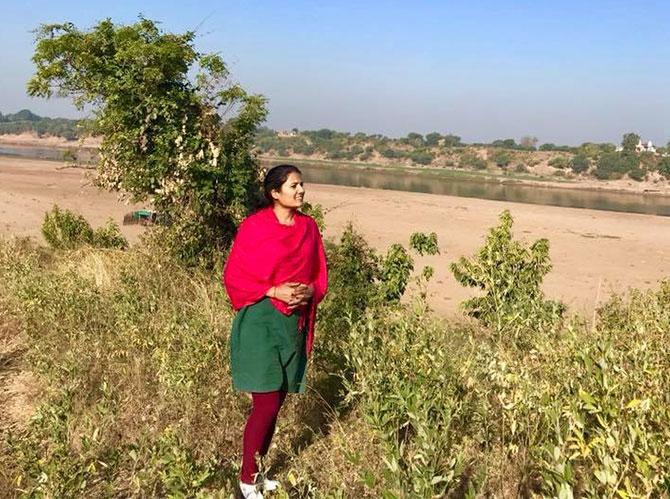 IMAGE: On the banks of the Narmada. Maya spends most of the year in India working for menstrual awareness.
Maya migrated to the United States in 2009 and briefly enrolled for doctoral studies at the South Dakota School of Mines and Technology, but left the PhD programme to take up a job in the University of California Medical Centre to work with a team developing a new vaccine for cancer.
In 2014, she quit her job and moved to India because she wanted to make a difference in the country of her birth. She contested the Hoshangabad Lok Sabha seat in MP as an AAP candidate.
She may have lost the election, but decided to devote herself full time towards working in villages to spread awareness about menstrual hygiene, making available low cost pads and dispelling taboos.
"Taboos are everywhere, even among my relatives," she says.
"Women are not allowed to cook, do puja during periods -- but yes, they are no longer banished from the household like they were before. Those cases have reduced a great deal."
She feels if the government provides some subsidy for her work, it would help, but the best help from the government would be if it uses its grassroot machinery to spread awareness about pads and menstrual hygiene.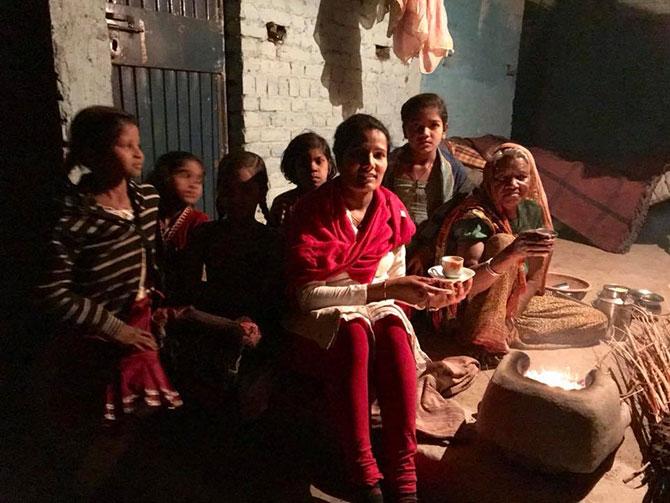 IMAGE: Women and girls open up and ask about pads. They have to be shown how to use one.
The pad making unit is funded by the Sukarma Foundation chapters in California and India founded by Maya. The foundation receives donations from patrons in India and abroad.
Her husband Kaviraj Chopra helps run the foundation from Fremont, California.
"Maya has a willingness to help others," Kaviraj says in an e-mail, "It is admirable to observe how a simple volition with no resources slowly manifests into a project such as the sanitary pad making unit."
In launching the No Tension sanitary napkin, she sought guidance from Arunachalam Muruganantham, the pioneer of low-cost sanitary napkin machines.
She was introduced to him in California and has keenly followed his work. Two years ago, she went to his hometown Coimbatore to meet him and posted on FB that 'his work drove me to think (about) this exceptional India's biggest problem "Menstrual Cycle" for rural women'.
Muruganantham's quest for making low cost sanitary napkins is the subject of the Akshay Kumar starrer PadMan, which released worldwide on February 9.
"Films bring awareness in cities, but in the villages where people don't watch movies, only continuous work at the grassroots helps spread awareness," says Maya.
"You forget films in a week, Padmaavat, which raised such a furore, has been forgotten."
A movie buff, she wants to watch PadMan, but since she finds no time in India from her work, she is waiting to get to Fremont.
Then Pad Didi will watch PadMan.
If you would like to support Maya Vishwakarma, please click here.