She's one of the first women to ride into the male-dominated world of e-commerce delivery agents.
T E Narasimhan meets Sreekumari S.
Illustration: Uttam Ghosh/Rediff.com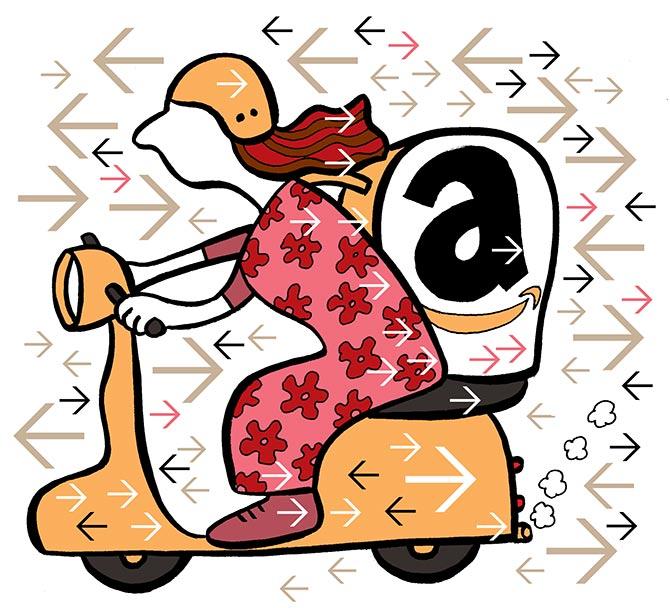 Sreekumari S, a 42-year-old mother of two, reaches her office at Thiruvananthapuram at 8 every morning. After sorting the packets that are waiting for her, she loads the lot into a large backpack, which she then hoists on her shoulders and heads to her Honda Activa scooter, determined to hit the road.
The red bindi on her forehead and the vermilion in the parting of her hair peek out of the helmet firmly placed on her head.
Sreekumari is ready for the day.
A resident of Chempazhanthy, a suburb of Thiruvananthapuram, Sreekumari is one of the first women to ride into the male-dominated world of e-commerce delivery agents -- or 'delivery associates' as they are called at Amazon.
Until recently, she contributed to her family income by working as a tailor from home. In January, her sister who works at the residence of Divya Syam, Amazon's service partner in the region, told her that the e-commerce company was looking to employ, for the first time in India, women as delivery agents.
To qualify for the job, all she needed was good communication skills, basic knowledge of English and a scooter.
Sreekumari jumped at the opportunity.
One of her two sons worked as a delivery associate at Amazon. He suggested that she take up the job. She could be another member from the family -- which also includes her husband, who is a mechanic, and her parents -- to join the sizeable last-mile logistics network of one of the world's largest e-commerce companies.
She says it did not scare her that she had never stepped out of home to do a job until now. After a two-day training, which included traffic rules, personal security and operating mobile applications, she says she was ready.
She now delivers around 40 packages a day riding on her two-wheeler within a 3-km radius of her office. Many of the deliveries are to Technopark, the city's information technology hub.
For every package delivered, the service partner earns a fee of Rs 30. Sreekumari and the others are not willing to reveal how much they earn in a month, but say it is more than what they have ever made.
Encouraged by her success, two women known to her have also joined the company as delivery associates. There are currently seven women, including Sreekumari, who work as delivery associates. Seeing them, she says, more women have started enquiring about the job and what it entails.
One of the questions that pop up frequently is if it is safe. The women delivery agents say they have not encountered any problem so far. In fact, they say people go out of their way to be helpful when they see a woman delivering the package.
There are, however, plans to offer self-defence classes to women delivery associates and launch a helpline for them.
The Kerala initiative is Amazon's first-of its-kind delivery station. Recently, another one opened in Chennai. From management to product delivery, women run the show.
Syam worked in a company at Technopark, while her husband and brother-in-law managed the delivery station that had 25 delivery boys. During her free time, she helped out at the station. She says she would often wonder why there weren't any women delivery agents. So, when she learnt that Amazon was planning to launch all-women delivery stations, she immediately pitched for one.
Samuel Thomas, director (transportation), Amazon India, says the company decided to launch the pilot projects in Thiruvananthapuram and Chennai based on the interest women here showed in joining the workforce.
Sreekumari, meanwhile, wraps up the deliveries by 3 pm and then heads home, back to her sewing machine.