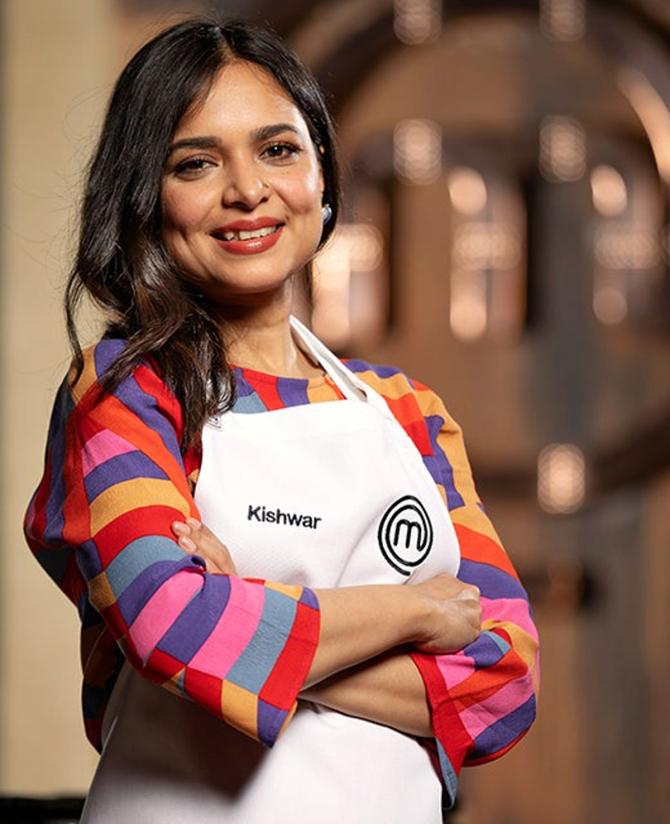 MasterChef Australia Season 13 contestant Kishwar Chowdhury has been serving the judges some impressive Bong dishes -- her recipes will take you back to your mother's homely cooking style.
From the delicious pattice with tangy tamarind chutney, humble Khichuri to the spiced Maach Bhaja of fish fry and flavoursome Begun Bharta or smoked eggplant, she has also prepared Bengali street food on the show.
A Bangladeshi, Kishwar's knowledge of mixing spices and understanding flavours gives her an edge in the MasterChef kitchen.
Here's presenting an India-inspired recipe by the mom of two, who loves to cook for her children.
Big in flavour and packed with spices, the Chicken Korma is served with saffron-infused pilau and a sweet plum chutney.
The sharpness of the chillies and the sweetness of the plum form the perfect base for the dish.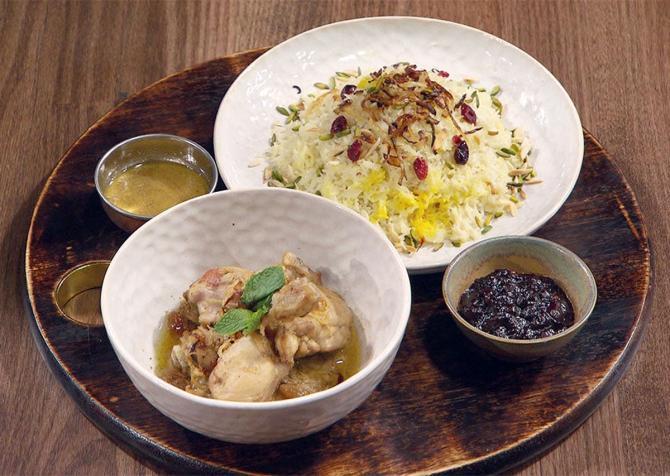 Chicken Korma and Pilau
Serves: 4
Ingredients
For the korma
1.6 kg whole chicken, cut into 8, skin removed
6 tbsp Greek yoghurt
1 tbsp minced garlic
1 tbsp finely grated ginger
1 tsp onion powder
4-5 tbsp ghee
1 onion, thinly sliced
2 cinnamon sticks
4 cardamom pods, roasted
1 tsp grated nutmeg
A small piece mace
1 tsp coriander seeds, roasted and ground
1 tsp cumin seeds, roasted and ground
60 gm sultanas
2 tsp lemon juice
Salt to taste
For the pilau
2 cups basmati rice
Ghee, for frying
1 small onion, sliced thinly
2 tsp ground ginger
1 tsp sugar
1 tsp lemon
2 bay leaves
1 cinnamon stick
3½ cups boiling water
Few strands of kesar or saffron, soaked in 30 ml water
Salt to taste
For the plum chutney
8 plums halved, stones removed
500 ml prune juice, easily available in stores or online
¼ cup fresh cranberries or gogi berries or use the preserved variety
2 tsp amchur or dried mango powder
1 tsp chaat masala
½ tsp jeera or cumin seeds
2 tbsp flaxseed oil
To serve
Cranberries, toasted almonds and pistachios
Method
For the chicken korma
For the korma, place the chicken pieces into a bowl.
Add the yoghurt, garlic, ginger, onion powder and salt and toss to coat. Set aside for 30 minutes.
Heat 3 tbsp of ghee in a deep heavy bottom frying pan over medium heat.
Add the cinnamon stick.
Once hot, add some of the chicken pieces from the marinade (reserve the marinade) and cook a few pieces at a time, until lightly browned and sealed.
Keep aside the fried chicken.
Add the additional ghee to the pan.
Add the cinnamon sticks, cardamom, nutmeg and mace.
Add the remaining marinade, coriander and cumin.
Cook, tossing the ingredients until golden and fragrant.
Add ½ cup water to create a stock. Season with salt then return chicken to the pan.
Cover, with a tight-fitting lid, and simmer gently until chicken is cooked through, for about 20 minutes until sauce has reduced.
Finish with sultanas and a squeeze of lemon.
For the pilau
Soak the basmati rice in water and set aside.
Place a large frying pan over medium-high heat and add 2 tbsp ghee.
Once melted, add the onions and cook until golden. Leave ¼ onions in the pan, draining and setting aside three quarters for garnish.
Add the ginger, sugar, squeeze of lemon, cinnamon stick and bay leaves to the pan.
Drain the rice well and add to the pan. Stir to toast slightly.
Add boiling water and cover with a tight-fitting lid.
Reduce heat to low and simmer until rice has risen to meet top of water and is fluffy.
Make 4-5 small pockets of the rice with back of spoon and pour in saffron liquid.
Allow rice to soak up remaining liquid on lowest possible heat or set the saucepan on cast iron flat pan to prevent the base of the rice from burning, about 10 minutes. Season to taste.
For the plum chutney
Simmer the plums, cranberries and prune juice into a small saucepan until liquid has reduced by about ¾ and thickened in texture.
Add salt, amchur powder and chaat masala, to taste.
Place the flaxseed oil into a small saucepan.
Add the cumin seeds and cook until fragrant, about 1 minute.
Pour into the chutney. Remove from the heat and transfer to a small serving bowl.
Serve the Pilau, Korma and Chutney in bowls on a large serving tray (please see the pic above).