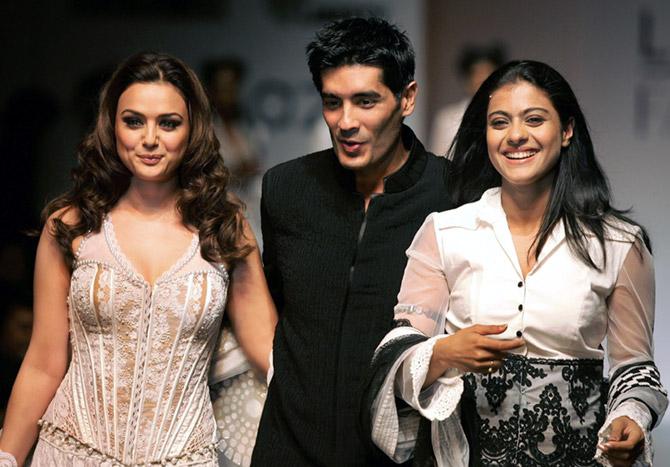 On the designer's 50th birthday, some cherished moments on the runway.
Bollywood's favourite designer turned 50 on December 5.
Manish Malhotra has dressed almost every top actress in B-town and redefined Indian fashion for showbusiness.
What better way to celebrate the designer's ladnmark birthday than a trip down memory lane, revisiting those magical moments he gave us on the runway.
#1. When Ranbir and Hrithik hoisted Manish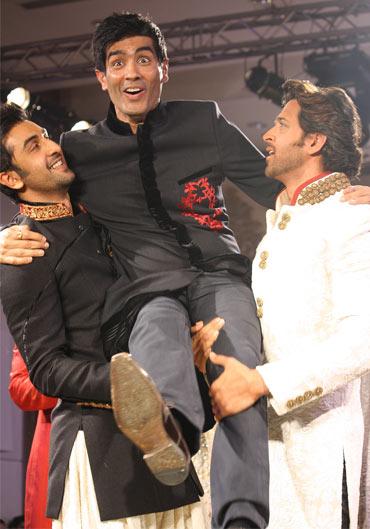 IMAGE: 2011. Hrithik Roshan and Ranbir Kapoor, two of Bollywood's best dressed men, surprised Manish at the end of Shabana Azmi's annual fundraiser fashion show, Mijwan.
Photograph: Rajesh Karkera/Rediff.com
#2. Nita Ambani turns showstopper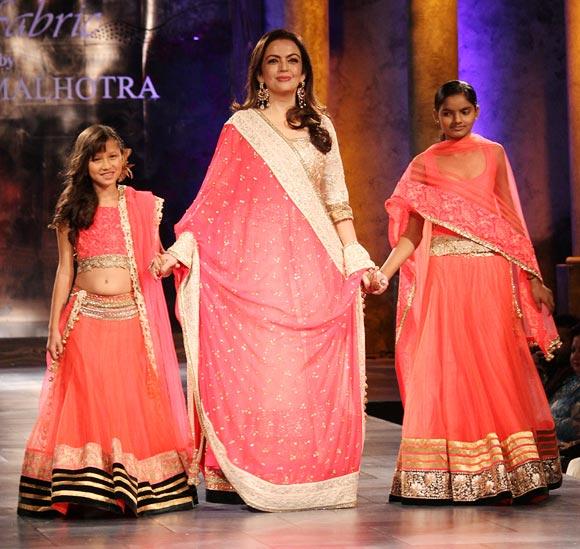 IMAGE: Manish popularised and redefined 'showstopper'.
Nita Ambani walked the ramp with two young girls from Mijwan for Manish in 2012.
Photograph: Hitesh Harisinghani/Rediff.com
#3. Mary Kom walked for Manish too :)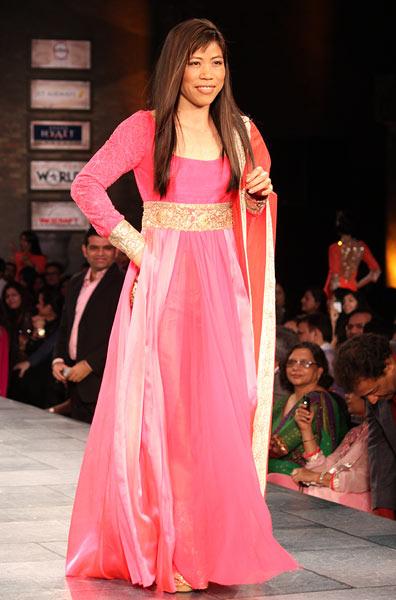 IMAGE: Mary Kom in a gorgeous floor-length pink anarkali in 2012 soon after qualifying for the London Olympics, where she won a bronze medal.
Photograph: Hitesh Harisinghani/Rediff.com
#4. Celebrating the magic of Phulkari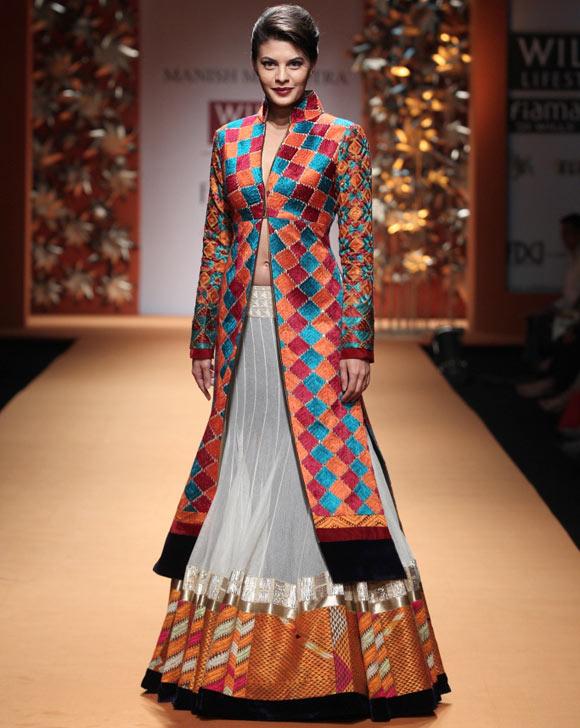 IMAGE: Manish celebrated Phulkari, embroidery from the land of his ancestors, Punjab.
Jacqueline Fernandez in one of Manish's creations from his collection, Threads of Emotion, in 2013.
When quizzed why he ropes in B-town faces, Manish told the media: 'The idea is to focus on craftsmanship and showcase it at various fashion weeks by roping in celebrities, thus making it more popular and in turn influencing more people to wear these hand-crafted pieces.'
#5. Aishwarya Rai Bachchan returns to the ramp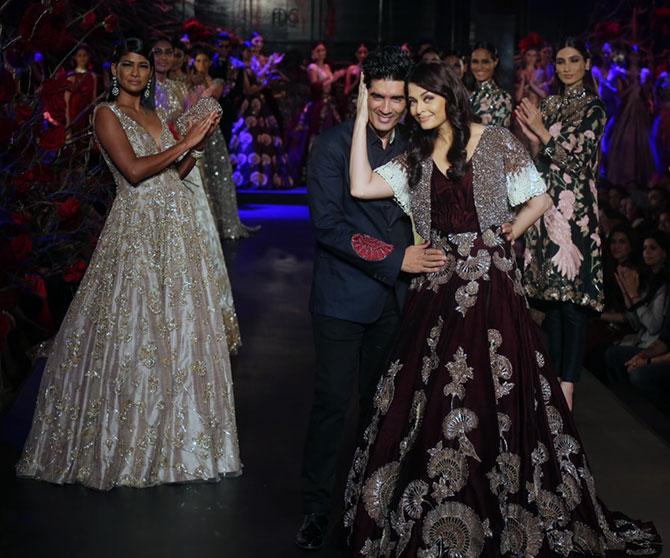 IMAGE: Aishwarya Rai Bachchan looked enchanting as the showstopper for Manish's grand finale at the India Couture Week in Delhi, 2015.
Aishwarya was dressed in one of Manish's favourite fabrics, velvet!
#6. Bollywood hunks together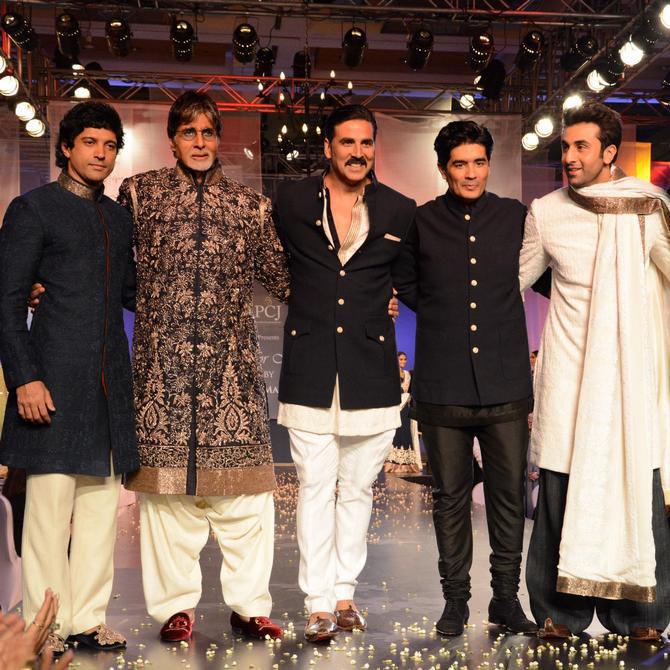 IMAGE: Since 2010, Manish has presented the show in support of the late Kaifi Azmi's Mijwan Welfare Society that Shabana Azmi and Namrata Goyal currently head.
In 2014, Manish hosted a standalone show where he brought together the biggest names in Bollywood for Men for Mijwan.
#7. Transforming Alia
IMAGE: After watching his show in 2012, Alia Bhatt hoped she would one day walk for Manish.
Two years later, in 2014, Alia strode the ramp in a red lehenga, weighing almost 25 kilos.
Alia with Manish and Aditya Roy Kapur at the India Couture Week 2014.
Photograph: Kind courtesy India Couture Week
#8. With his Muse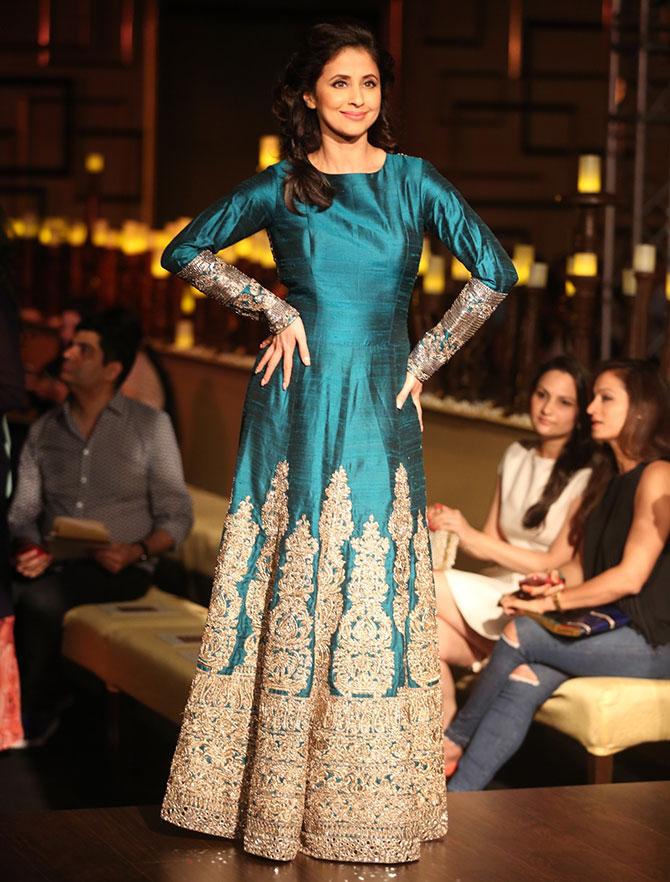 IMAGE: Urmila Matondkar and Manish share a very special bond.
Manish won his first Filmfare Award for Costume Design in 1995 for Rangeela, Urmila's blockbuster.
Urmila attended the India Couture Week 2014 dressed in a gorgeously mind-blowing Manish Malhotra ensemble.
Photograph: Kind courtesy India Couture Week
#9. Amazing Katrina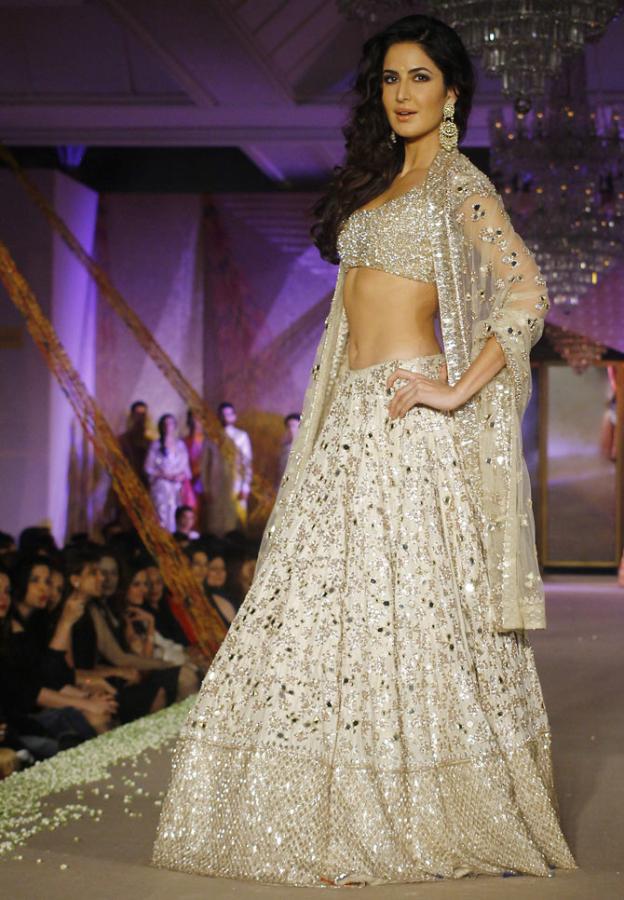 IMAGE: Katrina Kaif showed off her toned abs at Manish's January 2016 show.
Dressed in a white embellished lehenga, Katrina stunned everyone present.
Photograph: Hitesh Harisinghani/Rediff.com
#10. Celebrated dads and daughters
IMAGE: In 2015, Manish saluted Bollywood dads and daughters -- Sonam Kapoor and dad Anil Kapoor; Sonakshi Sinha and Shatrughan Sinha; Shweta Nanda and Amitabh Bachchan among others -- at the Mijwan fashion show.
Photograph Kind Courtesy Manish Malhotra/Facebook
#11. Powerhouses in the same frame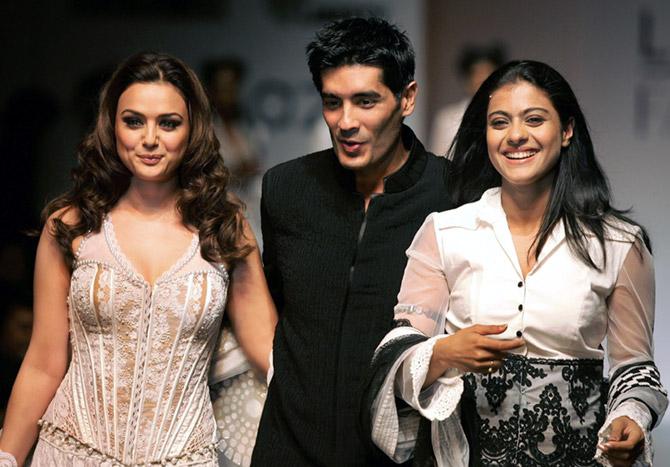 IMAGE: During the Lakme Fashion Week in March 2008, Manish got Kajol and Preity Zinta to join him.
Photograph: Punit Paranjpe/Reuters
#12. The iconic Vogue cover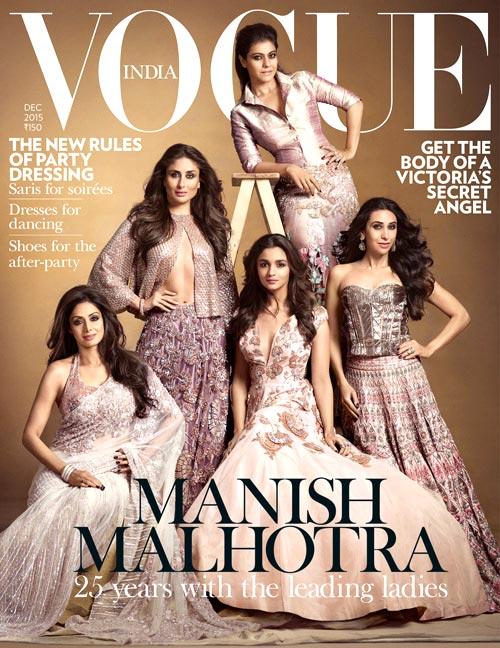 IMAGE: In celebration of his 25 years in fashion, Vogue magazine presented a cover featuring Bollywood divas dressed in Manish.
From Sridevi to Alia Bhatt, Karishma Kapoor and Kajol to Kareena Kapoor, they were all there for Manish.
Photograph: Kind courtesy Vogue
#13. Dance in the rain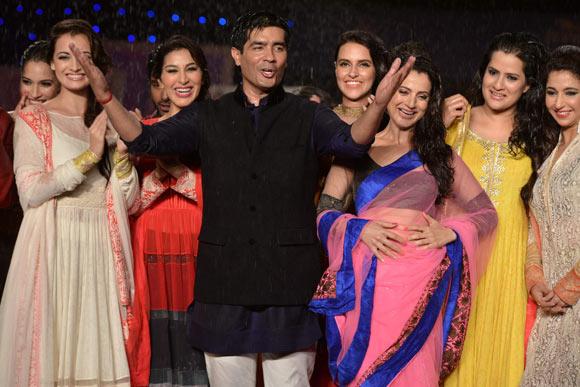 IMAGE: In 2013, when it began to rain during a show, Manish and the celebs walked the ramp in the downpour.
#14. Kareena and Shahid together for, who else, Manish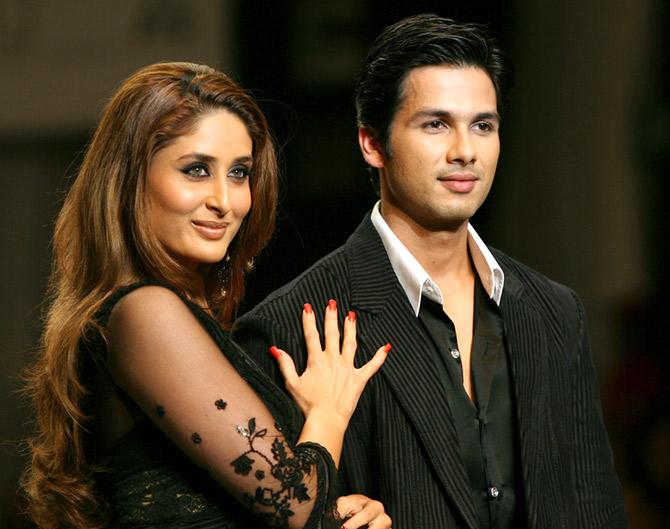 IMAGE: They may no longer be a couple, having married more interesting people, but remember the time Manish got Bebo and SK to make a stylish entry on the final day of the India Fashion Week in New Delhi in 2006.
Photograph: Vijay Mathur/Reuters
#15. 'Gender equality' via Manish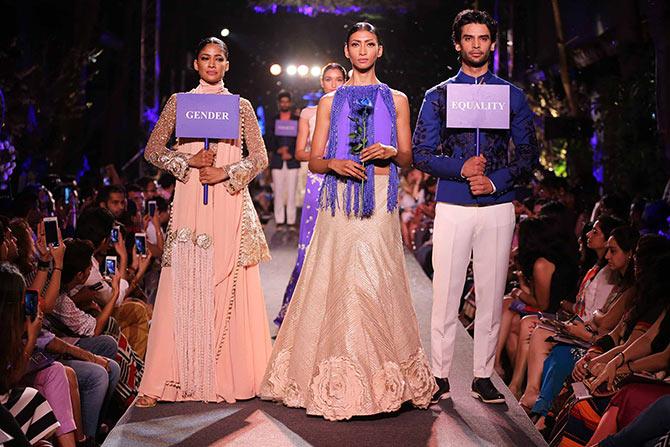 IMAGE: With great power comes great responsibility.
Through his summer collection in 2015, Manish raised awareness of gender violence.
At the Lakme Fashion Week Summer/Resort 2015, models Carol Gracias and Gaurav Arora held banners that spoke for the cause.
Photograph: Kind Courtesy Lakme Fashion Week/Facebook
#16. SRK would do anything for Manish
IMAGE: Remember the time SRK appeared on the runway for Manish with his right arm in a black and golden sling, days after surgery to repair a shoulder muscle?
Photograph: Punit Paranjpe/Reuters
#17. Those were the days...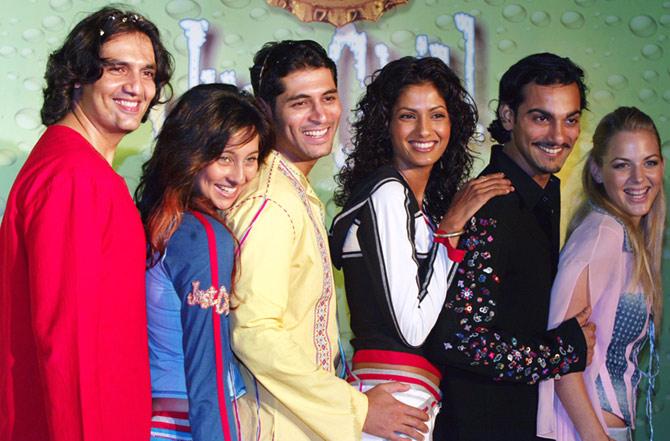 IMAGE: 2003, when Manish was coming of age.
Marc Robinson, Anusha Dandekar, Tarun Arora, Sheetal Malhar and Tarun Raghavan present designs from Manish's ready-to-wear summer collection.
Photograph: Arko Datta/Reuters