'At present I have lost almost Rs 4 lakh.
What do you advise?'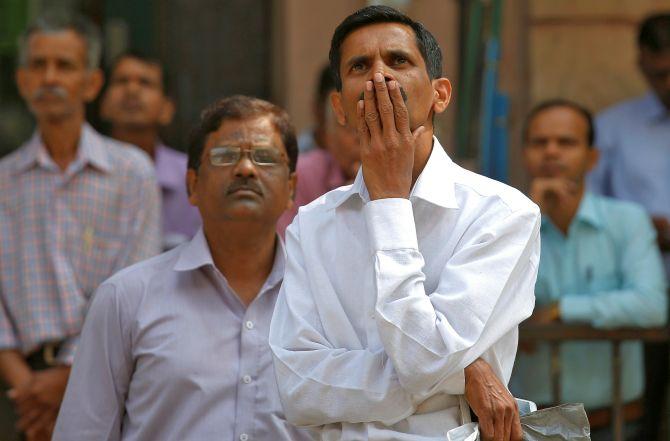 Ajit Mishra, vice president, Research, Religare Broking, answers your queries:
---
Hemanth Kumar: I have the following shares purchased at. Please recommend future course of action.
Ajit Mishra:
Shreeram Godbole: I am holding 1200 shares of Avanti feed since last 3 years. At present I have lost almost 4 lakhs. This stock fluctuates very violently. What do you advise on this stock?
I am also holding Aditya birla capital 1000 shares. Here also at present trading price I have lost 1.4 lakhs. should I hold it or get rid of these stocks? Please advise.
Ajit Mishra: Both stocks are seeing recovery and you may hold for now.
Nilanjan Ganguly: I am sharing with you my present portfolio along with the purchase price. Please advise whether should I hold, sell or buy these stocks.
1. Bajaj Finance 23 stocks @2850.00 each
2. Bata 2 stocks@1409.07 each
3. BPCL 20stocks@338.55 each
4. Eicher motors 2 stocks@17670.09each
5. Gail 50 stocks@77.76 each
6. HDFC Bank 40 stocks@1083.86each
7. ICICI Bank 20 stocks@ 374.14 each
8. L&T 50 stocks@1110.73 each
9. Relience 25 stocks @ 1183.36 each
10. SBI card 20 stocks@ 744.83 each
11. SBI 45 stocks@ 223.98 each
12. Tata motors 20 stocks@ 87.08 each
13. Tata Steel 30 stocks@274.18 each
14. Titan 25 stocks@ 974.51 each
Ajit Mishra: Hold all the stocks for long term with long term view.
Lokesh Yeolekar: I hold below shares please let me know your opinion: i can hold for decent time. but want to invest more money in shares however cannot as all above shares stand still whether market up or down.
1. TATA motors
2. Motherson sumi
3. Bombay dyeing
4.Idea
5. Yes bank
6. SBI card IPO.
7. NBCC
8. Karur vyasa bank
9. Ashok leyland
10. IOC
Ajit Mishra: Exit Bombay dyeing, NBCC, Karur Vyasa and Hold rest.
Nagaraju Pogulakonda: I am holding 250 shares of ERIS LIFE SCIENCES bought at Rs 500 level. Kindly convey your opinion on the same.
Ajit Mishra: It's currently consolidating in the middle of the moving averages ribbon. On downside, support lays at 460. Hold with mentioned SL.
Manish Murlidhar Mahajan: I have following share with long term perspective of 10 years to hold.
Ajit Mishra:

Arka Bose: Please review my holdings. i have a long term view of 10 years
BASF
Bajaj finserv
Bajaj finance
Berger paints
Britannia industries
Colpal
Dmart
hcl tech
Hdfc
Hdfc amc
Hdfc bank
Hdfc life
Hul
Idfc first bank
Iolcp
Infosys
Irctc
Pidilite
Reliance
Sbi carda
Tcs
Ajit Mishra: Only Exit Idfc first bank and Hold all the stocks

Mittal Gandhi: I am regular reader of your article on stock market. I request you to guide me on following stocks, should I hold or exit. I can hold it for long term also. Also, which stock should I buy for short or long term please advice
Ajit Mishra:
UMA KUMAR: I hold the following stocks. What's your advice on the above?
PUNJAB AND SIND BANK
SUZLON ENERGY LTD
MARKSAN PHARMA LTD
SNOWMAN LOGISTICS LTD
VIKAS ECOTECH LIMITED
Ajit Mishra: Continue Holding Marksan Pharma while Exit all the other stocks
Rajaraman Madhan: Could you please share your advise on the below stocks that can be hold, sell or accumulate? I can hold these stocks for 3 to 5 years horizon. Please share your valuable suggestion.
Ajit Mishra:
Lucky Jayarajan: I'm holding 99 shares of Yes bank @ 55. Please suggest.
Ajit Mishra: HOLD FOR LONG TERM.
Saji Varughese: Following is my current portfolio which are presently in the loss. Kindly advise. Also, suggest me some Scripts in which I can invest considering the investment period of 2 to 3 years.
Ajit Mishra: Exit all the stocks
Mina De: I have 1350 Reliance industries @ rs 2115. Should I sell them tomorrow and buy future group shares? Please kindly let me know asap.
Ajit Mishra: Continue holding Reliance Industries as it is a better stock as compared to future group
Rithesh Raj: I hold below Shares at following prices. Please let me know to hold or exit
Kiri Industries 1,400 Shares @ 274
Gallantt Ispat 20,000 Shares @ 23
Vodafone Idea,1000 Shares @ 118
Yes Bank 1,000 Shares @ 12
Icici Bank 850 Shares @ 225
Ugar Sugar 1,000 Shares @ 27
Vrl Logistics 550 Shares @ 297
Ajit Mishra: Hold ICICI bank, Idea, Yes Bank and VRL logistics and Exit all the other stocks.
Chidambaram Annamalai: I have the following portfolio of equities. Can you suggest if i need to hold or average or exit the stocks.
Ajit Mishra:
ashish pandey: I want advice on holding/ exit with approximate duration on below. I want to invest nearly 2.0 lakhs with some diversification. Please guide.
ICICI BANK @353 -150 shares
Axis Bank @432 - 50 shares
ITC Ltd @195 - 250 shares
Ajit Mishra: Continue holding the stocks
Shravan Katarla: Request your view and potential of Rossari Biotech for short term.
Ajit Mishra: It's a recently listed stock thus have limited data so can't comment.
VIPUL BAGADIA: I have the below mentioned shares. Please let me know whether I should HOLD or SELL
Ajit Mishra:
Ranjith: The following stocks are in my portfolio. Kindly advise on Status and if possible with TARGET price.
Ajit Mishra:
1) Ashok Leyland - 121.00 – Hold with SL at 60
2) Gati - 96.65- Better to Exit
3) Hathway - 46.84 -Hold with SL at 30
4) J.P Associates - 10.50 -Exit
5) J.M. Financial - 81.00 – Hold with SL at 73
6) Marksans Pharma - 56.50- Hold with SL at 43
7) SMS Life - 523.00- Hold with SL at 408
8) Union Bank - 57.50- Exit
9) Wabag - 214.00 –Exit or else hold with strict SL at 173
10)Yes Bank - 69.00- Exit
RAJENDRA BHAT: Kindly advice on below stocks i am holding
Ajit Mishra:
Aparna Gulati: Below is my stock summary, pl share your view about the portfolio:
Ajit Mishra:

Prasad KSR: My name is KSR Prasad, I have the following stocks with me. I dont mind exiting many,even on loss and entering promising ones to makeup in future. The list is long. Please advice.
Ajit Mishra:
Kumar, Pankaj: Please advice on the following share for short and mid term
Ajit Mishra:
Ashok Leyland – 100 @ 102- Hold with SL at 60
Aksh optifiber – 1000 @ 16 - Better to Exit
Blackrose Industry – 20 @ 133 - Better to Exit
Granuels India – 50 @ 316- Hold with SL at 335
IGL - 10 @ 305- Book profit at cmp (390.65)
Kirloskar Ferrous – 50 @ 90- Hold with SL at 80
Mahindra CIE Auto – 35 @ 185- Better to Exit or hold with SL at 114
NIIT - 50 @ 129- Book profit at cmp (162.90)
Phillips carbon – 55 @ 165 – hold with SL at 110
Take Solutions – 70 @ 52- Better to Exit
Vakrangee – 15 @ 27- Exit
Sarita Dsouza: Please review my holdings; I have long term view of 5-10 years
Ajit Mishra:
B) Also require your view on buying ONGC, ITC, Bharti Airtel, Sun Pharma, Biocon, Havells etc for long term
Ajit Mishra: Yes you can Buy all these stocks for long term they are fundamentally sound.
C) Which others can be bought for long term view of 5years +
Ajit Mishra: We would recommend you to invest in stocks such as HDFC Bank, Kotak Bank, HDFC ltd, L&T, Britannia, Dabur, Asian Paints, Maruti, Bajaj Auto, Tech Mahindra, TCS, Reliance Industries, Cipla, Biocon, and Bharti Airtel.
Ajit Mishra: We advise you to buy these stocks in staggered manner as these stocks have decent fundamentals and good long term growth prospects which can deliver healthy returns.
Please mail your questions to getahead@rediff.co.in with the subject line 'Stock Market Query', along with your name, and Mr Ajit Mishra will offer his unbiased views.
Disclaimer: This article is meant for information purposes only. This article and information do not constitute a distribution, an endorsement, an investment advice, an offer to buy or sell or the solicitation of an offer to buy or sell any securities/schemes or any other financial products/investment products mentioned in this QnA or an attempt to influence the opinion or behaviour of the investors/recipients.
Any use of the information/any investment and investment related decisions of the investors/recipients are at their sole discretion and risk. Any advice herein is made on a general basis and does not take into account the specific investment objectives of the specific person or group of persons. Opinions expressed herein are subject to change without notice.