Avoid powder based or mattifying foundations. Always use a lip balm.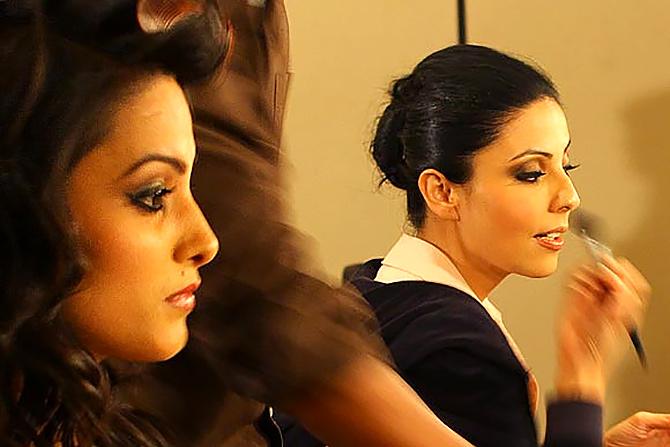 Winter is upon us and the cold weather spares nobody.
Your skin will turn dry, patchy and dull if you don't accommodate some changes in your skincare and makeup routine.
Your routine doesn't need to change drastically, but you need to pave the way for more hydrating and moisturising products or steps to ensure that your skin remains bright and glowing, especially with the festivities in full swing.
Sobiya Moghul, content lead at Amazon Beauty shares some tips to ensure that your skin is at its best behaviour in the chilly season.
1. Tinted moisturisers
The market is choc-a-bloc with tinted moisturisers, be it BB creams or CC creams.
Opt for these over a foundation since a foundation can be drying. They will not only provide nourishment, but give you the even skin tone you're aiming for.
You can opt for foundation if you're aiming for a full coverage look for a party or wedding, but stick to a tinted moisturiser for daily wear.
2. Oil-based foundation
Avoid powder based or mattifying foundations, since they can cause your skin to dry out and your makeup will appear patchy.
Moisturise your skin well before you opt for an oil-based formula for your foundation. This will keep your skin looking refreshed and glowing.
Hydration is the mantra this season.
3. Lip Balms
Your lip balms are your best friends this season. Opt for a chapstick in your favorite flavor to keep your lips plump and well-moisturised.
Slather on a layer of lip-balm before you apply your lipstick or you can even skip your lipstick altogether for a tinted lip-balm.
Pro Tip: Wait for 30 seconds to let the lip balm soak into your lips before you apply your lip colour.
4. Face Mist
A quick hack is to touch up your makeup with a face mist instead of a compact.
Instead of using a compact that will push the powder into your pores and dry out your skin in the process, pick up a face mist.

Just a few spritzes of the face mist will gently refresh your skin, keeping it dewy.
5. Use brushes or sponges
Are you the kind to always rely on your fingers instead of picking up a brush or sponge.
The dry weather makes it harder for your fingers to blend in the product correctly. Instead, dampen your preferred makeup tool slightly to apply your base.
Watch the magic as your makeup will blend in seamlessly into your skin.