We'd asked you, dear readers, to share your experiences of living cashless in India and we've been inundated with your responses.
THANK YOU :) Please keep them coming!
Here are some of the stories we received: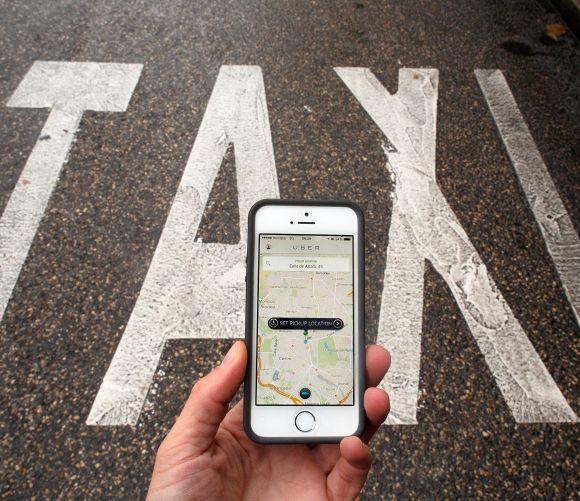 IMAGE: Using app-based cab services is one of the many solutions offered by readers who believe in living cashless. Photograph: Getty Images
Jigar Pathak, an IT professional from Mumbai, has travelled to 5 cities since November 6 with just Rs 600 in his wallet. He tells how he managed:
"As a part of my job, I have to travel various different locations all over the India and abroad.
"I have been travelling for corporate training before the demonetisation announcement was made. Trust me, since that day I have never used any ATM to withdraw a single rupee.
"I started my journey on November 6, 2016 and I have visited different places during this time, including Bangalore, Delhi, Pune, Mumbai and Hyderabad.
"When I started I had Rs 600 and I still have about Rs 400 to Rs 500.
"I'm using Ola and Uber to travel within cities, and autos that accept payment using Paytm. Some autos are part of Ola, so you can go cashless.
"To purchase groceries for home, I visit DMart or online shopping portals. For booking flight, hotel and other food bills, I'm paying through my debit or credit card.
"I always favour cashless transactions wherever possible. For example, we can use only pass-based entry for train and buses. We should stop using cash transactions in those sectors.
"You can take example of Singapore Metros -- they have implemented cashless travelling by implementing ticket vending machines. Once you fill up your card you can travel up to n-number of stations."
---
Bibhor Banerjee, from Kolkata, tells us how with proper planning, one can avoid the hassle of paying by cash.
"I live in Kolkata, but my parents stay at an upcountry suburban town called Naihati, which is 60 km away from Kolkata.
"Here's how I have managed my expenditure:
Shopping: We shop twice a week. My wife and I visit the nearest shopping mall and pay by card. I have not found any difficulty in doing so in the last few days.
Transport: At fuel stations we are paying by card; we are also using app-based cab services and paying them online.
All utility bills, phone, Internet, electricity bill are paid via net banking/ card.
Entertainment: We use Internet banking to buy movie tickets and for eating out, card payment is accepted in most of the restaurants in city.
Health: In the gym we pay using card.
Medicine/Baby food /others: I bought it from the local pharmacy who accepted card.]
"This does not mean I have not faced any problem. Here are few which was not possible without cash:
Daily requirements like payment to the maid, newspaper, milk man was problematic without cash.
In case I need to immediately buy a loaf of bread/eggs which are stocked out and I do not have time to drive to the nearest mall, then it was a problem.
On the second day after Rs 500 and Rs 1,000 notes were banned, on my way to office my car's tire was punctured. To repair the same, I had to pay by cash. I was fortunate to have a few notes of Rs 100 so I could resolve it.
"I was sure that without going to the ATM I could find a solution to these problems. Also, I have observed most of these facilities who accept card payment. Having said that, in my hometown, there are certain movie halls where you cannot book tickets via Internet banking.
"I sat down and calculated my expenditure for the next two weeks.
"On a Saturday morning I went to the nearest bank and withdrew the money I'd require. I had to stand in a queue for a maximum of one hour in that particular day and I had taken out Rs XXX (which is my maximum expenditure for 15, 20 days).
"If a person is a little organised and ready to stand in a queue for maximum 1 to 2 hours once in a fortnight, there won't be much of a problem."
---
Ajay Govind Ranade, from Kalyan, details how he is managing with Rs 5,000 cash since November 8:
"From November 8, 2016 till date, I have not visited any bank or ATM for currency deposit or withdrawal.
"I am managing the show with Rs 5,000 in Rs 100 and Rs 10 denominations.
"I will list below some of my experiences.
The habit of keeping coins separately in a drawer helped me a lot.
On Sunday, November 13, I sat down and counted the coins. To my surprise they totalled Rs 500 plus. So it's a blessing in disguise. I could exchange these coins for Rs 550 (yes, I paid a commission of Rs 50) with new Rs 100 notes from the vehicle parking stand at Kalyan Station.
I made a list of all payments, essentials expenses and prioritised them. We visited Reliance Fresh to refill groceries, snacks, fruits, veggies and household articles we'll need till end of November.
We ordered dishwasher, powders, soaps, liquid handwash etc from Amazon using credit card.
I found a general store in Thane which sells snacks, takeaways and sweets by swapping a card without minimum amount.
I have to make daily cash payments only for autos, parking fee and occasional purchase of fruits and veggies. I can surely manage with Rs 5,000 cash left.
Since I manage most of my office payments (staff salary, professional invoices, fees, taxes, bills etc) through NEFT since the last 2 to 3 years, I was comfortable using plastic money.
I have now decided to pay salary to my domestic help, newspaper vendor, cable TV using net banking.
"I have prepared myself for so-called troubles to common men like standing in queue once for three to four hours to deposit my own 'hard earned' money.
"As a citizen of India, it's my duty to support this move, whether I like it or not."
---
Dear readers, do you think it is possible to live cashless? Have you tried it? What was the experience like?
E-mail your stories, experiences, tips to getahead@rediff.co.in (Subject Line: Living Cashless) along with your NAME, AGE, LOCATION and photograph, if possible. We'll feature the best responses on Rediff.com