Tanishaa Mukerji offers a sneak peek into her sense of style, fitness mantra and why she doesn't like to look down upon fashion mistakes Indians make.
Text: Prasanna D Zore/Rediff.com; Video: Afsar Dayatar/Rediff.com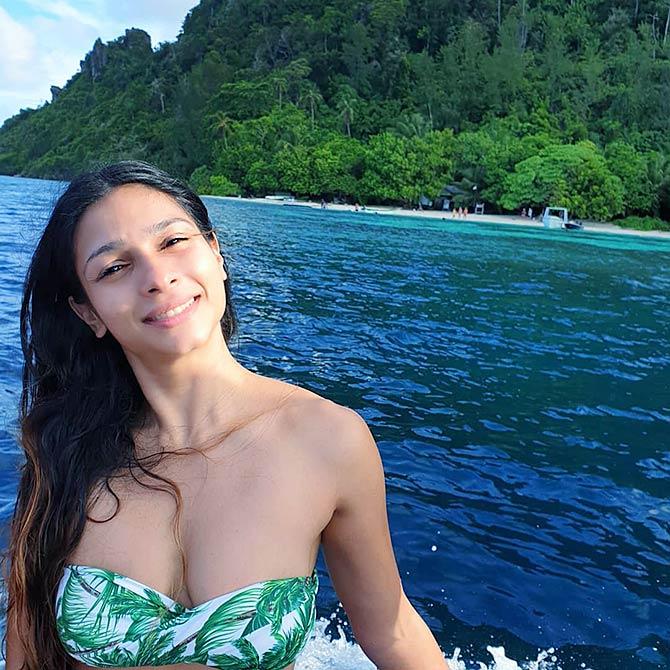 Favourite designer
There're so many favourites, but I love Payal Singhal's sense of style.
Her clothes are so wearable and at the same time there is a feminine fantasy woven into them.
Staying fit
Fitness is part of my lifestyle. Unless you make fitness a part of your life, you can't be fit.
You have to change your mindset to stay fit.
Fit doesn't mean skinny. Let's just face it. Fitness means health.
Most expensive outfit you ever owned
My most expensive outfit is from Monisha Jaising that I bought for my cousin's wedding many years ago. I still have it.
I love Monisha Jaising because her designs are timeless and I can still wear them. Her making is superb.
Personal style
Right now my personal style is all about sustainability and buying quality over quantity.
It's about forgetting fast fashion and using clothes timelessly over time so that we can save the environment.
Basically, we should become more sustainable species and help Earth.
Fashion tip you always follow
Wear clothes that make you look fit.
Silly fashion mistakes Indians make
Honestly, I don't like to look down upon Indians. We are just amazing.
Watch the entire Tanishaa Mukerji interview here.