"No one is really sure what they want in life.
"My plan was to work in the fashion industry, but I got into this department.
"Modelling is a very tough industry.
"Be mentally prepared for a lot of criticism...
Fashion graduate Natasha Ramachandran tells us how she became a model by chance, and is enjoying the phase that she is in, despite the limitations it offers.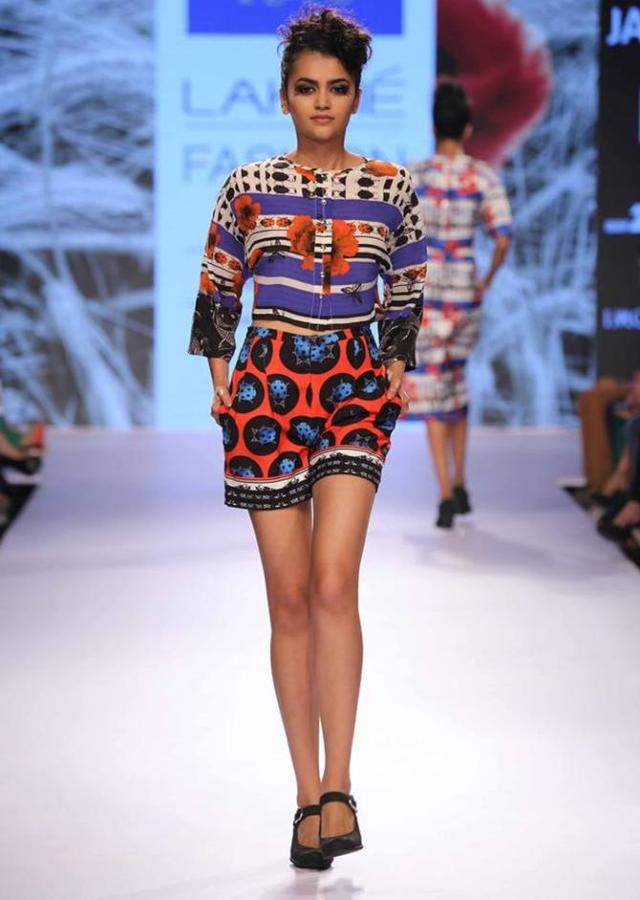 Photograph: Courtesy Lakme Fashion Week
After completing her graduation in fashion designing from the National Institute of Fashion Technology, Natasha Ramachandran happened to audition for Lakme Fashion Week and became one of the finalists.
The rest, she says is history.
The 24-year-old model talks to Rediff.com contributor Paloma Sharma about how the journey has turned out for her and how she's become a better person!
How did you get into modelling?
I was in Bombay, looking for a job after I graduated from college.
Initially I was placed in a company in Bangalore through campus placements.
Between June and August, I came to Bombay, thinking that I'll look for a job here. Around this time, Lakme was auditioning.
My parents were like, "Why don't you go give it a try" because I was tall enough and fit the bill.
Even in college I used to model for friends but it wasn't professional.
I auditioned for Lakme and got through. Right over there I was scouted by Anima Creative, a model management agency. That's how I started.
What were you doing before?
I was studying fashion designing at the NIFT in Hyderabad.
How's Lakme working out for you, so far?
Good! And hectic. It's really, really hectic; especially this time being its 15th year in the industry, many big names are being associated with it and big shows are happening.
I'm very excited about that.
Starting with Sabya (Sabysachi Mukherjee), all the shows this season have been beautiful.
You've studied designing. You've had exposure to the fashion world before. Didn't you ever think of modelling before this?
No, not at all, I only modelled for my friends because of my height, because I fit into the outfits that they would make for their projects, assignments.
I wasn't taking it seriously. I got scouted. So that's how it happened. It was not a planned career decision.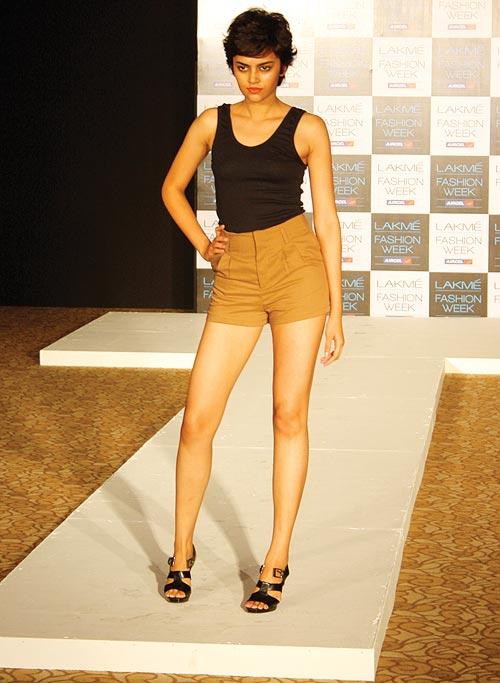 Photograph: Abhishek Rane/Rediff.com
Surprisingly, it was your family who told you to go and audition.
Yeah, my dad and mom are very cool about it. They asked me if I enjoyed modelling.
They had no issues doing that and pushing me for it. So I guess, yeah, they've been extremely supportive of my modelling career.
How do you stay fit?
I just eat healthy and work out; not mad work out, because we're pretty young and our metabolisms are pretty good.
A healthy lifestyle doesn't just go for models or actors. It's for normal human beings.
It's important for that person to try to it as healthy as he or she can and be physically active.
Could you tell us more about your diet?
The morning breakfast has to be really heavy -- egg white omlette, toast, um, lot of dry fruits as snacks instead of munching on unhealthy chips and wafers or something like that.
Have green tea, a glass of hot water and honey in the morning, empty stomach. I avoid heavy dinners.
I eat everything in moderation.
What's your exercise regime like? Do you play a sport?
I haven't really done anything since I joined college.
In school we used to play whatever was part of our school curriculum in our PT class.
But other than that, it would be great if you could play a sport because the body that you achieve from playing a sport is healthier and fitter.
For a person -- an actor or a model -- their body is visually appealing because they're out there and their bodies are out there as compared to a sports person who gets into that form by playing their game. So yeah, it would be great if someone could do it.
Otherwise, there's cardio, light weights for girls, for guys it depends on what they want to achieve.
And yoga is really, really good to stretch your muscles.
I think this is something that everybody talks about these days, everybody knows to an extent. So yeah, these are a few things that even I do.
How do you keep your skin healthy?
I drink a lot of water and keep my skin clean.
I use good products, not necessarily the most expensive, branded ones.
When it's dehydrated, I use a moisturiser.
When it's over hydrated, I make sure to wash my skin with products with least chemical quantities in it.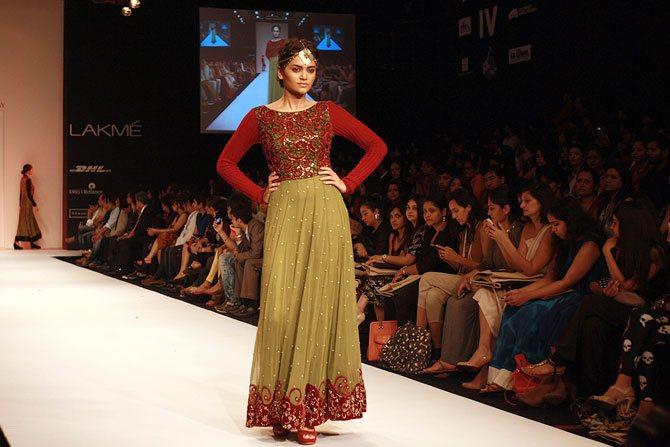 Photograph: Rajesh Karkera/ Rediff.com
Any favourite designers?
I have no favourite designers.
I think everyone has their own style.
What is your personal style?
Very comfortable; monochrome. I don't like colour.
I tend to stick to darker palettes -- black, grey, dark blue or white, even though red is my favourite colour.
I'll have like a pop of it somewhere, if I can. But easy, not loud (and) very cool.
But, um, it should come into your daily activity. It's not like you can't sit properly or you can't fold your legs. So yeah, comfort is of utmost importance.
Any tips for aspiring models?
Modelling is a very tough industry.
Be mentally prepared for a lot of criticism and do not take it to heart because everyone has their own opinions and at the end of the day it's your family and friends and their opinions that matter.
What they say is what actually is the truth. So listen to them, listen to yourself.
Acknowledge your limitations. Be hopeful, yes, because you have to be positive.
Know where you can, where you cannot. But always keep trying.
So, you said you wanted to be a designer?
I did my bachelors in fashion design in order to get into fashion communication but I got into this department.
So my plan was to work in the fashion industry. Not design specifically but to, maybe work in a fashion house, manage it, be part of the whole ups and downs of how a fashion house functions.
No one is really sure what they want in life. But ever since I've been modelling, I've been travelling so much that I've seen a lot of different things happening and there are a lot of opportunities.
This confuses a person. So I'm going to take my time.
What are your plans for the future?
I have no plans.
I don't want to have plans.
I wouldn't have said this six months back because I was panicking, "Oh my god! What am I going to do after this?"
But there's no point doing that.
I enjoy modelling and I intend to make the best of it for as much time as I could, right now, and I believe, something will come my way.
DON'T MISS: Lakme Fashion Week Special Coverage