Aditi Rao Hydari closed the show for Archana Rao.
This and more from the shows of Karishma Shahani Khan and Pranav Mishra + Shyma Shetty!
Photographs: Uttam Ghosh/Rediff.com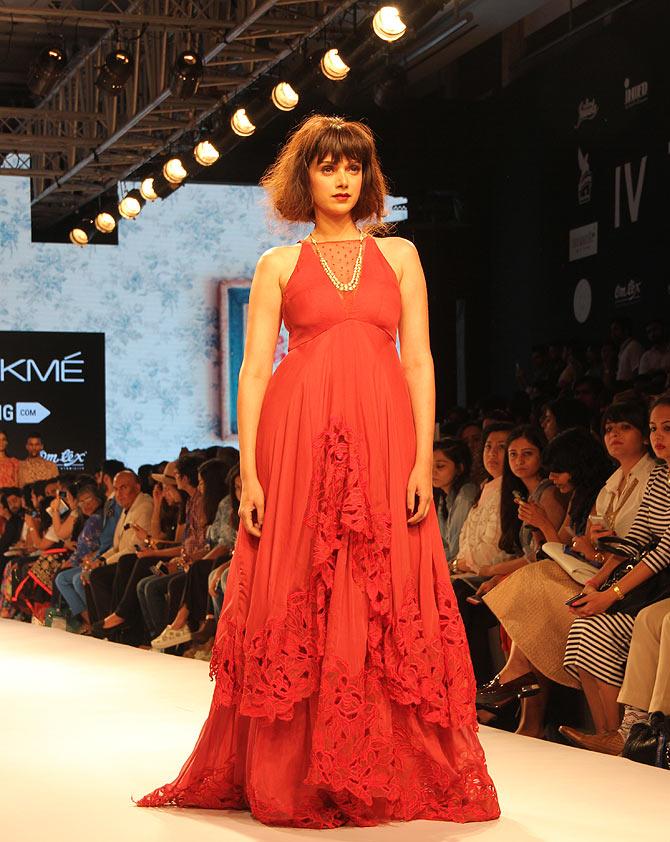 The 70-year-old apartment in Paris was the inspiration for Archana Rao's latest line.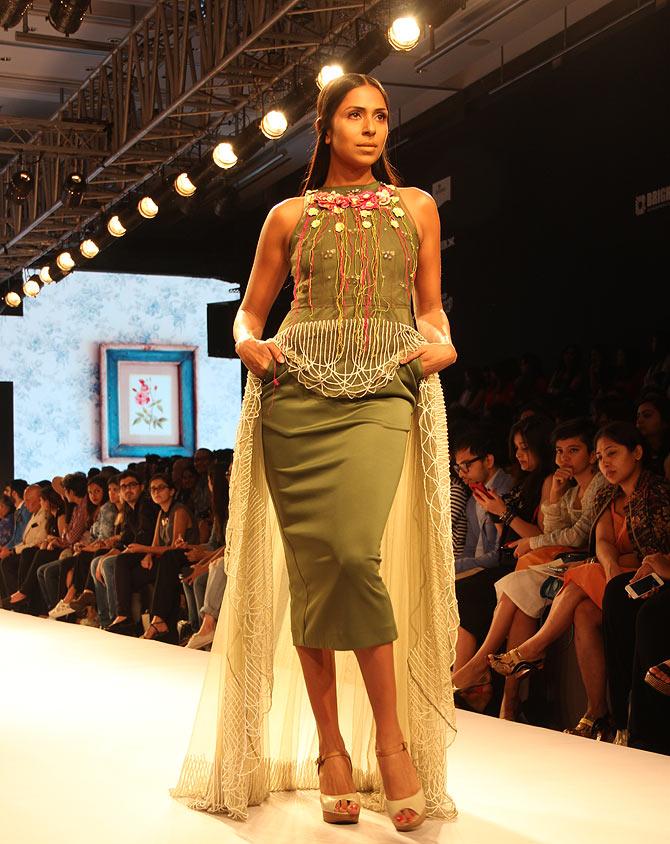 Rao's line was called The Apartment and the designer attempted to revive the charm of a bygone Parisian era.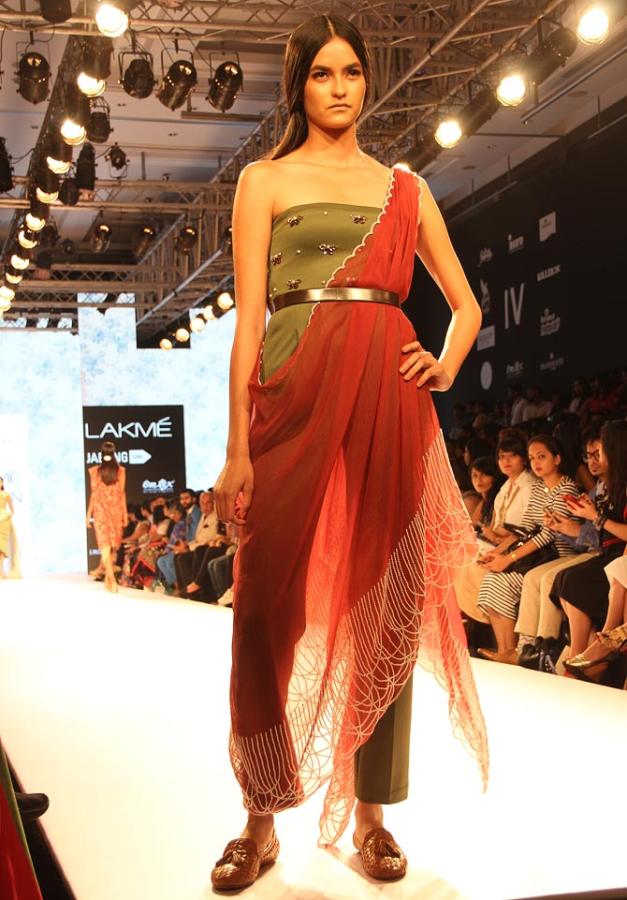 Shades of a soft palette, starting with nudes, blush pinks and pearly whites moved to strong hues of military green and ochré.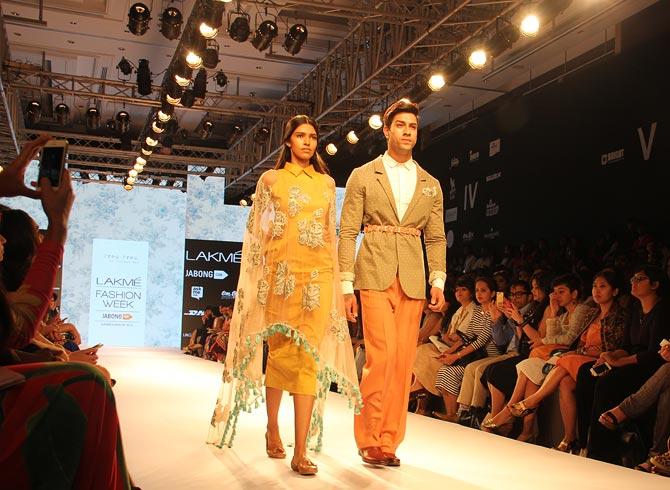 Appliquéd shirts and jackets were teamed with relaxed trousers, a welcome break from the slim-fit razor-sharp trend that is all the rage these days amongst menswear.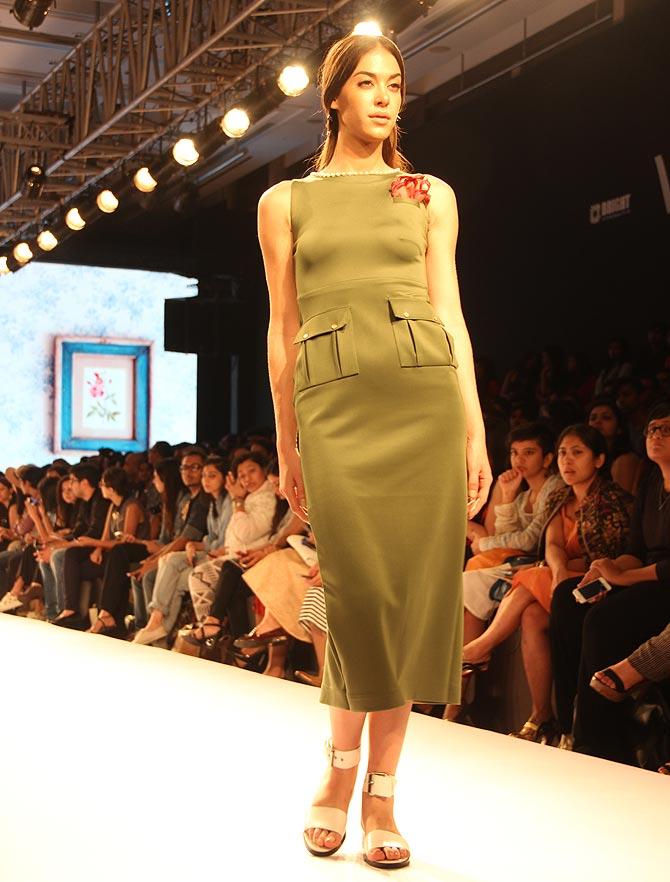 The fabrics too moved from hosiery and frail nets, to cotton and sheer organza.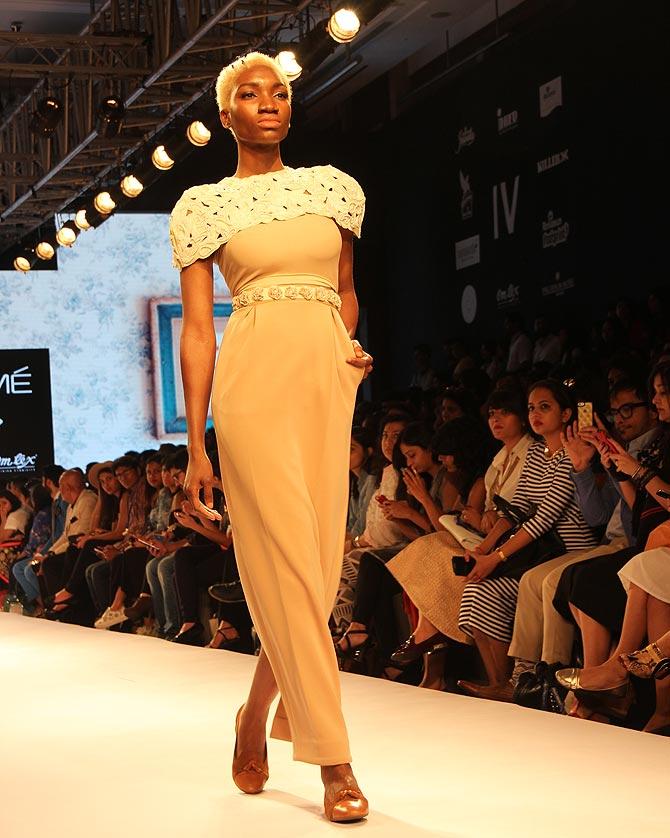 The embroidered cut-work and pearl minutiae lent the designs an ethereal touch and the silhouettes were relaxed yet regal.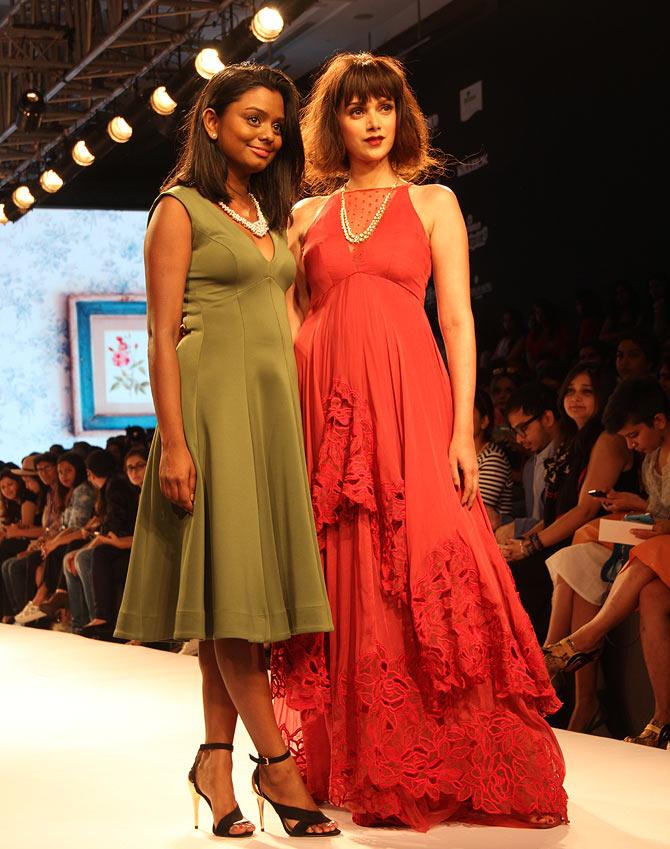 Here's the designer with her stunning showstopper! #NoWords
Karishma Shahani Khan paid tribute to Indigo, the colour, in her latest collection, quite aptly titled, Neel.
Khan's motifs sought inspiration from the blossoms that garland the blue-skinned Indian deities with hints of vermillion and kumkum.
The line featured hand woven silks, cottons, recycled denim and reused remnants of fabrics such as Malkha cotton, ikats and hand woven silk.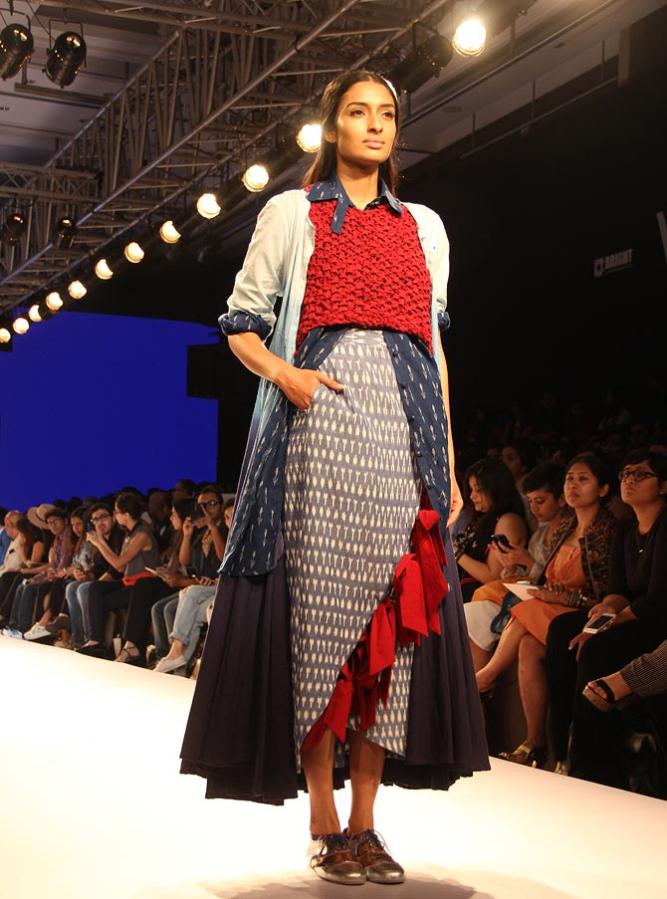 Using a medley of colours like white, red and mustard to balance the indigo shade, Neel was a wonderfully summery collection to say the least.
Khan teamed capris with a tie-up kurta and bias cut shirt was worn with shaded sari and asymmetrical sleeveless waistcoat making for gloriously messy ensembles.
The young designer at the head of the ramp after her show!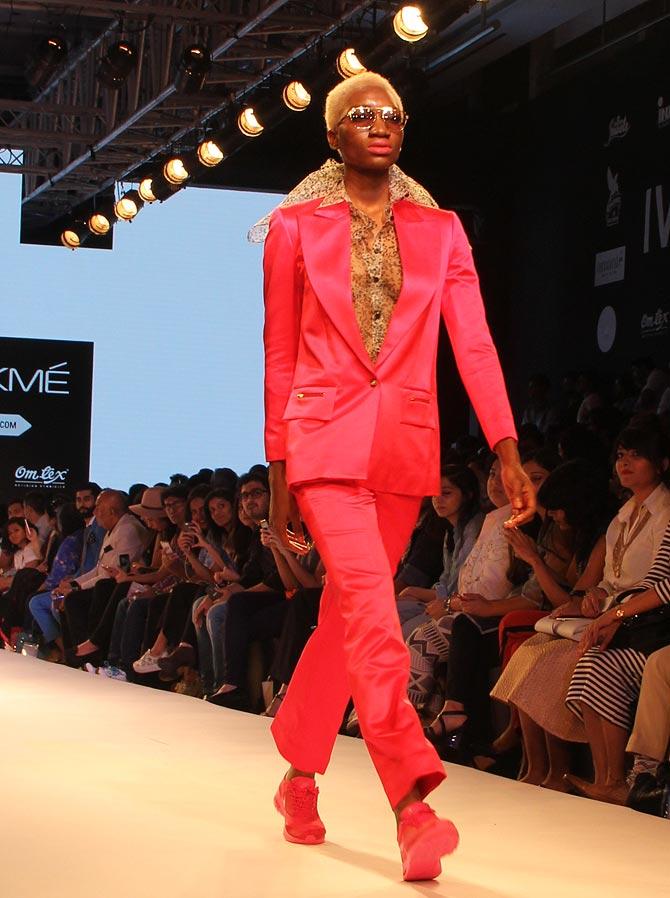 More than three decades ago, the legendary designer Yves Saint Laurent was one of the first to encourage women to wear trousers.
Sure, they are more practical than, let's say skirts, but he of all people knew that nothing can be more sexually provocative than a sight of a woman in the garments of a man.
We suspect Pranav Mishra and Shyma Shetty knew just that as they sat at the drawing board for this collection.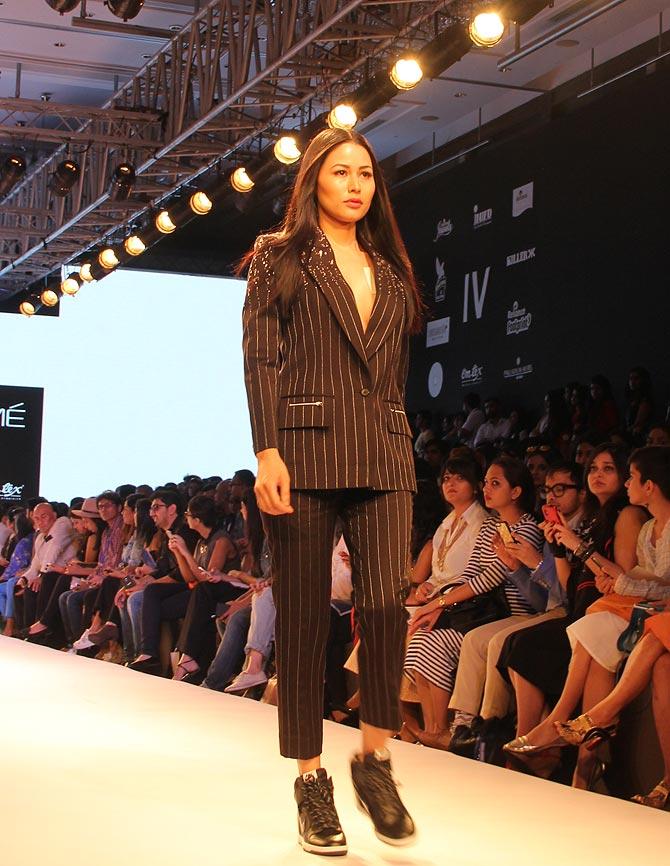 A woman in pinstripes or a woman in lingerie?
Our vote goes to pinstripes. And yours?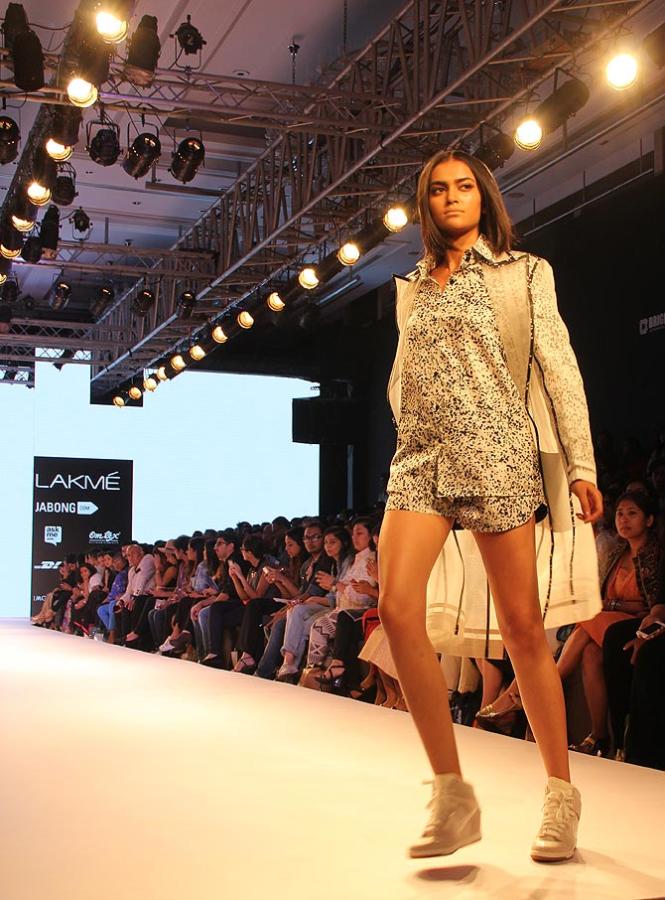 But the collection wasn't all suits. It featured these cutesy shorts...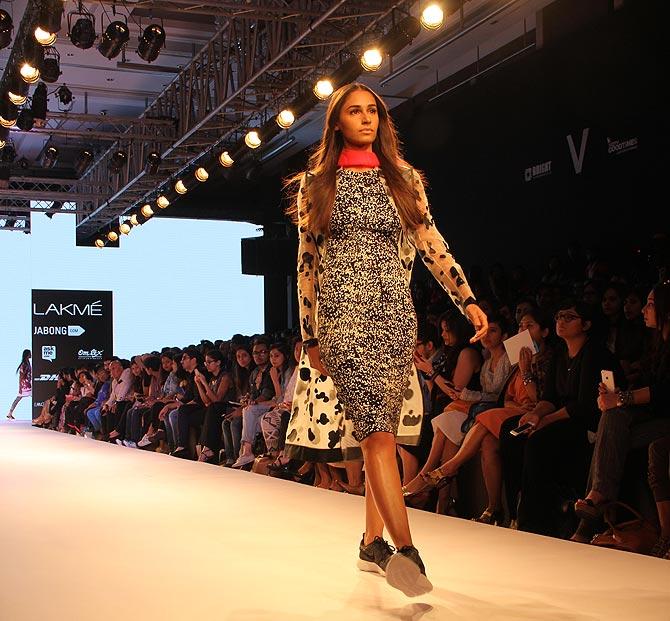 And this figure-hugging dress.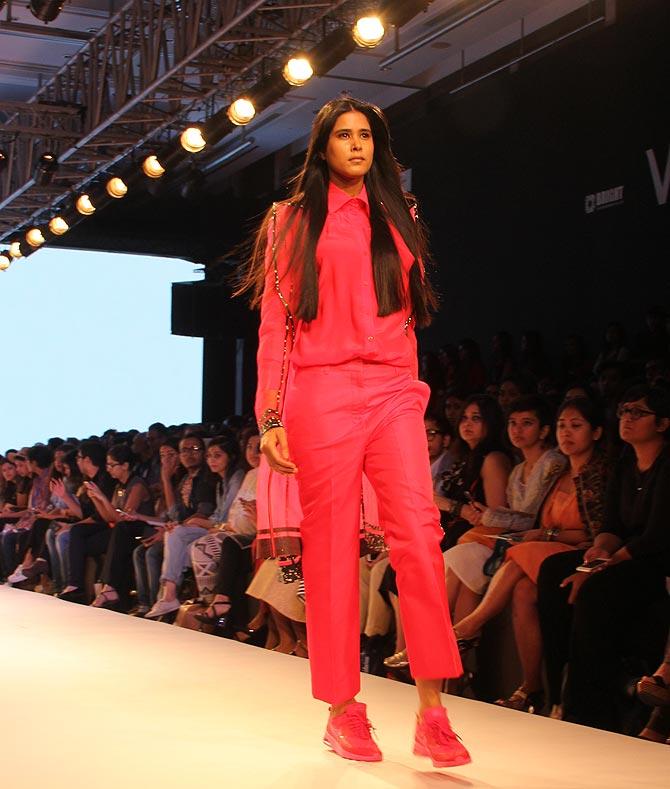 And this bright red shirt and trousers.
Two thumbs up? We should think so.