Instead of running on the tracks model Ashwati Ramesh opted for the runway. Paloma Sharma finds out why.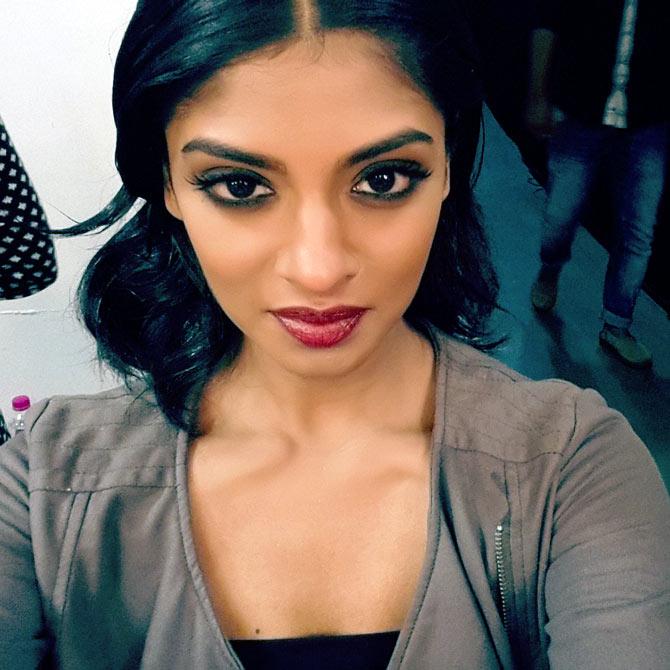 Photograph: Paloma Sharma<
What drew you to modelling?
I was actually an athlete, a sportsperson. I've been playing tennis all my life and, I mean, I'm tall. (Laughs) You know, I got that from my family.
So all my friends kept telling me, 'You should start, you should become a model' but my parents were a bit apprehensive about it. So initially I didn't do many shows. I would try and do stuff without telling them. But, like, eventually, exactly a year back, there was the Miss India pageant. So I went for the audition but I didn't tell my parents about that! (Laughs)
But then they found out and they let me go for it. That's how I started off. But all my friends kept pushing me. That's how it happened.
What's been your biggest hurdle so far?
Biggest hurdle...? As in?
As in, you're here. You're walking for Lakme. It is pretty much the hugest deal in the world.
Yeah, I know!
After Miss India -- Miss India was a huge deal for me at the start -- I went for the Lakme auditions. So when I got through it was crazy! This is my second season now. I'm still new; I'm still learning, like, how it works and everything. But it's really exciting!
How do you keep fit?
Tennis! I tried going to the gym but... (laughs)
I think when you grow up being outdoors and playing sports, you just tend to stick to that. So I try and run.
I can't play tennis all the time now because I have to maintain my skin and all of that. So, cardio mostly.
Any skin and beauty tips for us mortals?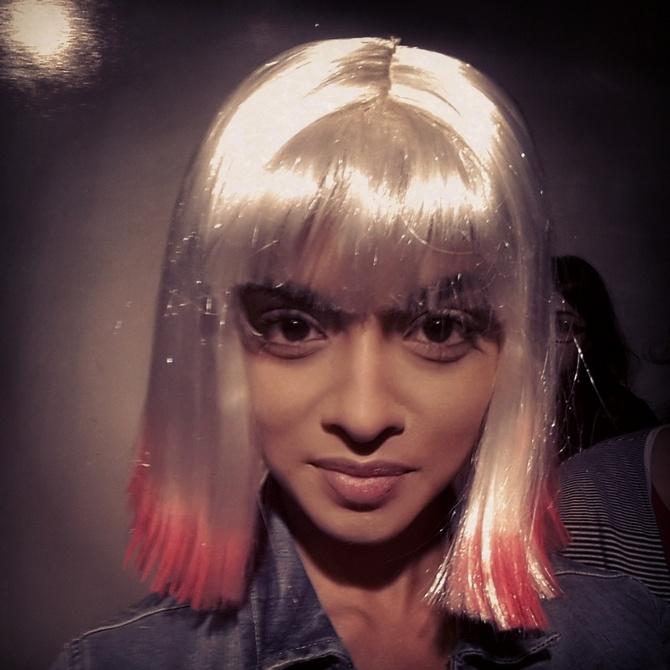 Photograph: Rediff Zarabol
My skin, I'm still trying to fix!
You're kidding. Your skin is literally pore-less!
No, no, no. (Turns to show me the back of her shoulder), I just have a lot of moisturiser on right now. I have five different shades of skin because of tennis, because of the socks and the clothes and... But yeah, now I'm starting to take care of it -- sunscreen, moisturiser, all that jizz-jazz.
You're modelling competitively. You must have made diet changes as well.
Not really. I can't (laughs) control my diet! So I prefer working out rather than controlling my diet.
Where do you see yourself in the next five years?
I'm just graduating, so I have no idea.
I would like to keep doing this for sure. But let's see.
What year are you in?
I'm in the final year now, doing my BCom.
Any tips for aspiring models?
I still need tips! I still need to ask people. I'm not there yet. So, yeah...
Who do you look up to in the fashion world?
I love everyone here! They're all so beautiful and gorgeous. Internationally, I love Candice (Swanepoel), Carly (Foulkes). They're beautiful.
Who are your favourite designers?
(Sighs) I can't pick! I can't pick! Like, I love... Everyone's different! And like, everyone has their own sort of style. Some are Western, some are traditional and you can't choose. They're all beautiful.
What's your personal style like?
I'm still figuring that out as well.
But I prefer simple, comfortable. I like high waist-ed pants, high waist-ed skirts and I stick to spaghettis because of I'm heavier on the hips and I have a small waist. So I tend to, like, get stuff which works for me like that.
DON'T MISS: Lakme Fashion Week Special Coverage