'In our part of the world, 1 million babies die every year in their first month of life.'
UNICEF Advocate Kareena Kapoor Khan launches 'Every Child Alive' to help combat South Asia's infant mortality problem.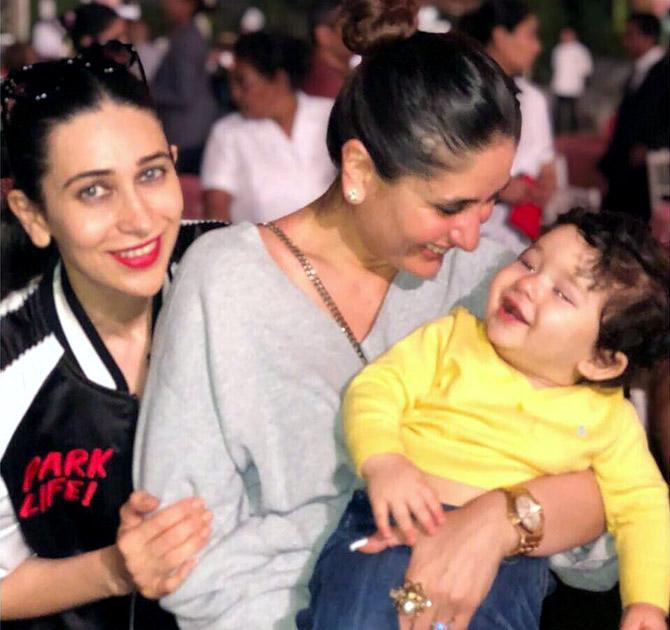 Taimur with his mother Kareena Kapoor Khan and aunt Karisma Kapoor.
Photograph: @therealkarismakapoor/Instagram.
As a UNICEF Advocate, actor Kareena Kapoor Khan launched the United Nations' agency's 'Every Child Alive' campaign yesterday to tackle the vast issue of infant mortality in South Asia due to lack of proper care and malnourishment.
In an editorial piece written to coincide with the campaign launch -- widely issued through a press team -- Kareena revealed some harsh statistics: 'In our part of the world, 1 million babies die every year in their first month of life.
'2,800 newborns die every day in South Asia, before they even reach the age of one month...
'In South Asia, one in every 36 babies dies within a month.
'The latest UNICEF data shows that no region in the world is more dangerous than South Asia for newborns.'
This she said was 'both overwhelming and totally unacceptable.'
Kareena, whose son Taimur recently turned 1 on December 20, 2017,wrote, 'It is both possible and doable to keep many more babies alive and healthy.
'The governments are doing everything they can to ensure adequate service delivery. However, I would like to reiterate that it is not only about governments doing their bit, but it is about civil society taking relevant and collective action...
'It is time that we all make collective efforts to save newborns in the region. South Asia can become a region where it is very safe to be born. It is not that difficult. It is not that complicated. So, let's get to work for our newborns.'
As mothers and societies, Kareena said, we need to do three things:
'First, we need to feed our newborn babies in the best way that we can: with our breast milk. To give your baby the best start in life that he or she deserves, start breast feeding within the first hour of life -- and feed the baby only breast milk, nothing else.
'Second, we need to challenge harmful beliefs and practices that are putting our babies in danger. We need to entrust ourselves to skilled birth attendants who are properly trained to look after us and our babies in the time around birth. If these people are not available, we need to demand them. No woman should give birth without help from a trained birth attendant. It is too dangerous.
'Third, we need to look after our girls just as well as we look after our boys. As females ourselves, it is incredibly sad that baby girls do not always get the same care that baby boys do. If your baby girl becomes unwell, get help for them just as quickly as you would do for a boy.'