'All of us wear multiple faces, multiple masks. But who are we really?', J J Valaya, designer and photographer, asks K S Shekhawat.
Illustration: Dominic Xavier/Rediff.com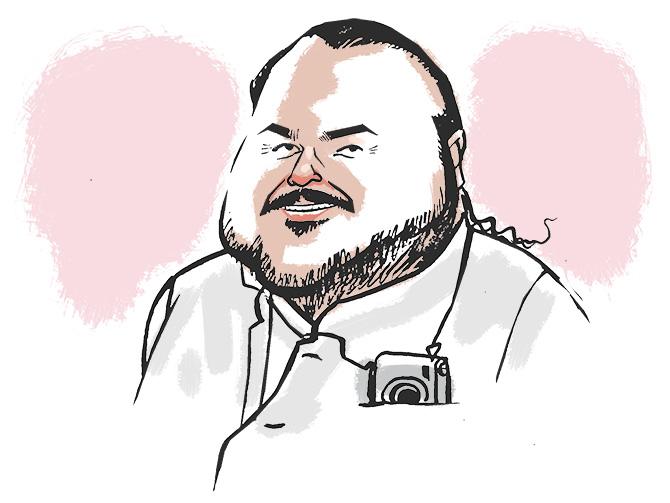 When, in December 2017, fashion designer J J Valaya took a hiatus, the unkind word on the street was that the 25-year-old brand had run out of steam.
"I was bored," the affable couturier tells me, stirring a sugar-free sweetener into his gajar halwa at the end of our ghar ka khana laid out over an expansive marble table.
But it was more than inspiration -- or its lack -- that troubled him. "I love elaborate clothes for people to get married in; embroideries, textures, the whole shebang excites me," he tells me, "but let's face it, I am a lousy businessman."
It was the businessman who took a break to restructure his production, evaluating his core competency -- "design" -- exiting the manufacturing space by outsourcing it to focus on the creative and retail side.
The result was a comeback show in September this year, and the announcement of an eponymous luxury store, spread over 25,000 sq ft, that will come up in New Delhi's Chattarpur in April 2020 combining his three passions: Fashion, home and photography in one unified space.
J J saw the capital's beautiful people beat a tattoo for a glimpse of his third photography exhibition as much out of curiosity about what he was up to as to see whether they featured in his portfolio.
And it is the reason I've self-invited myself to his "studio in the city" in a leafy south Delhi colony for a home-cooked lunch.
The studio where he does his "creative thinking" would be the envy of any well-heeled millennial -- a fully equipped den with a well-stocked bar, capacious sofas, and the trimmings of a well-travelled life.
Shyam, his major-domo, has laid out a vegetarian meal -- a fragrant dal tempered with ghee and jeera, aloo-methi, cabbage with peas, a baingan raita (all of which I help myself to), palak-paneer (who even eats that?) and a bharta I'd like but can't reach because it's placed beside J J who, well, isn't one for fussing about what you're eating -- or not.
At any rate, I promise to come back for more of what Shyam has to offer -- the J J kitchen is an exemplar of why we should be eating at home rather than out.
Fashion designers are often dismissed as dilettantes because of the mindspace they occupy in popular culture -- self-styled curators of art, gourmands of exotic viands, purveyors of travel to lands from which they seek inspiration, consumers of literature, creatures as much of PR hype as of their own imaginations.
But J J surprised everyone with the contents of his first exhibition of photographs in 2011. Yes, there were all the frills of what you'd expect of a designer -- good looking models, known faces, great costumery, greater locations.
He shot his images in crowded places rich in history as mis-en-scene. "I hadn't realised until then that I was always taking pictures, all the way back since my student years at NIFT in 1989."
He was certainly around photographers shooting his clothes on models, styling his own shots. In a sense the progression was almost organic. Did he have it in him to be considered a serious "art" photographer -- a photographer as artist? One problem was, he thought that artists were "pretentious".
He laughs, a spoon of pulao poised before him. "And I'm sure all artists think designers are pretentious." At any rate, that first exhibition pulled in celebrity-watchers, but brought him his first viewership without the struggle of a newbie "artist".
It was mounted sans a gallery, but J J says the first print was sold to Peter Nagy of Nature Morte, who gave him his next exhibition of architectural photographs.
His current show, Lalaari, two-and-a-half years in the making, is different for being studio-staged. The title -- dyer in Patiala lingua franca -- is accompanied by the expected jingoism around a blank canvas that can be filled up at will, more designer-speak than artist-speak.
"I spoke to my sitters at length, I sent them questionnaires," J J says, explaining the depths he plumbed for information surrounding their lives, including facts and memories they may have hidden from themselves.
"All of us wear multiple faces, multiple masks," he says, reaching for the aloo-methi, tearing off half of a khasta roti, "but who are we really?"
He eliminated "beauty for its own sake", finding it "bland", but also seeking to avoid the burden of vanity that accompanies it.
There was no logic to how he chose them -- "friends, strangers, staff", drawn by first impressions, their eyes, an instinctive connection, a sense of character, and their energies.
Shoots took up to six hours, post planning the details. "I remember (photographer) Prabuddha Dasgupta telling me that if in a day's work you can get one good shot, you know you've been successful, and you know it the moment you have it. The perfect shot can never be rehearsed."
J J's sitters spanned the spectrum of society, from the old to the young, from the rich and famous to the socially marginalised.
I spot friends, acquaintances and celebrities among them, amidst which are portraits of the unknowns -- of weavers, dyers, maids -- people invisible to us.
"I photographed them as I saw them," J J muses. Even pre-planned, he let events take their course, waiting for Henri Cartier-Bresson's "decisive moment" to kick in.
Clothes -- costumes, really -- were picked on the spur of the moment, as also the jewellery and other embellishments.
Scarves and fabrics were draped like turbans, the whole J J ensemble of opulence and majesty that he purveys to his adoring public, which now sheathed their bodies. These made up most of the ensemble of his black and white portraits.
It is his treatment of texturing and layering on a series of portraits that seems enforced. Using "sheer and opaque" net fabric and playing peekaboo to reveal, conceal and build a sense of "perceptions and interpretations", you see the segueing between the designer and the photographer.
In a world where distinctions between one medium and another, one world and the next, are increasingly fluid, is he perhaps being prescient? For he has moved even further with experiments involving frames and jamewarmounts, dressing up and framing the portraits the way a couturier might a body, reducing it to its function as a mannequin.
JJ doesn't see it that way. "This sequence is based on how these sitters see themselves, their aspirations and dreams beyond the small and large things that have affected them."
How did he represent that, I wonder aloud. J J laughs.
"Didn't you notice the halos over them," he asks, "which I have placed to signify incidents from their pasts that they have overcome?" I did, I say, though the interpretation had eluded me at the time.
Now firmly back in the designer's seat, what did he do over his two-year sabbatical? "I was approached by the queen of Bahrain to develop a line with Bahraini craftsmen," he says, a year-long curatorial project that culminated with his participation in the Bahrain Art Fair earlier this year -- described as 'the coolest place to be' by the cognoscenti.
He's also open to more collaborations of the kind he has for FCML (flooring) and Swarovski (jewellery), and his Home line should soon introduce furnishing textiles.
Travelling every month to Bahrain, he seized the opportunity to photograph the kingdom extensively, something that will be published as a book, the third in a series of memory books he has created "for gifting to friends".
The earlier volumes, on Istanbul and Goa, sit by my bedside, a token of friendship from J J who -- practicing meditation, juggling meetings -- is engaged with "aligning myself with myself". Amen.