"but GoIs intention is to create a paperless economy and hence in future, we may see less cash transactions which will get accounted with our identity (like pan, adhaar nos)," said Investment Advisor and CEO of Right Horizons Anil Rego in an online chat with readers on November 9.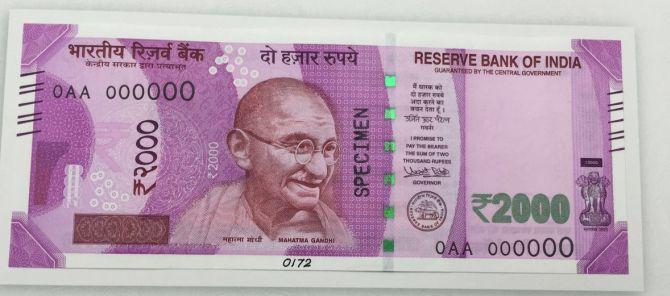 Those who missed the chat, here is the transcript:
---
Sachin Chavan: what will be the impact on Gold and other commodities?
Anil Rego: Gold can go up in this scenario; it is already up 2 per cent today. However, given the current situation we need to see how gold purchases can evolve. Other commodities may also follow the same trend
Rajesh BG: HI Sir. Good Afternoon, will IT sector as impact due to Republic Party, Mr Donald Trump elected as President, if you predict IT for 5 years, what will be growth..?
Anil Rego: Trump mentioned that he wants to work with other nations on collaborative manner. Outsourcing may take some hit in the short term; but for IT sector long term is bright as you see there is lot of focus on product development
prasannazore: How will issuance of Rs 2000 note stem the flow of black money into the real economy when experts are saying that higher-denomination notes like Rs 500 and Rs 1000 lead to accumulation of unaccounted money?
Anil Rego: It is not that Rs.2000 note will curb the black money; but GOIs intention is to create a paperless economy and hence in future, we may see less cash transactions which will get accounted with our identity (like pan, adhaar nos)
ANAND GUPTA: [SKB] how much amount we can deposit in bank, whether their are any tax levy on the same
Anil Rego: You can deposit as much as you want; but withdrawals are limited. On the first exchange you will get maximum Rs. 4000 in cash and rest will be credited to your account. If you deposit more than Rs.50000, you need to compulsorily provide Pan Details
Dev Jhaveri: Hi Anil, for those who are foreign tourists with Rs 500 and 1000 notes, what should they do?
Anil Rego: Upto Rs. 5000 exchange equivalents can be exchanged at airport exchange counters within 72 hours after the notification, provided they present proof of purchasing the notes
Rishi Vij: How will the gold prices react now? They have already firmed up to Rs 34,000, official rate, and Rs 39,000 black rate
Anil Rego: Gold always shines when there is volatility as is now; so it is the mindset that Gold will become a replacement for the currency; however, since withdrawals are limited, investing in gold using cash going forward looks bleak. That means even gold investments are accounted and hence the prices should stabilise
sureshdesai: is it increases gold rates for this effect
Anil Rego: Yes. Gold is up almost 2 per cent today; it can go up given the volatility that we have now in terms of the markets. But it should stabilise as markets settle down

kamakhya singh: how will the market be affected
Anil Rego: Real estate and Jewellery sectors are most affected; however, since both US electoral results and this currency ban happened on the same day; we think it is mostly a knee jerk reaction. Markets should be come back to normal in the coming days
SPS: Will the prices of real estate now come down?
Anil Rego: Yes, some corrections will happen; but most of the new purchases will be via bank transactions and hence if there is demand in the specified location, the real prices will return
Vinod Thour: How can I convert my money into gold?
Anil Rego: as of now, you can't. No one will accept the current currencies of Rs.500 and Rs.1000. Hence once the currencies are exchanged for new notes, you can buy the gold
Prof Ashoke kumar AGARWAL: Our houses hold servants who do not have any bank account, how can they exchange their 500/ 1000 notes?
Anil Rego: Upto Rs. 50,000, he can exchange from any banks or post office. But he has to open an account with a bank where anything above Rs.4000 will be credited to his bank account. A max of Rs.4000 can be exchanged for new notes Anything above Rs.50, 000 he has to provide his PAN details
Baskar: Unaccounted hidden huge cash is skyrocketing the prices of properties, land, houses, jewellery etc and hard earned money is loosing its value; will this trend will stop immediately?
Anil Rego: Yes it will stop. As the current black money will have no value and has to be converted into white
Vaydha Bamse: How will this help eradicate black money menace?
Anil Rego: This is the step taken in continuation of steps taken like everyone should have unique identification number and a bank account. It is hopeful that this step will boast the movement started for eradication of black money circulation, as everything will be accountable.
Pradip Chakraborty: What is the maximum amount that can be deposited to the bank for exchange of old notes?
Anil Rego: you can deposit as much you can. But only Rs.4000 will be given in cash as of now and the rest will go to your bank account. If you are depositing more than Rs.50000, you need to furnish PAN
bimal dholakia: I am supposed to going out of Mumbai on 12.9.2016. Approximately Rs.60, 000/- withdraw from the bank in the currency of 500/- and 1000/-. Now in such a short notice what I can do as there might be tremendous rush on Bank counters in coming days.
Anil Rego: You can still use debit or credit cards, if you have. But on the money have, you had to go to a nearest bank or PO tomorrow and look for an exchange. Yet you will only get Rs.4000 in cash and rest will go to your account, which you can withdraw from Banks or ATM later
Hari Om: What should Indian who are out of India do if they have some Indian currency there with them in abroad?
Anil Rego: if he/she is an NRI, he/she can deposit the money in NRO account in the same way as others
Parishram Informatics: CAN I DEPOSIT MY LIC PREMIUM & CREDIT CARD BILL TOMOROW AS LAST DATE IS THERE WITH OLD NOTES
Anil Rego: You need to use a cheque or an online payment. As of now, old notes are discontinued and can only be exchanged
Rabindar Singh: How much amount can be withdrawn from ATM in a day?
Anil Rego: Rs.2000 per day till 18th Nov and Rs.4000 from 19th Nov onwards can be withdrawn from ATMS
Rupinder Kapur: can charitable hospitals accept 500 notes
Anil Rego: Only government hospitals are authorised to accept the old currencies and that too till 11th Nov
Shubham Paldewar: what are the chances that black money hoarders will find more innovative ways to still keep their black moneys in circulation?
Anil Rego: Mr. Modi mentioned that apart from this move, there will be some other moves to eradicate the black money creation. Obviously this is not a one time action and has to happen over time
Varsha Singhe: Why RBI is issuing a 2000 Rupees Notes instead of Rs 1000 notes?
Anil Rego: It seems that the govt has observed more fake currencies in Rs.1000 denomination and hence this move of abolishing this note.
venu nair: while depositing old currencies and also for withdrawal is it necessary to submit copy of the ID or just produce the ID,
Anil Rego: Please carry your ID card; the identification no is important
easwar a: sir, what is the time period to change the old notes and how?
Anil Rego: You can exchange it till 30th Dec and post that you need to reach to the RBI specified offices and provide a declaration
Rajesh Patil: Whether a person can exchange Rs 4000 per day or only time in these 50 days?
Anil Rego: Rs.2000 till 18th Nov and Rs.4000 from 19th Nov onwards per day per card
ANIRUDDHA DEBNATH: will all the banks including PSU and private banks be open tomorrow (10.11.16) for public transaction? Will the old currency notes be exchanged then and there?
Anil Rego: Yes, but you must know only new currencies worth Rs.4000 will be returned and the rest will go to your account
Sunil yadav: my customer give me my old balance amount today in old 500 & 1000 notes what should i do
Anil Rego: You can get it exchanged. But keep the source of the cash information always handy
Bhavna Bhatt: How will I be able to pay the rent to my landlord he is asking for Cash & i told him that I can give him a cheque but he wants it in cash by tomorrow & the amount is 10,000
Anil Rego: Only option you have is to make online payment or pay by Cheque. You need to use old currencies; again, he has to exchange them
Vivek24: If I have Rs.500000/- cash will it be exchanged?
Anil Rego: Yes. But you will only get Rs.4000 back as cash and rest will go to your account. You need to furnish your PAN
Anil Rego: Thanks for all your questions. Hope I have answered all your questions.