'I am a long term investor and holding the below shares, please advise if to exit/ hold/or buy'.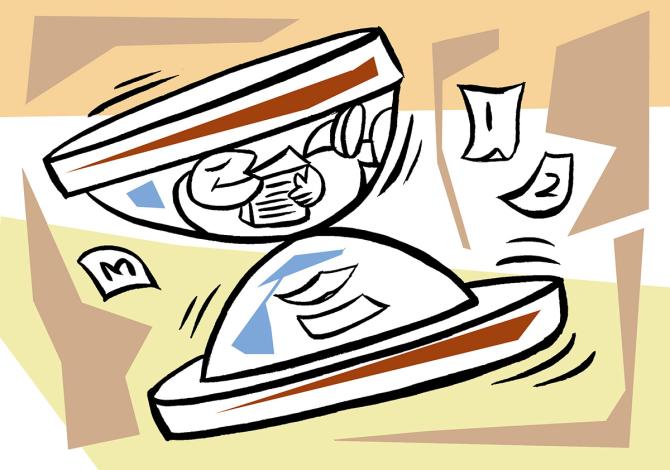 Ajit Mishra, vice president, Research, Religare Broking, answers your queries:
---
Girish Borale: Looking forward for your valuable suggestions. Please advise whether hold or sell off from my portfolio.
Ajit Mishra:
1.IDBI 1000@32.55: Exit
2. BHEL 200@40.1: Exit
3. RICO AUTO 200@39.35: Exit
4. CPSE ETF 300 @ 20.95: Hold
5. NMDC 100 @ 128.1: Exit
6. ITC 100 @ 203.85: Hold
7. AVANTI FEEDS 8 @523.75: Hold
8. INDIAN HOTELS 100 @ 127.4: Exit
Ravi R: I am holding the following stocks.
Ajit Mishra:
APCOTEX 100 NOS. @ 180: Exit
APL APOLLO 50 327: Hold
AUROBINDO 100 491: Hold
BALKRISHNA 70 380: Hold
CITY UNION BANK 200 114: Exit
COLGATE 25 615: Hold
DALMIA SUGAR 100 177: Hold
ECLERX 30 1300: Hold
FEDERAL BANK 400 82: Hold
GLENMARK 125 532: Hold
Manoj Chhaya: I have the following shares. Please advise if they will recover and i should wait for break even or returns. I can stay invested for long term to revive the investment cost. Looking fwd to your valuable advise.
Ajit Mishra:
APOLLO TYRES 45@221 -1968: Hold
BANK OF INDIA 52@99 -2404: Exit
Britannia Industries 20@3701 -1113: Hold
Coal India 80@249 -8739: Exit
FIEM India 60@584 Break Even: Hold
IRB Infra 30@260 -4360: Exit
Prism Johnson Ltd. 50@138 -2695: Exit
TULIP Extrusions 200@30 -5700: Exit
Vedanta Ltd. 130@171 -9000: Exit
VIP Industries 40@442 -3854: Hold
KM: I have limited funds to invest in shares. I am purely a long term investor, looking for excellent capital gains. In your order of preference, which of the three Cos: you think will appreciate best in the long run.
1) BAJAJ FINANCE LTD
2) MARUTI SUZUKI INDIA LTD
3) WIPRO LTD
Ajit Mishra: All the three companies mentioned above are good investment opportunity, as they have strong financials with healthy balance sheet, promising growth prospects and decent management team. Our advice will be to allocate equal amount to all the 3 companies and invest in staggered manner.
Ved Dhuru: As a recent investor requesting your advice on below stocks:
Ajit Mishra:
AGARWAL INDUSTRIAL CORPORATION LIMITED (XNSE:AGARIND): 50: Exit
JK PAPER LIMITED (XNSE:JKPAPER): 50: Hold
ITC LIMITED (XNSE:ITC): 125: Hold
TIME TECHNOPLAST LIMITED (XNSE:TIMETECHNO): 100: Exit
ICICI Prudential Nifty ETF (XNSE:ICICINIFTY): 96: Hold
RELIANCE INDUSTRIES LIMITED (XNSE:RELIANCE): 27: Hold
MAHINDRA AND MAHINDRA FINANCIAL SERVICES LIMITED (XNSE:M&MFIN): 30: Hold
GODREJ AGROVET LIMITED (XNSE:GODREJAGRO): 20: Hold
GUJARAT GAS LIMITED (XNSE:GUJGASLTD): 14: Hold
CUPID LIMITED (XNSE:CUPID): 3: Exit
SHARDA CROPCHEM LIMITED (XNSE:SHARDACROP): 22: Exit
GRAUER AND WEIL (INDIA) LIMITED (XBOM:505710): 100: Exit
Ircon International Ltd (XNSE:IRCON): 60: Exit
SUN TV NETWORK LIMITED (XNSE:SUNTV): 7: Exit
D.B. CORP LIMITED (XNSE:DBCORP): 120: Exit
AVANTI FEEDS LIMITED (XNSE:AVANTIFEED): 20: Hold
H.G. INFRA ENGINEERING LIMITED (PART IX) (XNSE:HGINFRA): 21: Hold
BURGER KING INDIA LIMITED (XNSE:BURGERKING): 35: Hold
MRS.BECTORS FOOD SPECIALITIES LIMITED (XNSE:BECTORFOOD): 20: Hold
Harshad Shah: Please provide your valuable opinion on following stocks that I hold. Should I hold or sell? I am a very small investor. Long term investment.
Ajit Mishra:
Stock: Buying Price: Today's Profit / Loss %: Hold/ Sell
IDBI Bank Ltd.: 35.2: -16.48: Exit
Reliance Capital: 7.85: 41.27: Exit
Reliance Com: 1.8: 8.89: Exit
Reliance Home Fin: 1.8: 34.44: Exit
Reliance Industries: 2,253.95: -10.29: Hold
Reliance Infrastructre: 23: 32.39: Exit
Reliance Power L: 2.75: 25.82: Exit
UTI AMC: 554: 3.69: Hold
Also, it Indigo Paints IPO and Indian Railways IPO worth investing?
Ajit Mishra: Short term.
V K Verma: Kindly advice on the following share which I hold:
Ajit Mishra:
1. Testybite-32 share @8000: Hold
2.Ambar Enterprise-120@ 1842: Hold
3.Avenue supermart-10@2818: Hold
4.Asian paint-60@1769: Hold
5.Dabur india-9@540.18: Hold
6. Deepak nitrite-200@490.99: Hold
7.Delta corp-203@139.95: Hold
8.GTPL Hathway-50@141: Exit
9.Federal bank-600@65.98: Hold
10.IFGL refractory-75@300.35: Exit
11.vesivus india-75@1099.20: Hold
12.sail-1000@67.60: Hold
13.Teja networks-800@ 95.17: Exit
14.T D Powersystem-200@ 153.07: Exit
15. Lasa supergener-1000@ 71.21: Exit
16.Tata steel BSL-892@ 43.42: Hold
17. Aarti drug- 700@225: Hold
18. Laurus lab- 1500@ 212.39: Hold
19. Marksans pharma-100@57.80: Hold
Marshall: Could you please advice
Few stocks to invest in for long term.
Ajit Mishra: You can invest in Britannia, Bharti Airtel, M&M, Coromandel International, Exide, Maruti, Crompton Greaves Consumer and Kansai Nerolac.
When or how to accumulate long term shares.
Ajit Mishra:You can accumulate in staggered manner
How shall I decide the "Entry and Exit" of any stock. Your views please and also suggest a study material to read.
Ajit Mishra:We can't time the market. Entry and exit is usually decided by seeing its valuation parameters.
Your views on these 2 stocks that I currently have:
a) Balaji Amines @ 1100
b) Cipla @ 825
Ajit Mishra: Both the stocks have strong fundamentals and financials. Also long term growth prospects are decent. You can hold the stocks.
Kanu Priya Jain: I would like to know the prospects of Astrazeneca Pharma for the next few months up to 1 year. Recently we have seen the stock has corrected sharply from the levels of 4600 to 3700. I hold the stock at levels of 3400. What do you suggest, sell or hold?
Ajit Mishra: Pharma companies are seeing good traction on the back of Covid-19 vaccine and also due to increasing diseases such as diabetes, cancer, etc. Astrazeneca Pharma has decent financial and it hold strong product portfolio. We would advise to hold the stock.
Ajit Munj: I have a SIP in 3/4 MF schemes. But now I want to start an STOCK SIP (ie SIPs in some STOCKs directly)
1. Is my concept of STOCK SIP will hold good for long term (i.e. at least 10 years)
Ajit Mishra: Earning returns would depend on which stock you invest, if the stock is fundamentally and financially strong, future prospects are bright and also has decent management, then stock price has good potential to appreciate in the long term.
2. What stocks should I go for?
Ajit Mishra: You can go for Britannia, Dabur, M&M and Maruti
3. What should be the criteria for selection of stocks? (i.e. PE,PBV,PEG, or any other ratios)
Ajit Mishra: Yes, you should look for valuation of the stock but along with that you should also look for the companies with zero debt, decent cash, no corporate governance issues and strong management team.
4. Should I go for a most volatile index for SIP? If yes, which is the most volatile and liquid Index / ETF I should do SIP in?
Ajit Mishra: You can consider SIP in Gold ETF.
Anil Furtado: Hi Need your advise on the below:
Ajit Mishra:
1) CPSE ETF: 572@24.11: Hold
2) Bank Of Baroda: 111@116: Exit
3) Balrampurchini Mills: 78@131: Exit
4) Jammu & Kashmir Bank: 50@78: Exit
Surender Sailopal: I am holding TV18 broadcast bought at 29; should I exit or hold until merger of same with Network 18. Presume after merger it will become a debt free company and one of the largest in broadcast. Presume merger is around sept of 2021.
Ajit Mishra: Exit
Venkatesh Yelaburgi: I have 160 shares of IDBI bank. Kindly advice if i should hold or sell
Ajit Mishra: Exit the stock
Sreejesh S: I am holding below stocks. Could you pls tell me can i hold these stocks for 2-3 years, add on dips or to exit. Also do you have any suggestion of stocks for 2-3 years?
Ajit Mishra:
Manappuram finance @175 -30 shares: Hold
SBI @396-15 shares: Hold
Adani enterprise @768-13 shares: Hold
Ashok leyland @132-50 shares: Hold
Indian hotel co @132-50 shares: Exit
Indian overseas bank @12.8-500 shares: Exit
Ajit Mishra: You can also look to invest in stocks like Britannia, Bharti Airtel, M&M, Coromandel International, Exide, Maruti, Crompton Greaves Consumer and Kansai Nerolac.
S RENUKA DEVI: I hold following stocks at these prices. Expecting your valuable reply. Kindly suggest suitable action for them.
Ajit Mishra:
INFOSYS @ 1288: Hold
MARUTI SUZUKI @ 7820: Hold
HDFC BANK @ 1380: Hold
DCB BANK @ 115: Exit
MOTHER SUMI @ 215: Hold
IPCA LAB @ 1870: Hold
HCL TECHNOLOGIES @ 997: Hold
HPCL @ 230: Hold
BIRLA CORPORATION @ 817: Hold
SYNGENE INTERNATIONAL @ 580: Hold
---
Please mail your questions to getahead@rediff.co.in with the subject line 'Ask Ajit', along with your name, and Mr Ajit Mishra will offer his unbiased views.
Disclaimer: This article is meant for information purposes only. This article and information do not constitute a distribution, an endorsement, an investment advice, an offer to buy or sell or the solicitation of an offer to buy or sell any securities/schemes or any other financial products/investment products mentioned in this QnA or an attempt to influence the opinion or behaviour of the investors/recipients.
Any use of the information/any investment and investment related decisions of the investors/recipients are at their sole discretion and risk. Any advice herein is made on a general basis and does not take into account the specific investment objectives of the specific person or group of persons. Opinions expressed herein are subject to change without notice.