We asked you, Dear Readers, to tell us how you spent the lockdown and share your memories with us.
Navin Natu, 36, from Indore shares his inspiring story: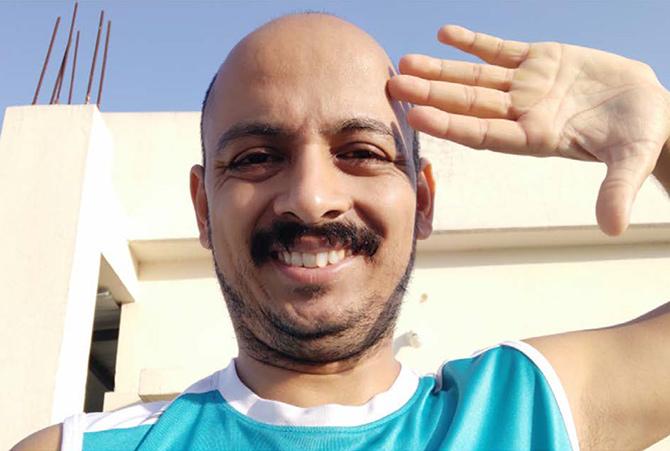 I am an IT professional living with my wife and cute 5-year-old daughter in Indore.
Running is my passion.
In the last week of April, I decided to participate in a Corona Warriors Run scheduled for May 3.
I registered myself directly for 21 km which I was about to run on the terrace.
I was initially uncertain how I could pursue my passion during this lockdown and complete the required distance.
I woke up at 4 am, looked around the 1,000 sq ft beautiful house and the terrace (500 sq ft area).
After completing 5 km, I was tired, but didn't lose lose hope.
It looked impossible, but I soon realised I could do more.
I decided to allow only positive thoughts and started thinking about all the good things that had happened so far.
Finally, I completed my first indoor 21 km during the lockdown on May 3, 2020.
Subsequently, I have completed 5 indoor virtual marathons so far on May 9, 10, 17, 24 and 31 respectively.
On May 16 and 30, I did 14 km each to practice as there were no virtual marathons planned on those days.
At the same time, I wanted to complete 100 km in May.
My running schedule is recorded on MI FIT (a social fitness network); I use MI Band (running tracker) and sync my runs with MI FIT app.
Running within the house is not easy as there is the risk of injuring yourself due to the limitation of space.
However, I strongly believe in consistency during the run.
Whether you are running on the terrace or on the road, it is important to stay consistent.
We need to keep our body well hydrated (not less; not more).
Drinking water is a key factor while running.
Before the lockdown, I would cover 10 km in an hour. During the lockdown, due to the limitation of space, I tried my best to cover 8 km distance in an hour on the terrace.
It was challenging to be consistent without being injured.
I was able to manage the rhythm by proper breathing, hydration and focusing on the distance covered.
I believe that running is an inspiring form of physical activity which also keeps you healthy, calm and motivated.
I dedicated my each and every step to the corona warriors -- doctors, nurses, police, Indore collector, Madhya Pradesh chief minister and Prime Minister Modiji -- and everyone else who is directly and indirectly helping us control this pandemic.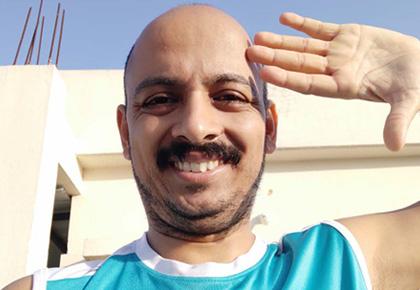 ---
It is close to three months since The Lockdown began.
How have you spent these days?
Please share the highlights with us through pictures and videos and the best ones will be published right here.
You can mail your most interesting, funny, sad, even angry lockdown moments via stories, pictures and videos to getahead@rediff.co.in. Please mention MY MONTH-LONG LOCKDOWN STORY in the subject line.
Please don't forget to mention your name, age and where you stay.