'I don't ever have to think about what I'm eating or count the calories.'
'My food choices are based on my mood. It can go from tuna tartare to dal chawal to pizza!'
Priyanka Chopra's candid food confessions!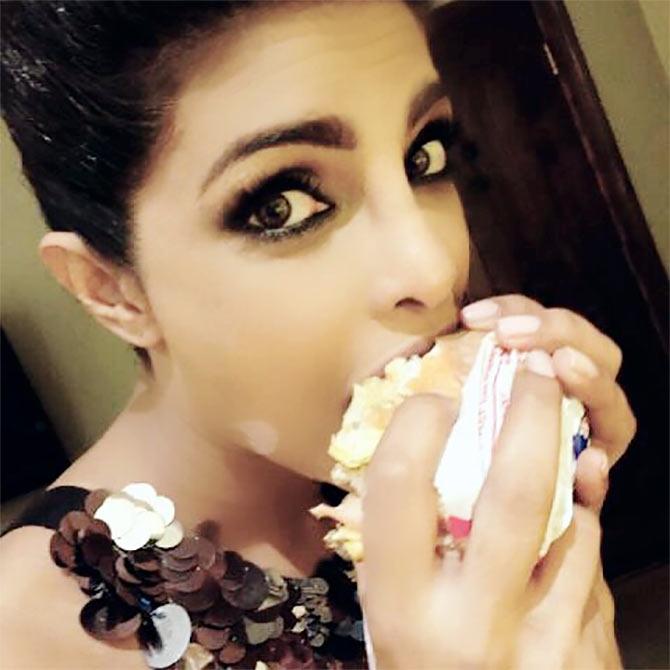 IMAGE: Priyanka bites into a burger ahead of the People's Choice Awards in 2016.
Photograph: Kind courtesy Priyanka Chopra/Instagram
Does Priyanka Chopra cook?
What does she eat when she travels?
Does she travel with a personal chef and trainer?
Former Miss India International Svetha Jaishanker's latest book Gorgeous has a chapter on the Baywatch star that has answers to all your questions.
PeeCee also shares one of her favourite recipes, one that can be traced to her Malayalee roots.
---
What's cooking with Priyanka Chopra?
She is one of the most successful actresses in Bollywood, who now divides her time between the US, Canada and India as the star of the hit American TV series Quantico.
Priyanka, despite her many achievements, exudes her girlish charm as she talks candidly about her love for food, her quirky fitness routines and what her favourite room service order is.
My latest recipe
This can even be made by kitchen challenged individuals! It's my own recipe called the 'Refrigerator Scrambled Eggs'!
All you need to do is open your refrigerator and pull out eggs, cheese, a dash of milk and every type of meat you can find.
Now you whisk the eggs, add a splash of milk, some pepper, grated fresh garlic and finely sliced green chillies.
You heat some oil in the pan, add the eggs, and keep stirring.
When it starts to thicken, add the chopped meats and cheese and continue to stir.
Add the salt at the end and voila, breakfast or a midnight snack is ready!
What does being gorgeous mean to you?
To me, it's just the icing on the cake -- what I have inherited from my parents.
What matters more is the cake itself; being the best version of yourself that you can possible be.
What fitness routine do you enjoy the most?
I've created this amazing workout regime called 'PC's on the job workout'.
I work 18-hour days with little or no time off. I'm never sedentary in those hours -- running between sets and my make-up trailer, going from one event to the next. It kind of makes up for the lack of exercising that I do!
My life is my gym and my playground.
How do you stay glamorous while travelling? Do you travel with a fitness trainer and a chef?
I am a master traveller now given the amount of transatlantic flights I've taken, trying to balance two careers across two continents and everything in between.
I have a simple philosophy to overcome long hours of travel -- cleanse, moisturise, drink lots of water and try and get some sleep.
More often than not, you will emerge sufficiently ready to take on the world when you land.
I travel with a fitness trainer only if a role/film demands it.
I do travel with a chef to prepare the food that I like, especially when I am away from home for extended periods of time.
Like when I shoot for Quantico, first in Montreal and now in NYC.
I love home-cooked food. It is comfort food that's good for the soul and also helps me miss home a tiny bit less.
What is your food and fitness philosophy?
I am blessed with an amazing metabolism. That coupled with my hectic work schedule allows me to pretty much eat what I want.
I don't ever have to think about what I'm eating or count the calories (except when I am training for a specific look), so I eat what makes me happy.
Can you tell me about a recent enduring food memory?
On one of my promotional trips to LA for Quantico, I'd had a really long day and so when I got to the hotel that evening I was exhausted but also very hungry, although not for a conventional meal.
So I ordered a whole bunch of things from the menu, which has led to one of my greatest food discoveries -- Caviar and potato chips.
A match made in heaven and a Priyanka Chopra creation.
What is on your plate usually?
It's always an eclectic mix. My food choices are based on my mood. It can go from tuna tartare to dal chawal to pizza!
Did you ever face any body-related challenge growing up or in your career?
I was lanky and tall in school and I was always extremely conscious of it.
I had always wanted a wholesome body and was just grateful that I eventually grew into having one.
You have accomplished so much already and are still so young. As you grow older, what do you feel are the challenges of ageing?
Most of my friends keep joking with me that my legendary metabolism will give up on me one day and karma will find its way to my hips.
I'm active and I take care of my face, skin, body and brain. The rest is up to God and the laws of gravity!
***
Recipe: Elai Vadam
Prep Time: 4½ hours
Cooking time: 15 mins
Makes 10
Cover the raw rice with water and let it soak for four hours.
In another bowl, soak the sago in water for about three hours.
Grind the soaked rice well, adding only a little water to make a thick batter.
Grind the sago along with the green chilli into a thick paste.
Mix the two batters along with the asafoetida, carom seeds, lime juice and salt to taste. Also add a little water to get the consistency of pancake batter.
Oil each plate of the elai vadam stand or oil small pieces of the banana leaf and pour and spread the batter thinly to cover each plate.
Pour in about an inch of water in a pressure cooker, lower the stand into the cooker and steam for 7 minutes without the whistle.
Take out the steamed vadams and use them instead of the pasta sheets while making lasagne.
The elai vadams are also tasty when eaten steamed or can be dried in the sun and roasted or deep fried.
Excerpted from Gorgeous by Svetha Jaishankar with the permission of the publishers, HarperCollins India.