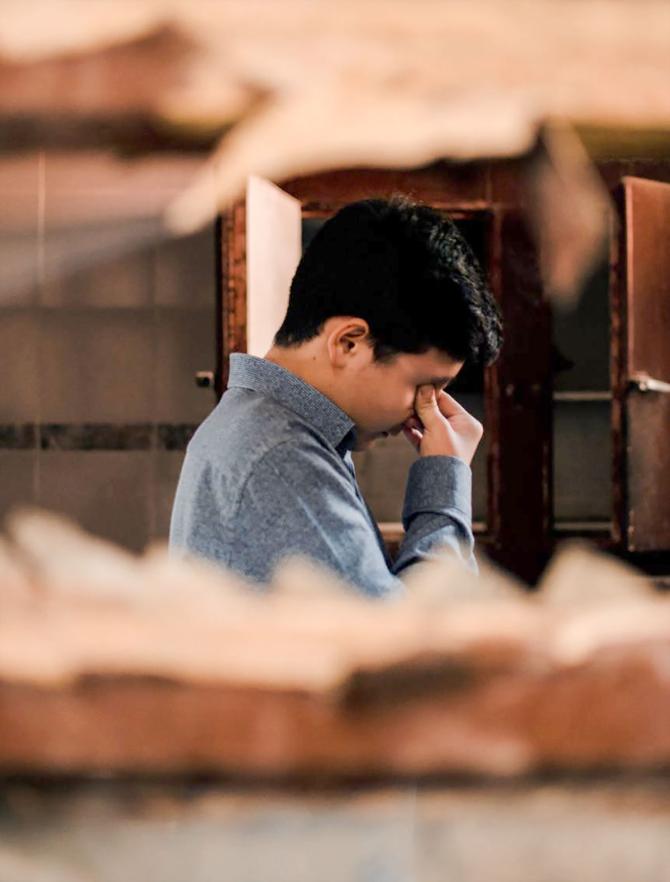 Are you lonely during this pandemic?
Are you struggling with money?
Do you not feel very healthy?
Do certain relationships cause you to feel stressed?
In a first of its kind initiative to help and benefit Rediff readers, mind/life coach, NLP trainer and Mental Health Guru Anu Krishna encourages you to talk about your problems.
Every week, Anu will answer your queries, address your concerns and offer expert advice on how you can take control of your life.
Unedited excerpts from the first offline session:
---
BS: Dear ma'am, I am going through a tough mental state right now. I do not know what state is this. It may be fear, lack of confidence or anything else.
On 25th November 2019 I underwent surgery for anal fissure and piles.
It took a long time to heal as I was suffering from constipation even after surgery.
Every morning i would have a trauma like situation before going to bathroom. My stool would be hard enough to pass with blood both before and after surgery.
I generally get nervous after seeing blood. In the meantime surgery has been healed.
Even today I have constipation.
I suffered from rhinitis like situation after surgery by consuming fruits and curd to make stool soft. feel difficulty in breathing
With these medical conditions I developed a mental condition at which i always feel sick myself. No mood or energy to do anything. Fearing for life.
When I wake up in midnight it gets very tough again to sleep. I sweat a lot.
There is so much negative thought in my mind at night. I feel heavy in my head. I fear every sound I hear which disturbs and terrifies me.
I consulted a psychiatrist 7 days ago; he told me that it is fear and lack of confidence. He has given me medicines to overcome fear.
Kindly suggest ma'am at which state I am and help me. I am actually obsessed with my health and my life.
Every moment I feel I would die. Nervousness grips me. I have lost weight of around 18 kg post surgery.
Anu Krishna: Dear BS, I can only imagine what you are going through and I truly hope that you feel better soon.
Fear is what can increase your physical symptoms and you will feel ill. Which is what is happening to you!
All the sounds and thoughts are a result of overworking the mind with your health and fearing the worst.
But do ask yourself: What if I have actually recovered?
It will be good to know when this problem exactly began; what triggered it. If there is an event or a situation that caused it, then you know you might have to work on that.
Sometimes, fear makes children's stool hard too and as doctors treat constipation, it is also necessary not to keep being fearful of it.
I know the surgery might have made it worse in the mind which is why I suggest start waking up every morning by believing that your surgery has worked and that you are fully recovered.
The simple belief instilled in your mind can work wonders by positively influencing your body to support your whole health. Also, calm the mind with meditation and exercises to keep the body supple and healthy.
To keep the stools soft, eat a lot of food that high roughage content. Slowly, you will see your mood and energy come back and feel a lot better.
All in all, believe that you are healing. Wishing you a wonderful health.
---
AK: Dear Anu,I am 41 years old doing my own business since 14 years.
I live with my parents and i am married. Blessed with two children. I am the sole bread winner. They all luv me very much.
These days (year 2020) I feel stressed and lonely, bcos of financial problem in running my house and fulfilling my EMI and other loan commitments.
My family knows my financial adjustments and commitments. I feel myself like a machine working non-stop to keep my family happy and fullfil their desires.
I don't feel happy going home after my work for the day. I feel like I don't understand them or they don't understand me.
I know they luv me so much and me too. I feel let down but actually they support me in all the way they can. What should I do?
Anu Krishna: Dear AK, sadly, most of our lives are lived doing things for others.
Initially seeing the happiness on the faces of our loved ones makes us believe that what we are doing is the right thing.
But if you work or so anything in life without taking into consideration your feelings or your what you value for yourself, it will slowly start to seep into your core and you either end up feeling stressed or anxious.
I do understand that your situation is one of financial challenges, you mist work and why not work and at least set sometime for yourself over the weekend to rejuvenate yourself?
This time is non-negotiable and it is to refresh yourself so you can go back on Monday with a newness.
Also, instead of working like a machine, why not think that you are working efficiently to slowly pay off EMIs and to be free of them.
Bring some harmony between work and life which is what I can offer as a suggestion to you.
Be happy and work not out of compulsion but passion!
---
Lost Guy: Hi Anu, I have depression. I am unable to sleep, have lost appetite, drowned in my own thoughts.
The reason for my depression is that I had gone to Australia to pursue my Masters, however the course went online from the first day itself and I could not meet anyone or make any friends.
I felt completely isolated in a foreign country.
I found the online classes quite hard and not beneficial. Therefore I cancelled my enrollment and came back to India.
However I feel ashamed of myself quitting the course midway, but my parents have always supported my decision.
I have excellent grades in my bachelors degree, but when I returned from Australia, I lost all my focus and just stressed out what will happen tomorrow. Kindly help me on how do I overcome this.
Anu Krishna: Dear Lost Guy, can you firstly be thankful that you have such wonderful parents who stand by your decision and love and support you?
Second, unless you have been clinically diagnosed, you don't have depression.
What you possibly are feeling is upset, sad and disappointed and inability to sleep or losing appetite can be because of this.
What you might want to do is ask: "Why did I cancel my enrolment when I could have gone through the course like many others would have?
Now that I am back in India, what best can I do to pursue a course that will put me back in the game without any more loss of time?"
Focus on what you want and you will see your energies return.
Simply draw a picture of what you wanted to do always; agreed that the location might have changed, but you are the same person who wanted to do his Masters.
Who knows what India might have in store for you!
And put on those jogging shoes and hit the track; it can positively impact the mind and do remember: Every challenge has an opportunity for growth and YES you CAN.
Wishing you a beautiful future!
---
R: Madam/Sir...I am finding it difficult while communicating in front of public gathering and while giving presentations in the meeting.
Went through several books and videos but not able to overcome on the issue.
Please suggest some simple techniques.
Anu Krishna: Dear R, I know this feeling. So many people feel like the crowd is going to swallow them. I have a few simple tricks for you.
1. First, watch videos of a person that you admire for their public speaking skills and one who is confident and sharp in front of an audience. Watch their every move, their rate of speech, their language, their body language.
2. Next, imagine yourself as a character on a stage/podium/meeting room in place of that person and as though you imitate his/her every move.
If you think, there is more that you want to add to feel more confident watching your character, like maybe pumping your fist in the air. Watch your character do that.
3. When you think that your character looks and feels confident, simply take a step forward and take on the character and face an imaginary crowd.
4. Now simply feel the elation as you have simply taken on the same role as the person that you admire and hence you feel the same air of confidence.
The key is to practice this many times over, till your mind supports you on this. Try this, it's fun and it does work. Have a great confident self, be happy
---
PC: Dear Anu, I don't know how to start. My Age is 40.
This is my second marriage. My first marriage was arranged and it lasted 6 months.
As I was in love we got divorced. We have one son who is 10 years old.
Now the issue is my second wife and I have both betrayed each other.
I caught her first having a deep love affair with her yoga friend. That fellow is married and we know his wife and daughter.
She has started him when she was training for yoga and later they both started classes together.
Meanwhile, I am in a relationship with a colleague. Now she is in a different organization.
Although she has stopped it, I continue to chat with her.
We are both struggling to come to a decision since last 9 months but nothing is working out. We both confessed; she is guilty, I am not.
We've had a very rough time. Now she is at her mother's home.
My problem is that I can neither let her go nor forget her. She wants her freedom as earlier but I am not ready. So I am sad while I continue to torture her by asking past questions.
I am worried more about my son. I am stuck so I end up bullying her. Please advice.
I want to move on. I don't want to be in relationship but i am afraid of taking decision. Sometime I feel miserable.
Anu Krishna: Dear PC, I don't want this and I don't want that is a childlike way of dealing with things; you will be stuck in that mud forever.
You have to want to either move on with your marriage or not.
If you choose to stay, you have to train your mind and as a couple go for a Couples Counselling to rebuild the marriage.
It will require forgiving; hard as it is, it will help both of you relook as to why you fell in love in the first place.
Sometimes, it is essential to hit the refresh button and look at things with a new perspective. And if you have decided mutually, to separate, do make sure there is no mud slinging or finger pointing.
A marriage is between two adults who are invested equally in it and there is no one person to blame.
Be graceful about this and make it a graceful end where you support one another.
Whatever you decide, always make sure your son is well looked after especially his mind and what he needs to know and understand.
Seek the support of a professional who deals with children growing up in families where the parents are separating or are quarrelling.
Either case, please DO NOT let the child suffer as this has long-term consequences on his mind.
I hope you make a decision sooner as every day not only makes it harder for both of you but for your child as well. Take care and best wishes.
---
S: Hi Anu, I am 42 yrs old male. I am a Public Health Professional and work in an International NGO on health issues based in Delhi.
I have ageing parents (both suffering from cardiac illness, diabetes and hypertension) which are based in Mumbai, my immediate family (wife and two kids) stays with my parents as there is no one else to take care of them.
My parents especially my father is adamant that he doesn't want to leave his house and stay with me in Delhi.
As a result my immediate family is also forced to stay in Mumbai taking care of my parents.
My wife is very supportive, however as this situation is like this since last 4-5 years and we are staying in two different cities, it has now taking stall at emotionally and physically on both of us (me, my wife and my two kids).
I am desperately searching for job in Mumbai, however in my sector there are not very good opportunities in Mumbai.
I tried my hands in two there places for job, however to my misfortune things didnt work out.
I am a mid-senior level professional and have reached this position after a lot of hard work, however the stress has started affecting my performance and overall reputation in the organization.
Hence there is constant stress of performance, ability to deliver, overall situation has lowered my confidence level affecting my work further.
Dissatisfied with my work, my supervisor has already started sidelining me. I am desperately started thinking of leaving the job, however financial condition doesn't allow me to do that.
With COVID-19 pandemic things has worsened, as I am stuck in Delhi even in lockdown, leaving my parents and my wife struggling in Mumbai amidst the lockdown.
Even now cant visit them as stressed, whether i will carry risk of infection to my parents, wife and kids, Hence staying away, it's been 8 months that have not met them.
Not sure, how to handle this. One way I thought as looking out opportunities in Mumbai, even if at junior level, However i am trying for that, but not getting suitable opportunities.
Not sure, how to handle the pressures from family (Parents don't want to shift, wife is not ready to stay away and has given time till March, there constant pressure of performance). Not sure, what to do.
Anu Krishna: Dear S, surely, this pandemic has put many at inconvenience in different ways for each of us across the planet.
What we can do is make the best of what is at this point in time. It indeed is hard to be away from family at a time like this.
I know parents in some families do find it hard adjusting to a new city at their age and having your wife care for them as logical as the decision was has begun to take a toll on the family as a whole.
It is an amazing feeling to come back home to a family after a hard day's work where they wait with love, care and support.
Either a job in Mumbai or moving your family to Delhi are the options as it is evident that family and their love is important for you to have the security and stability.
Having said this, Lockdown 5.0 begins soon, I think fearlessly take a call, visit your family.
If you think you want to isolate yourself in the fear of COVID-10, do so…but more that all of this, do sit down as a family, COMMUNICATE, talk to your parents about how this is affecting you and obviously they care and love you enough to hear your side of the story.
And finally, do what needs to be done to make sure that your parents understand and are taken care of and your wife and children are with you as a family.
Happy decision making and be happy!
---
V: Dear Anu ,I am from Nagpur .It's been almost 6 to 7 months we are at home.
Since I am a sales professional. It's very difficult for me to be stuck at home for so long.
Various kinds of thoughts are now coming in the mind which I know are not good for my mental and physical health. Please help how to cope up with this kind of issues.
Anu Krishna: Dear V, The world is facing its own set of challenges and I empathise with you.
Some of us have lost jobs, some of us have taken a pay cut and all of us don't know what's going to happen next.
Thoughts will keep erupting in the mind; that's what the job of the mind is. But you have the choice of what thought you want to harbour there.
CHOOSE wisely which means wake up every morning in gratitude.
Start the day with a joyous memory something which makes you feel happy and then visualize what you can do to make yourself even more employable than before.
Use this break to learn something new that you have always been wanting to now.
You have a choice of feeling stuck or feeling freedom where you have the time to do what you want now.
The mind can be trained positively as long as you want to be in a space of feeling happier. Also, meditate or indulge in an activity that you like everyday that helps you again be happy.
Right now, be happy with what is rather than complain about what you can't have.
This perspective will definitely help in reworking the mind and cope with the current situation. Be cheerful and happy!
---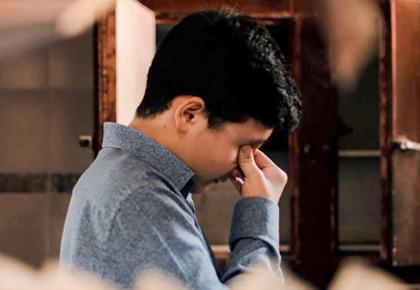 Dear readers, is there something that is bothering you that you are not able to talk to anyone about?
You don't have to be alone and you are NOT.
Tell us what is bothering you. Please send us your questions and tell us what you are struggling with.
Based on the information you share, mind/life coach, NLP trainer and Mental Health Guru Anu Krishna will help you find answers and guide you to help yourself overcome the situation better.
Please write to getahead@rediff.co.in (Subject: Anu, can you help?) along with your name and age. You may choose to stay anonymous. We respect your privacy.
---
Disclaimer: All content and media herein is written and published online for informational purposes only. It is not a substitute for professional medical advice. It should not be relied on as your only source for advice.
Please always seek the guidance of your doctor or a qualified health professional with any questions you may have regarding your health or a medical condition. Do not ever disregard the advice of a medical professional, or delay in seeking it because of something you have read herein.
If you believe you may have a medical or mental health emergency, please call your doctor, go to the nearest hospital, or call emergency services or emergency helplines immediately. If you choose to rely on any information provided herein, you do so solely at your own risk.
Opinions expressed herein cannot necessarily provide advice to fit the exact specifics of the issues of the person requesting advice.
---