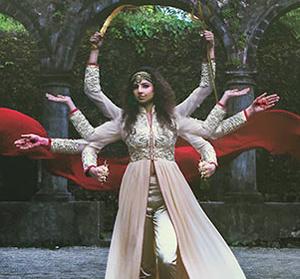 'The Goddesses were a good example to depict how women were looked upon with so much respect which has gradually vanished somewhere.'
'People don't think or believe that whom they are worshipping are like the real women in their lives.'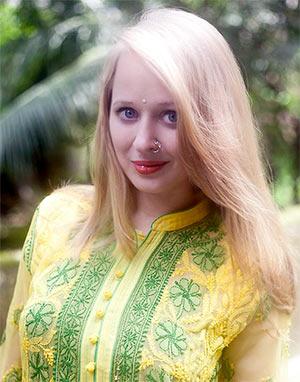 We live in a country that has worshipped women since the ages as Kali, Durga and Lakshmi, strong women who have been eulogised in our mythology.
"But unfortunately, we ignore the ones walking daily among us. We pray to the Goddesses for power and prosperity, but we humiliate, harass, rape, disrespect, discriminate and frown upon the women around us," says 28-year-old Russia-born, Mumbai-based photographer Victoria Krudysheva, left.
Victoria, who is married to social media marketing expert Nitin Tonse and currently lives in Mumbai's western suburbs, has put together a photo series, 'Lost Indian Goddesses' (external link).
Rediff.com's Tista Sengupta spoke to Victoria about her project.
What inspired you to create 'Lost Indian Goddesses'?
Freedom of expression in whatever I do and the freedom to not limit myself to only one activity has always been the most important source of inspiration for me.
I am a woman and that's the first thing that inspired me to create 'Lost Indian Goddesses'. I believe this photo series metaphorically reflects the significance and internal fight of every woman, their power, and the different sides to them.
The photo series doesn't show discrimination against women or gender bias only in India; it's an issue all over the world. So there's no country bias.
The idea of how Indian women initially were worshipped, or worshipping the Hindu Goddesses, was a great example for me to show how much we have shifted from this age-old practice.
So much power given to women in myths and the Vedas, yet in life they are frowned upon for taking any decisions for themselves.
The Goddesses were a good example to depict how women were looked upon with so much respect which has gradually vanished somewhere.
People don't think or believe that whom they are worshipping are like the real women in their lives.
There are times when women can't walk on the roads without getting harassed. Be it me or any of my Indian friends, the same can happen. It isn't related to anything else but the fact that women have lost respect today.
I wouldn't say that it's only the men who don't respect women, though they play a big role. There are examples which show that women too are responsible for what's happening.
Like, for example, mothers tell their daughters to give into certain requirements just because they have to please their husbands in one or the other way. And I am not talking about a sexual way here. I am talking about giving into someone's demands just so there's no backlash.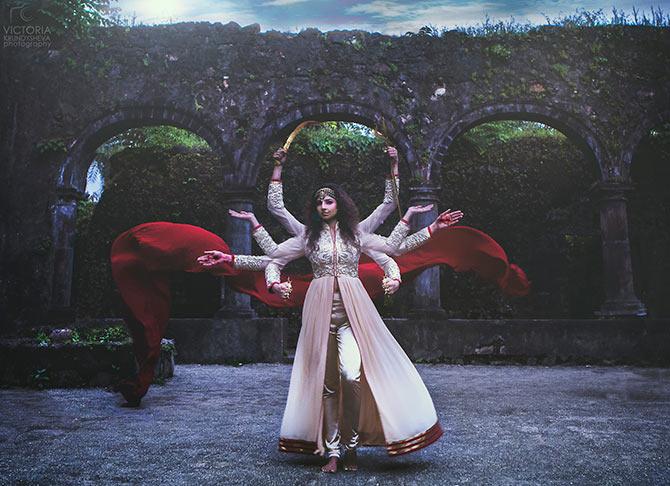 IMAGE: Mayuri Sinha as Goddess Durga. All Photographs: Kind courtesy Victoria Krudysheva
You mentioned Hindu mythology. How much do you know about it?
My introduction to Hindu mythology happened at a very young age. It was in 1995, when I was seven or eight years of age.
I was in hospital for three months to treat a burn caused by hot water.
I wanted to read something and asked my grandmother to get me a book, and she got me the Mahabharata. I liked the metaphorical way Gods and Goddesses were represented in it. The first time I read it I got interested, but then I forgot about it for a long time.
In 2012, I moved to Mumbai as I was offered an internship with Mouthshut.com in marketing.
I was engaged with AIESEC, a global platform for young people to explore and develop their leadership potential through cross-cultural global internship and volunteer exchange experiences across the globe. I got the job through AIESEC's database.
I started reading more mythological books and also heard about it from people who followed Hinduism.
I have read various interpretations of the Vedas and discussions not only conducted by the Hindu community, but other religions too. I have done a thoroughly comparative study.
In the photographs I created, particular weapons or facts about the Goddesses were incorporated on purpose.
I think I am a fan of the idea of Hinduism. It very well depicts different sides of life and people. Hence, I chose to go ahead with Hindu Goddess.
How much of your personal experiences worked as an inspiration behind the series?
Honestly, there hasn't been any dramatic experience in my life.
But there have been times when I have walked on the streets in an Indian outfit and received derogatory comments or heard kissing sounds.
It seems to be simply okay to grab a woman on the streets, irrespective of what she has worn. In fact, many think women get jobs and have a edge over the rest for their good looks and not for their talent or skills. But this isn't the sole reason behind the series.
There is news on rapes or women being humiliated for being vocal about their opinion every day.
One of the recent worldwide known examples was the Brock Turner case (a former student of Stanford University, California, who sexually assaulted an unconscious woman in the college campus).
He was found guilty of raping a woman, yet his father's comment on the punishment was that he shouldn't have his life ruined because of '20 minutes of action.'
It strikes me as complete disregard for a woman who has her life ruined in these 20 minutes.
The court hasn't imposed a severe punishment on him, showing everyone that it's no big deal, when it should be a big deal.
This isn't the kind of situation I would want to raise my children in. Sometimes I reach a stage that makes me think if it's safe enough to have a daughter.
How long did it take for you to complete this project?
The first time this idea came to my mind was eight or nine months ago.
There was a time when I thought that the project hasn't really gone ahead enough. And that's because not a single artist can be 100 per cent sure that the final outcome is what they picturised in their head. It was only after nine months that I was ready to start shooting and execute it.
The shoot took me two days. But the preparation took longer -- getting the logistics in place, finding the right models who could do justice to the characters, make-up artists, costumes, etc.
What is the best compliment you've received for your work?
A few men shared the photo series and commented that it's a brilliant concept and they hoped that everyone took note of it.
It was important for me not only to impact the victims of such situations, but also the people who can help bring about a change.
What is the criticism you've heard so far?
That I am pointing fingers at Hinduism.
I am not trying to disrespect the religion; I believe in everyone's rights. Moreover, I do respect the philosophy behind Hinduism.
There are people who would misinterpret, but I respect everyone's opinion.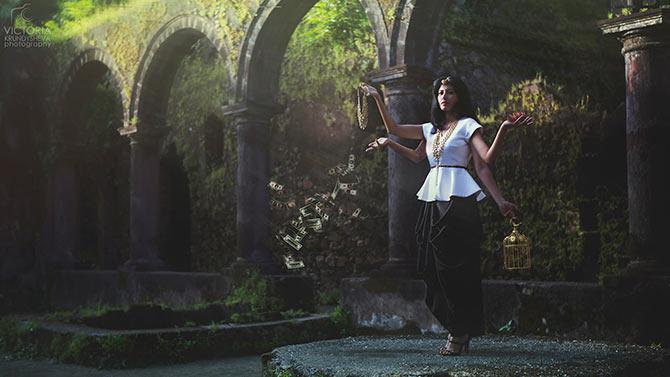 IMAGE: Vandita Srivastava as Goddess Lakshmi.
In India, religion is a very sensitive topic. Weren't you apprehensive? How did you ensure that your thoughts will be conveyed effectively?
Yes, and that's probably why it took me nine months to come up with it.
I wanted to make an impact. This isn't about cheap publicity or popularity. If I can make at least a few people think, then my purpose is served.
Guaranteeing that the thoughts were conveyed in the right way is something that can't be ensured 100 per cent.
There are a few levels of communication, like what you say, what it sounds like, what the person feels and what s/he thinks about it.
I just made sure that it wasn't insulting or aggressive.
It isn't a religious matter. It's a social issue that has been portrayed metaphorically.
Why did you specifically pick these five Goddesses?
I thought these five Goddesses -- Varuni, Kali, Saraswati, Lakshmi and Durga -- are the best metaphors.
Durga is one of the most powerful characters in Hindu mythology, but in reality women are told to know their place.
Do you think your campaign served its purpose?
If not on a large scale, I think it has reached a few people. In my view, it has already managed to make people think. But there's a huge way to go.
My photoshoot alone can't make a huge change. Each and every artist should come together and do something about it.
That's when we can open the eyes of people to the issues happening around.
Do you think feminism is over-rated in India?
It will be harsh to comment on something like this, especially considering the fact that I am still not considered to be an Indian.
Feminism in this world is misunderstood. Right now it's in a transition period.
The concept has been introduced and it is now being tried and tested. It will take time for people to understand it well. There are a few some who do, but many don't.
Also, women should stop suppressing each other. Things like body shaming another woman needs to stop.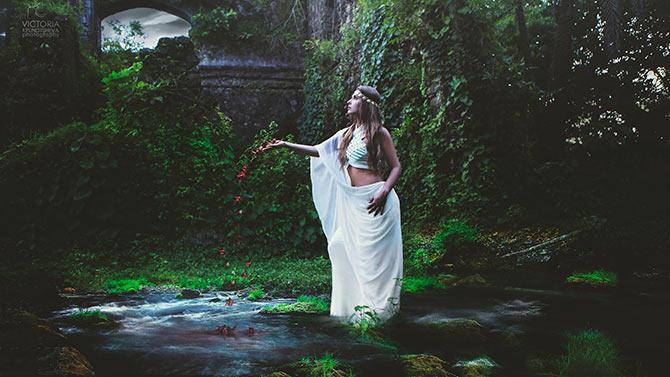 IMAGE: Devina Lason as Goddess Varuni.
Don't you think that men are also being suppressed by women?
Yes, they are. A lot of women do take advantage of the laws for them, too. Surprisingly enough, women who are suppressed aren't really using the law much.
Are you planning something similar on male Gods too?
I would want to do something different for men.
But right now I am working on a concept that revolves around a person dealing with several issues within the self.
I have started working on it, and think would get done with it before the end of the year, provided the progress is well.