Take the stress out of cooking this Diwali with these easy and delicious recipes from Bethica Das.
Apricot Shrikhand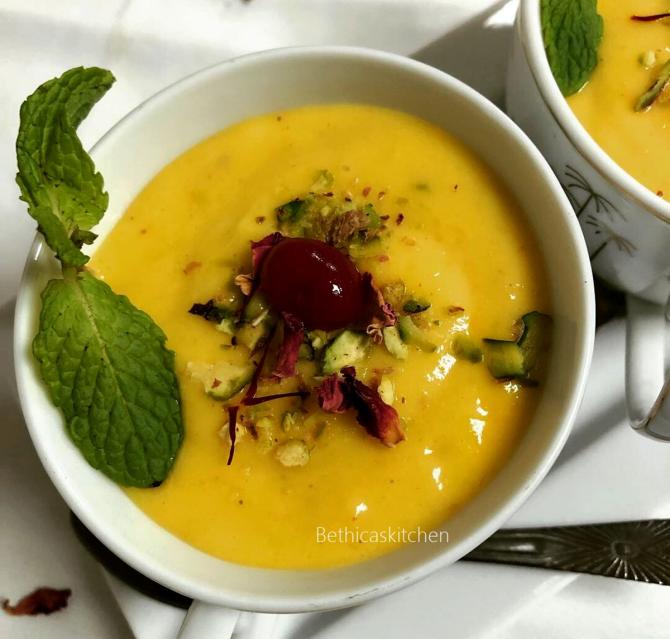 Ingredients
400 gm yoghurt
200 gm dried apricots, pitted
1 tbsp sugar (optional)
1/2 tsp lime juice
Pinch of salt
¼ tsp cardamom powder
1 tsp rose water
Pinch of saffron
Chopped pistachios, dried rose petals and cherries to garnish
Method
Pour the yoghurt in a cheese cloth and place on a strainer.
Keep this on a bowl in the refrigerator overnight.
The thick hung yoghurt is used for the recipe.
Soak the apricots overnight in a cup water.
Then blend into a smooth paste.
Heat a pan and simmer the apricot paste, sugar, lime juice, pinch of salt, saffron and cardamom powder till reduced and slightly thick.
Keep aside to cool.
In a bowl, whisk together hung yoghurt and the reduced apricot.
Pass it through a sieve to remove the granules.
Add the rose water and mix well.
Chill before serving.
Garnish with chopped pistachios, cherries and rose petals.
---
Khubani Ka Meetha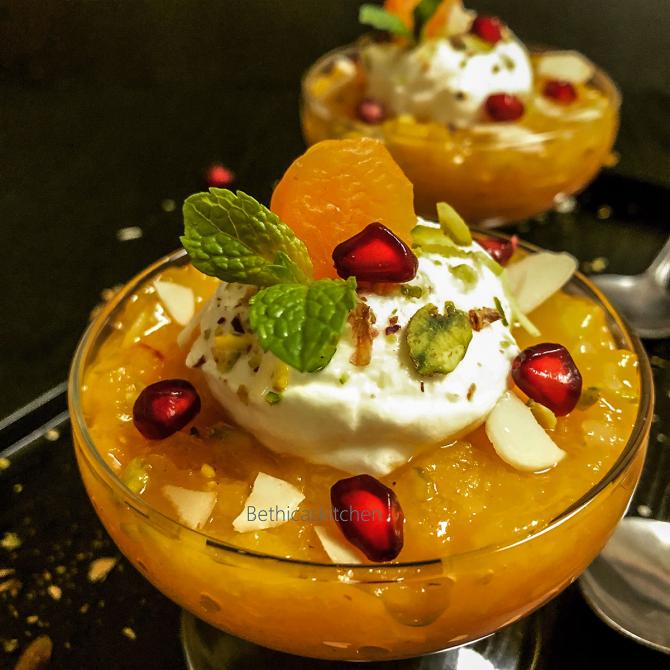 Ingredients
200 gm dried apricots, pitted
1 tbsp sugar (optional)
1/2 tsp lime juice
Pinch of salt
¼ tsp cardamom powder
1 tsp kewra/rose water
1 tbsp chopped almonds
1 tsp chopped pistachios
Pinch of saffron
Extra chopped nuts to garnish
Few pomegranate pearls to garnish (optional)
Hung yoghurt to serve
Method
Soak the apricots overnight in one cup water.
Pressure cook in the same water it was soaked in for 2-3 whistles.
This way the cooking time is less.
Transfer the contents to a pan and simmer till all the water has dried up.
Keep mashing the apricots with a ladle or potato masher.
Add the sugar (you may add more depending on individual preference), cardamom powder, chopped almonds, lime juice, salt, pistachios and kewra water.
Mix everything well and simmer for 1-2 minutes.
Switch off the flame and add the saffron.
Mix and keep it aside to cool.
Refrigerate for some time and serve with a topping of some hung yogurt (to balance the sweetness), chopped nuts and pomegranate pearls.
---
Parwal Ki Mithai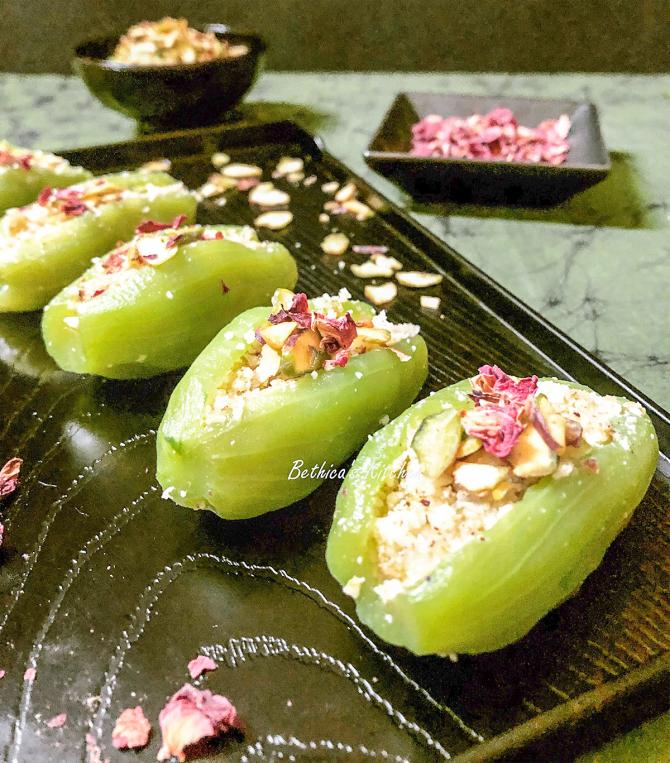 Ingredients
5-6 parwal
100 gm paneer
2 tbsp fresh grated coconut
2 tbsp pistachio, powdered
¼ tsp cardamom powder
2 tbsp + 3/4 cup sugar
3/4 cup water
¼ tsp baking soda
Chopped pistachio and dry rose petals to garnish
Method
Wash the parwal and pat dry.
Then scrap them and make a slit lengthwise on one side. Carefully deseed them and keep aside.
For the stuffing
Heat a non-stick pan and saute the paneer, 2 tbsp sugar, coconut and cardamom powder for a few minutes till the moisture has evaporated.
Set aside to cool.
Mix the pistachio powder to it and keep aside.
The stuffing is ready.
For the parwal
Heat sufficient quantity of water in a saucepan.
Add baking soda (this will help retain the colour) and bring it to a boil.
Drop in the parwal and simmer, covered for 2-3 minutes.
Drain and keep aside.
For the sugar syrup
Add sugar and water in a pan and bring it to a boil.
Simmer on a medium flame till the sugar has completely dissolved.
Add the boiled parwal in the syrup and simmer for 2-3 minutes or till it softens.
Switch off the flame and keep it covered for another 5-10 minutes so that the parwal get nicely soaked in the sugar syrup.
Drain completely and let it cool down.
Carefully stuff the parwal with the prepared stuffing and press them lightly.
Garnish with chopped pistachios and dry rose petals.
Refrigerate till serving time.
Then enjoy.
So, Dear Readers what are you cooking this Diwali?
Do you have a traditional recipe, which has been handed down by your mother or mother-in-law?
Would you be indulging in sweets made in ghee or opt for the healthy, fat-free varieties?
If you are cooking something creative, please share your recipes and we'll publish the best ones on Rediff.com.
Please mail your recipe(s)/video(s) to getahead@rediff.co.in (Subject: Diwali Recipe) along with your name, location and, of course, the recipe(s).
Kindly don't forget to attach a photograph(s)/video(s) of the dish as well.