"When I used to watch reality shows on TV, I used to wonder why are these people crying so much? How can anyone cry like this on national television?" Tamil Nadu's first MasterChef Devaki Vijayaraman tells Divya Nair/Rediff.com in a telephone conversation from her hometown in Trichy.
"But when my name was announced, so many things crossed my mind," the 28-year-old mother and the first winner of the reality show MasterChef India Tamil reveals.
"I was away from my son and family for 6 months. Until few months ago, my only ambitious dream was to open a small cake shop in Trichy. I never dreamed or even imagined to participate in a show like MasterChef or win the title," says the homemaker turned baker who took home the title along with a winning prize of Rs 25 lakh.
"When people usually mention in their interviews that a reality show changed their life, I always felt that probably they are exaggerating. How can one show change your life? But it is absolutely true in my case. MasterChef really changed my life," Devaki shares while describing her inspiring journey from a shy home baker to being recognised as Tamil Nadu's first MasterChef.
Devaki -- a commerce graduate who lives with husband Gokul and 3-year-old son Dhruv -- is now inspired to start a bakery in Trichy so she can continue to "bake and sell affordable cakes for all".
Her father Vijayaraman operates Raj Bhavan, a small eatery at NSB Road in Trichy, mother Bharathi is a homemaker and younger brother Naresh is an MBA graduate.
Did you always want to be a chef?
Not at all. I had a very normal childhood. I was in Class 7 or 8 when I started cooking at home.
I loved making snacks and used to make thakkazhi (tomato) chutney really well.
When I was in Class 10, I used to watch a lot of cookery shows with my mother. I was very fascinated with the idea of baking a cake.
I used to think that anyone can bake a cake in a microwave. That was my limited knowledge.
So I went to many shops and asked for the price. I confirmed several times if I can bake a cake in a microwave and the person said yes.
We were a middle class family and back then buying a microwave for Rs 15,000 was very expensive.
Somehow I convinced my parents and we got a microwave home.
You won't believe, but I tried so many different recipes and yet, every time my cake would fail. After several failed attempts, I simply gave up.
After Class 12, I wanted to pursue hotel management but my parents didn't think it was a good career option for me.
It was only after my son was born and we moved back to Trichy (from Chennai), I thought of trying again.
In 2019, I signed up for a two-day baking workshop where I learned the basics from scratch. That was the first time I knew that if you want to make a decent cake, you need an OTG (oven toaster grill).
Soon after the workshop, I decided to start making cakes at home.
As luck would have it, the lockdown was announced and the pandemic turned out to be an opportunity for me to explore my baking skills.
My neighbour akka ordered the first cake -- a half kg blackforest cake to celebrate her husband's birthday who was in Singapore at the time. I charged Rs 300 and it turned out quite well.
During the pandemic, I started my baking business and named it Brown Sugar. I baked over 500 different cakes ranging from Rs 800 (for 1 kg) to Rs 2,000 in the lockdown.
This baking experience really gave me the confidence to apply for MasterChef.
Even today, akka tells me: 'Don't forget, I was your first lucky customer.'
How did you sign up for MasterChef?
I used to watch MasterChef Australia so I was aware of the show.
When I heard about the auditions (for MasterChef India Tamil), I registered online.
I was in Trichy and the nearest audition was happening at Madurai which was less than two hours from where I stay, so I thought let me at least try.
For the audition, I had prepared Tamil style pasta with butter chicken gravy and brownie skewers like a mutton skewer because I wanted to create an illusion dish.
I served it with a special white sauce made from white chocolate and mint.
I was halfway home when I received a call from the team that I was selected for the next round.
I came home, went again to Madurai the next day for the live round and prepared a Corona themed cake in 60 minutes. That's how I got selected.
How did you prepare for the show?
I had watched some of the shows so I was aware of the various tasks and challenges -- like the blindfold challenge, surprise ingredients, one hour deadline etc.
Before going on the show, I learned how to de-skin a chicken, something I had never done before.
I watched various episodes of the show and tried to learn more about different cuisines and ingredients.
The more I practiced I learned that some of the things we see on the show weren't as difficult as I imagined it would be.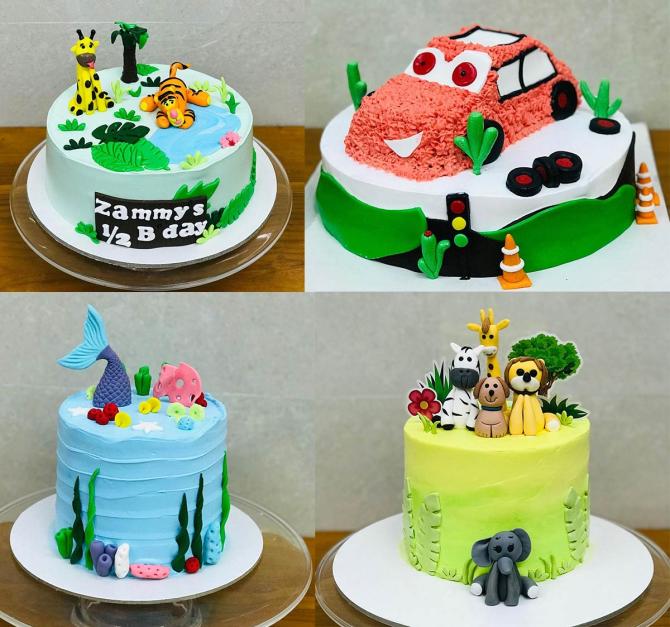 What was the most challenging part of the show?
Because of the pandemic, the shooting was scheduled in Bengaluru. My family was in Trichy and they couldn't travel.
My son was a little over 2 years when I registered for the show.
He was too young to understand that I was going away but my parents and husband took good care of him so I could participate in the show.
Initially, it was very painful to be away from him. First few nights, both of us missed each other. I used to cry because I missed sleeping with him.
In 6 months I went home only twice to meet him. After meeting him, I'd be more emotional and found it really hard to go back.
No one, including me, really thought I could win it.
But when my name was announced, so many things crossed my mind. I thought about my family, my son and I couldn't stop my tears.
Now that I have won the show, I feel all that pain and hard work has really paid off.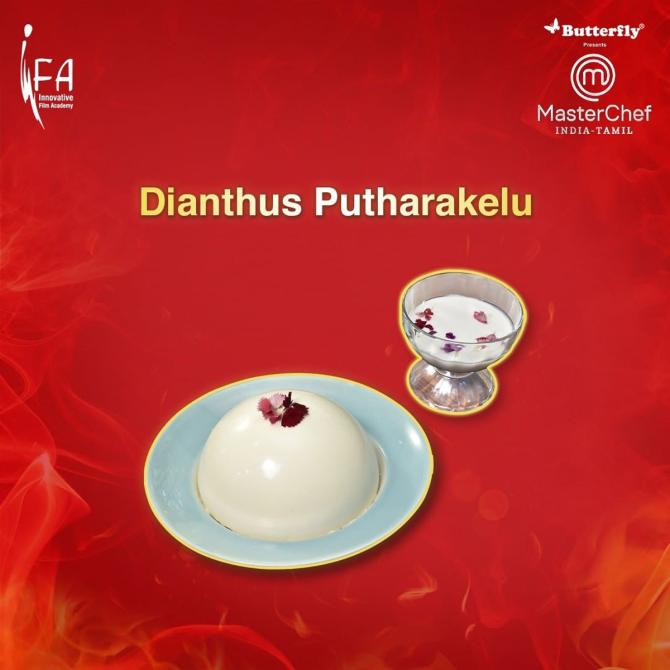 Tell us about some of the interesting dishes you prepared on the show.
Frankly, every dish was equally challenging.
More than cooking, I was always really nervous about presenting the dish before the judges. Because all you get is a few seconds or minutes to sell your dish and it is important for the judges to experience your skill and creativity in that time frame.
If you can't put it out there in your presentation, all your hard work is wasted.
The judges really liked my arancini, dianthus putharekulu (a traditional sweet from Andhra Pradesh), and the illusion dish I made from paruthi paal (a concoction made from cottonseed milk) in the finale.
Do you think it was less challenging for you because you eat and cook non vegetarian food?
Yes, obviously it helped. In one of the tasks, we had to use cured egg yolk.
Frankly, I had never heard or tasted this thing before. It is used to get a cheesy flavour.
But imagine if you are a vegetarian on the show and you have to use egg or meat to cook!
Personally speaking, I find it hard to cook a dish if I cannot taste an ingredient, if I don't know its flavour or understand what it can do to a dish.
So definitely I was fortunate because we also cooked a lot of non-vegetarian dishes on the show.
Has your cooking style and perception changed after participating in the show?
Yes, definitely. Earlier also, I used to experiment with new cuisines and dishes. But I would stick to basics and make do with whatever was available.
I would make pizza and pasta with dried herbs or store bought ingredients. After MasterChef, I have become more curious and I observe a lot of things.
Now I am constantly trying to experiment and explore new ideas in my cooking.
I really liked the idea of cooking with fresh ingredients on the show.
I told my husband I want to have my own herb garden where I can grow and pick my own herbs to use in my cooking. I noticed that it (using fresh herbs and ingredients) makes a lot of difference.
How was your experience working with Vijay Sethupathi?
Everyone has been asking me this question. I'm really short of words to describe him.
More than an actor or host, he is such an amazing person. He is very genuine, down-to-earth and makes everyone feel so comfortable.
Initially I used to be very shy and spoke less.
So before the shoot also, Vijay Sir would explain: 'See it is your dish, and you know it better than anyone else. After you have finished cooking, you can't change anything. You can only try and present it best. So you have to talk and do that well.'
He would always have this encouraging smile on his face.
When we are under pressure, he would crack jokes and lighten us up a bit.
After winning the show, he congratulated me and said: 'See all your hard work and sacrifice has paid off so beautifully. I am proud of you. Everyone is so proud of you. You should be happy and inspire others.'