'You may think that you have enough emergency funds to tackle any financial disaster, but just emergency funds are not enough. There are loads of other things a person needs to be prepared for to avoid getting ruined when financial disasters strike.'
Here's Sheetal Jhaveri's easy-to-follow financial disaster management guide for you.
Illustration: Dominic Xavier/Rediff.com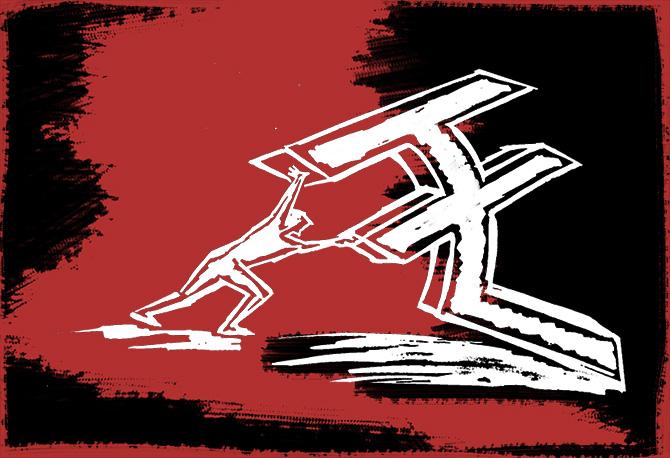 The first thought that crosses your mind when you hear the word 'disaster' is, of course, natural disaster. But there is much more to this word.
Recently, a building in my neighbourhood in Mumbai collapsed due to heavy rains. A young girl, sadly and unfortunately, died. And everyone staying in that building has been rendered homeless. Everything important was lost. With all important documents lost along with loss of a huge financial asset like home, it's an uphill task for these families to start rebuilding their lives. It is a disastrous situation.
To this situation, add the current economic situation where businesses are slowing down, companies shutting down and filing for bankruptcies, individuals losing their jobs, and new hiring at an all-time low, the situation definitely becomes more disastrous.
In another incident, Pradeep Roy (name changed), a 54-year-old facing hard times on his business front, got a shock of his life when his wife suffered a brain haemorrhage. Their medical insurance had expired two years ago due to non-payment. Although he had a floater plan, his fight to salvage his company from going kaput led to him missing that payment as well.
While a month ago he did get a new policy, but since you can only start claiming after 90 days are over from the day you purchase a policy, he is finding it difficult to pay medical bills of his wife's treatment, which has already run upwards of Rs 10 lakh (Rs 1 million).
Although both these scenarios are completely different, they are nevertheless financially disastrous.
You may think that you have enough emergency funds to tackle any financial disaster, but just emergency funds are not enough. There are loads of other things a person needs to be prepared for to avoid getting ruined when financial disasters strike.
Let us see what can be done to salvage your finances from ruin when bad times strike.
1. Financial plan
Disasters can strike rich and poor alike. Despite so much having being written about financial planning, people still believe in the myth that 'financial planning is not for everyone'.
In fact individuals with lower income are more in need of financial planning. With their limited resources, wise planning of their monies is very important.
This can be achieved by understanding your cash flow, knowing where to cut expenses, having important insurance policies in place, saving for life goals, and retirement and estate planning. By following these steps you can put your emergency funds, insurance needs, and investments in place.
2. Insurance to consider:
Home insurance
Everyone thinks of medical insurance as the most important form of insurance. But no one thinks of home insurance or car insurance to have all bases covered. Of late, we have been hearing about instances of sporadic fires in buildings, buildings, and not just old ones, collapsing for whatever reasons.
Your home insurance should be covered on a replacement basis. There are home insurances which cover, not just the physical structure of the house but also electronics and furniture in the house. Make sure you purchase a home insurance with all bases covered.
Car insurance
Nowadays most of us have more than one car. Make sure your car insurance is in place along with third party insurance because disasters do not come announced.
Recently, my brother, a very busy oncologist, banged his car as he was talking on the phone and got distracted. Such cases are on the rise. Thankfully, nothing happened to him but the car took the brunt.
No one wants to spend extra cash out of their pocket in these financially stressed times for such negligence. If your insurances are in place you are covered.
Medical insurance
This is the most important insurance. It's a must to check that your premiums are paid in time. If you cannot afford standalone medical insurance for every family member, make sure you have a family floater plan. If you feel that you want a bigger coverage amount but cannot afford a regular plan premium, go for a combination of lower amount regular plan plus family floater plan or top-up plans to save some money.
Just like how you pay your home loan EMIs, by hook or crook, the same should apply to any insurance premium payment; make sure you make it a priority and none of your insurance policies lapse because you don't have money to pay premium.
The premium amount payable toward your insurance policies must come under mandatory expenses and should be accounted for in your emergency funds.
Do read all the terms and conditions before signing on the dotted line.
3. Mortgage payments
I have a client who had a family medical emergency and he was not adequate covered for such situations. He had to sell off his business to provide for this medical emergency but in doing so he started missing his home loan EMI obligation. His CIBIL credit score fell below the 300-900 mark considered safe by lenders.
So what, did you say? Well, lenders don't offer you loan at competitive rates, or don't offer loans at all, unless you get your CIBIL score between the 300-900 mark.
You can go to private money lenders but they charge very high rate of interest. So make sure to never miss your EMIs.
Account for your loan EMI payments in your emergency provisions by keeping aside the EMI amount at the very beginning of the month from your earnings.
4. List of all your important documents
This is an absolute must!
Keep copies of all your important documents in your bank locker, or with your spouse or a trusted lawyer or family member or friend. Consider this V.E.R.Y. I.M.P.O.R.T.A.N.T.!
Here's a list of very important documents of which you need to make photo copies and keep at two or three trusted people:
Important personal IDs: Passport, driving license, PAN card, Aadhar card, birth certificate, etc.
Insurance: Copies of all policy documents -- medical, home, car and any other insurance -- which you might have bought.
Property documents: Copies of agreements of all the properties you own, be it residential, business or investments.
Financial Information: Copies of all the investments you have made: bonds, shares, mutual funds, ETFs, Post Office Schemes, FDs, gold bonds and any other investments.
Contacts: Again no one thinks of taking backups of contacts. Previously, everyone used to maintain a telephone diary but now with smart phones, forget maintaining diaries, no one even remembers the numbers of their near and dear ones anymore.
Smartphone users should make sure to constantly take a backup on a cloud drive or pen drive and also maintain a physical diary of emergency contacts and keep it handy with all other important documents.
Medical records: Copies of your important medical records such as the list of your medications for different ailments, doctors' prescriptions and other relevant medical documents.
Will or estate planning: Consider them very important documents to be kept safe
5. Inform your spouse or family member
Although norms are now changing with women being more educated and actively employed, there are instances where the spouse has no clue regarding the whereabouts of the finances of her husband. This is especially true in family-run businesses.
Limited or unlimited resources, both spouses should be well aware about all matters related to finances. If something untoward happens to your spouse, you are not completely left to the mercy of others. I
always emphasise to my clients the importance of bringing their spouses with them when we discuss financial planning so that both are involved and aware right from the beginning.
Those still single should make sure that at least one member of your family must know about your finances.
6. Estate planning or will planning
Despite several articles on estate or will planning, 90 per cent of Indians do not have a proper 'will' in place. A will is a must when you don't want any bitterness or unnecessary running around among and by your loved ones for the hard earned money and other assets that you have earned for them.
A will can always be revised as and when you like it; but, once you have one, you know for sure that in case something untoward happens to you all your life savings and investments will go to the right person.
Also, if a detailed list of your belongings is in place, even if your family is unaware of your finances, they will have a list to refer to.
A will is a very powerful document: so powerful that even if you have nominated someone on your investments, the benefits will go only to the person whose name you have mentioned in the will and not to the person you have nominated as beneficiary of your assets like shares, real estate, bank account, etc.
So sit down with a financial planner and make your will. R.I.G.H.T. N.O.W.!
7. Involvement of children
It's easy for financially-savvy kids to adapt to untoward situations better than many elderly people. Also they are more emotionally stable during such situations and can take sound decisions.
However, Indian parents are very protective about their children and avoid burdening them with money matters. Also, most Indians children depend financially on their parents till they start earning or in some cases even after they are married, and hence they don't bother asking their parents about financial matters.
Involve your children in making financial decisions from an early age; it is best to keep them informed about all your investments after they turn 18.
Sheetal Jhaveri, MBA (Fin) and Certified Financial Planner, is founder of Dhanplanner, an investment advisory