Nikita Puri retraces the journey that brought coffee from the Araku Valley in Andhra Pradesh to an upscale café in the aristocratic district of Le Marais in Paris.
IMAGE: The finest of the six coffee variants available at Araku Coffee in Paris is the Grande Reserve: round and intense, with notes of yellow and red fruit, spice, caramel and vanilla. A kilo of it sets you back by 92.50 euros (₹6,512). Photographs: Courtesy @NaandiFoundation/Facebook.
Le Marais in Paris is where aristocrats like Victor Hugo lived. Old French architecture thrives here. Art galleries, hip restaurants and fashion stores mark it as an upscale district of the city.
A few days ago, the French windows here found themselves with a fresh coat of paint: blue, yellow, orange, and pink.
In the cobblestone alleys, lampposts turned purple and green.
These colours even showed up on pathways, stencilled in the shape of leaves -- all to announce the launch of a new café in the neighbourhood: Araku Coffee.
As French artist Mademoiselle Maurice used her signature origami collage to spell out "passion," the café pulled in quite a crowd, including Pierre Aidenbaum, mayor of the 3rd Arrondissement (district) of Paris.
The finest of the six coffee variants available here, under the brand Araku Originals, is the Grande Reserve: round and intense, with notes of yellow and red fruit, spice, caramel and vanilla. A kilo of this coffee will set you back by 92.50 euros (₹ 6,512).
On a wooden wall behind the counter stands an agronomic map fashioned out of gold-coloured metal strips, which denotes where this café's coffee comes from: the Araku Valley in Andhra Pradesh, some 110 km from Visakhapatnam.
Coursing through the Eastern Ghats, there's only one winding road that goes up to Araku (2,900 feet above sea level).
Paddy fields and sparse forests abound on either side of this road, offering some stunning views of the Ghats. In these forests stand the coffee bushes responsible for Araku Originals.
Araku is home to a number of tribes that speak a mix of Telugu and Odia. Many of these tribes worship spirits, rear cattle and live off the land: wild boars and jackals still roam the forests here.
Rich in minerals such as iron ore and copper, 'Araku' translates to 'Red Earth.'
Alternatively, local legends talk of times when a medicinal drink, or arak, for all illnesses could be found here in abundance.
The scenic Araku Valley is a big draw for tourists, but there's not much to see by way of development once you leave the tourist hotspots behind. Phone connectivity becomes unpredictable as you go deeper into Araku, as do the roads, and the nearest city, Srungavarapukota, is two hours away.
In fact, when the late Anji Reddy of Dr Reddy's Laboratories founded a non-profit called Naandi Foundation in Hyderabad in 1998, his focus was on educating children, bringing in sanitation, providing clean drinking water and facilitating sustainable livelihoods for the tribes here.
Manoj Kumar, the chief executive officer of Naandi Foundation, remembers that primary healthcare back then was particularly abysmal here.
"Almost every household had lost a woman in childbirth," he recalls. "They'd often use a rusted arrowhead to cut the umbilical cord."
A world that is eons away from Le Marais, yet the twain have met.
While Naandi's project called Nanhi Kali was focused on ensuring quality education to girls from under-privileged backgrounds, Kumar spent days talking to the tribesmen about sustainable livelihoods.
"We'd like to grow coffee," they told him.
"They had seen coffee plantations on government lands, and they assumed it'd be less back-breaking than paddy," he says, laughing.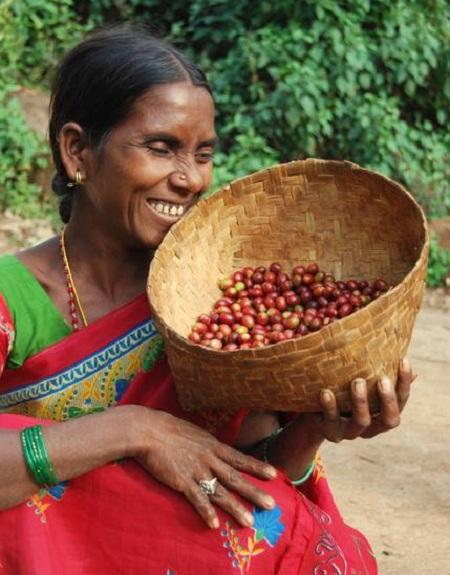 IMAGE: Coffee cultivation in Araku has been around since the late 1800s, courtesy a British administrator who brought the bushes to the region. Photograph: Courtesy @NaandiFoundation/Facebook.
Coffee cultivation in Araku may not be as well-known as in the Western Ghats, especially Coorg, but the practice has been around since the late 1800s, courtesy a British administrator who brought the bushes to the region.
In the early 2000s, Reddy asked Anand Mahindra to join the board at Naandi, and Mahindra readily jumped in because of the causes that Naandi espoused: children, education, small farmers, livelihoods and environment. It seemed to him that "this was a portfolio that was investing in the future of the country."
A few years later, sometime in 2007, Reddy sat across the table from Mahindra and Kumar, discussing how to get the best price for the tribal farmers who were ready with their coffee.
"We realised that for the farmers to really benefit, we had to tap into the markets abroad that paid more. We then went deep into exploring how to produce something that was marked as a 'cup of excellence,' something for which people would pay ₹3,000 per kg," says Kumar.
A kg of instant coffee from Nestle, like the Nescafe Sunrise Extra, can be bought for ₹690.
It was at this time that the concept of Araku Originals took shape.
Naandi Foundation would work with the world's best cuppers and create a brand that could thrive and compete in the international markets.
Meanwhile, Rajendra Prasad Maganti, of infrastructure developer Soma Enterprise, came on board.
Though Reddy died in 2013, his son, Satish Reddy, continues to serve on Naandi's board of trustees; and just less than three years ago, Kris Gopalakrishnan, co-founder of Infosys, also joined the board of trustees drawn by Naandi's work in the social sector.
The four trustees -- Reddy, Mahindra, Maganti and Gopalakrishnan -- are the investors in Araku Originals. And they seem happy with the way the venture is shaping up.
"I wish Father had lived to see this day. It would have brought him immense joy," says Reddy.
Gopalakrishnan finds the idea of Araku Originals particularly relevant in today's times.
"There is an opportunity for us to have significant value add-ons to our agricultural products," he says.
These add-ons can be in the form of product data, he explains, like where it's grown and which farmer grows it.
To qualify for what's called a 'cup of excellence' that will fetch a good premium in the international market, the coffee has to be graded over 80. For the past three or four years, Araku Originals has been scoring 85 and more. Thus, even before its Paris debut, it was in demand in cafés in Europe, South Korea and Japan.
Those who grow it have no taste for it: they prefer tea, that too black. ("Why do we need milk? Let the cows feed their young.")
When they first started growing coffee, Araku's farmers would allow it to climb till 10 to 11 feet in the hope of a good yield; coffee bushes should ideally be maintained at about five feet to ensure quality of the cherries -- a concept that took time for the farmers to understand.
There's a growing school of thought that believes that coffee estates should be treated like vineyards: the terroir and the trees they are grown under strongly influence the character and profile of the beans.
Paris-based Hippolyte Courty, an international expert on wine and coffee, comes from this school of thought, and, for the past five years, has been Naandi's in-house coffee expert.
It's been relatively easy to increase the yield and control the quality of beans in Araku, says Courty, because the plots the coffee is grown in are small and spread apart: the farmers here only have an acre of land each or so.
"Terroir is very important for Europeans," says Courty who regularly flies down to visit the coffee farms in Araku. "Here we can play with different parameters like the altitude, type of shade trees and slopes."
Both Courty and Team Naandi swear by the practice of bio-dynamic farming, a concept that thrived in ancient India and was revived by Austrian scientist Rudolf Steiner in 1942.
Bio-dynamic farming, which is seeing resurgence in Europe, embodies the idea that farmers must look at the positions of stars and planets before planting or harvesting crops.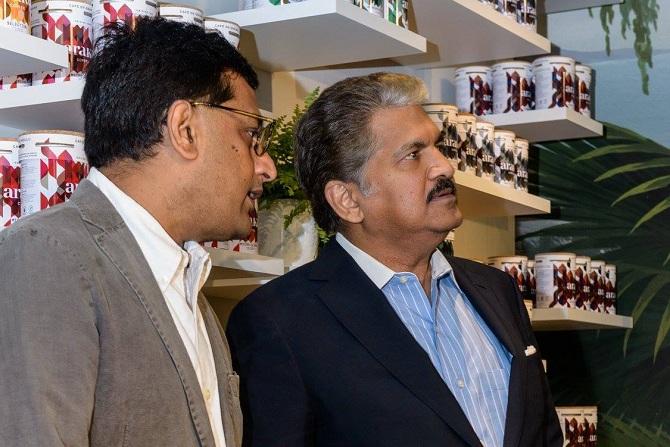 IMAGE: Naandi Foundation CEO Manoj Kumar, left, and industrialist and Naandi Foundation trustee Anand Mahindra, right, at the opening of Araku Coffee in Paris. Photograph: Courtesy @NaandiFoundation/Facebook.
Like many others in the valley, the coffee bushes are a precious asset for Apparao Pangi and Boi Simhadri, members of the Kondadora tribe. They hike over 2 km every day, even before the morning fog clears, to check the bushes under the shade of sweet lime, mulberry, custard apple, sapota, banana and silver oak (host also to pepper vines) trees.
Once the cherries are ready for harvest, only the red and crimson ones are plucked. These are then washed and processed at the processing unit in Araku, before being dried.
Samples of the beans are then checked by Courty.
To preserve the flavour, roasting and grinding of the beans is only done when they reach Paris. It's here that the coffee is also packaged.
Every can of Araku Originals has a note on where it comes from, and every one of the plots owned by 25,000 tribal families spread across seven districts is mapped, tagged and traceable on Google.
"The entire Araku region has benefited from this and that was the whole idea," observes Gopalakrishnan. "I think the story isn't over yet, we need to continue to build, support and grow a market for Araku."
After Paris, Araku Originals hopes to hit New York and India, though that may take some time.
"We do extensive research before entering a market; we put in three years of research for Paris," says Kumar.
But for the farmers in the under-developed region of Araku, it doesn't matter how far the coffee travels -- only the results matter.
With the cash last year's coffee harvest brought him, Pangi gifted his daughter, Rosie Rani, a red Scooty. With this year's income, he hopes to buy her a gold chain.
"Toki (Odia for 'the girl') will be very happy with it. You know, she could finish her BEd only because Naandi sells our coffee," he adds.
Naandi doesn't sell his coffee -- it helps him with what he needs, he's told. But Pangi's belief remains unaffected, no matter how many times he's corrected.
Simhadri's wife, Radha, joins the conversation soon. Like many others in the area, Radha wears three gold rings on her nose and has multiple ear-piercings.
"I had bought gold with the coffee money last year. This year we aren't buying gold, we're building our second house," she says. She points out to her new house: three partially-constructed walls stand under the doleful gaze of the cattle diagonally across the mud path.
The Araku model, feels Mahindra, is the future of philanthropy where a sustainable private enterprise helps serve a larger social need over the long term.
"We are focused on making Araku a globally recognised luxury coffee brand from India, while helping improve the lives of people in the Araku Valley."
Courty echoes this thought, adding that India is one of the largest producers of coffee in the world, but Indian coffee doesn't have visibility yet.
"Everybody in the world is waiting for a big and high-quality Indian coffee brand," says Courty.
This is where Araku Originals hopes to fit in.