A nine year old from Howrah was caught trying to board a train to Mumbai, alone; he had been told there were more Pokemon to be caught in Mumbai.
And in Mumbai, a 26 year old was struck by a motorised rickshaw while he was engrossed in the game.
The wait for Pokemon Go's official launch in India continues to be filled with super-long walks and cautionary tales, says Nikita Puri.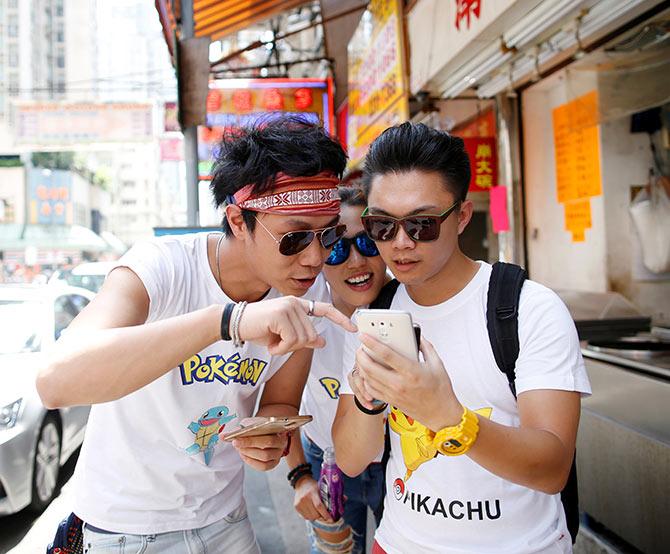 IMAGE: Pokemon Go is so addictive and immersive that players are risking their lives to catch their favourite characters. Photograph: Kim Kyung-Hoon/Reuters
Earlier this week, I met a blue-green coloured creature called Bulbasaur. Usually known to be well-behaved, this one seemed to be perched on an unsuspecting colleague's arm as she typed away furiously.
A "starter" Pokemon (short for "pocket monster"), Bulbasaur is one of the 151 "monsters" lurking in the world, issuing a challenge to the smart-phone armed section of the human race. "Catch us if you can," their eyes say.
San Francisco-headquartered Niantic's location-based augmented reality game Pokemon GOhas taken the world by storm, both swift and strong.
The game that is free for download on iOS and Android is being labelled as "addictive" and "immersive", and first-hand involvement easily confirms this.
It's so immersive that a few weeks ago, two Canadian teenagers unknowingly crossed over into US territory as they remained fixated on their phone screens.
A religious group in the UK, called Nirvair Khalsa Jatha, even organised a satsang to address a Pokemon-driven lifestyle. The guru spoke of how, instead of players capturing Pokemon, the game was capturing our time and energy.
While a slew of Pokemon-related mishaps have been reported across the world, in India, where the game is yet to be officially launched, stories of being "too lost" in the game have begun surfacing.
Residents of a society in Gujarat's Gandhinagar got the authorities involved when an unidentified young man walked into a house uninvited, and then proceeded to walk into adjoining societies.
A nine year old from Howrah was caught trying to board a train to Mumbai, alone; he had been told there were more Pokemon to be caught in Mumbai.
And in Mumbai, a 26 year old was struck by a motorised rickshaw while he was engrossed in the game. The Mumbai police has since then issued several road safety warnings, including a Game of Thrones-themed poster.
In Bengaluru, a pillion rider fell off the bike trying to catch a Pokemon, while another fell down the stairs.
Pokemon-related mishaps are not new. On December 16, 1997, about 685 children in Japan who had seen the 38th episode of Pokemon's first anime season had to be taken to emergency rooms for epileptic seizures believed to have been caused by repetitive red and blue visual effects shown in the episode.
Almost 13 years after they were first spotted on the Cartoon Network in India, these animated monsters have made a robust comeback. And this time around, they've risen from the tacky merchandising on plastic tiffin and pencil boxes and hit a home run by coming to life on mobile phones.
Just last week in Delhi, a Poke Hunt was organised from India Gate to Khan Market by a group called Performers' Consortium.
"The game has become popular because an entire generation grew up watching Pokemon cartoons," says Manu Kamath, co-founder of the Consortium who had 1,500-odd Pokemon cards as a child. "We started the walk with about 40 people, and by the end of it we had had over 80 players."
While cyber security experts like Pavan Duggal have expressed the need to update India's legal framework in light of this game's popularity, a university in the US has already introduced Pokemon GO as part of its pop culture and physical education curriculum.
"There were places that I never had time to go to. But with this game, I've made time and gone exploring," says Mumbai-based lifestyle blogger Aditi Gaitonde.
An added benefit is that the game is helping build a community of people with similar interests: Strangers become friends in shared cab rides as they share tips on Pokemon-hunting.
On an average, many spend four to five hours playing Pokemon GO, says Manoj Sharma, a clinical psychologist who heads the tech deaddiction centre at the National Institute of Mental Health and Neuro Sciences (NIMHANS).
"We are yet to study the effects of Pokemon GO, but quite a few have reported getting into minor accidents while playing the game. Gamers are also losing sleep because of the craze of catching Pokemons. There are likely to be more cases once the game is officially launched," says Sharma.
"Peers seem to be influencing each other a lot more with Pokemon GO. It's a good thing that people are seeing new parts of the city, but it becomes a cause for concern if people are unaware of their actions," he says.
IF YOU'RE ADDICTED...
One measure of addiction to Internet-based games is if it begins to hamper regular activities like studying, sleeping or holding a job.
Loneliness and boredom are directly linked to gaming addictions and professionals advise spending time with family and friends.
Deaddiction is a gradual process. Choose outdoor activities and non-Internet-based hobbies and cut down the time spent on technology-based gaming devices.
If excessive gaming affects your daily activities, seek professional counselling. Bengaluru's SHUT Clinic was started by NIMHANS specifically as an Internet de-addiction centre.
Lead Image: Photograph: Kim Kyung-Hoon/Reuters
MORE POKEMON FEATURES!