Dhoni and gang have proved that success comes to those who look beyond their limitations to turn their dreams into reality.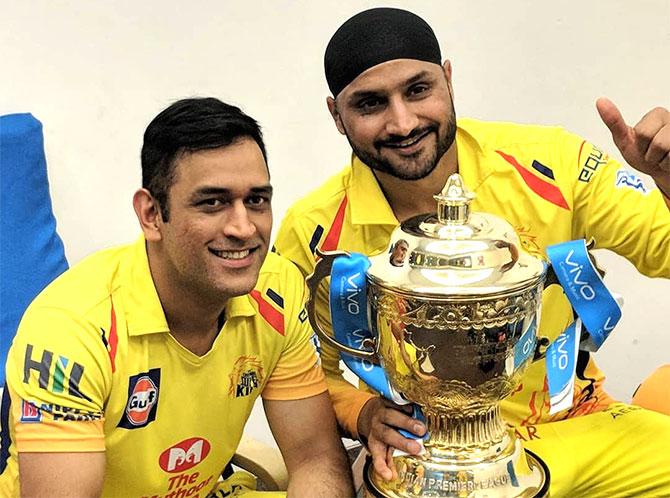 Chennai Super Kings had a fairy tale comeback from disgrace to glory when they clinched their third Indian Premier League title on May 27.
While Mahendra Singh Dhoni's 'Dad's Army' is celebrating the well-deserved win, Laxmi Negi/Rediff.com highlights the lessons we can learn from the IPL victory.
1. Age is just a number
IPL-11 celebrated the comeback of the Chennai Super Kings and their fans after a two year suspension.
After this year's auction, however, there were many who said the team's management had bet on an ageing guard as most players were on the wrong side of 30.
But the CSK skipper, M S Dhoni, stuck by his team. In fact, it was the 36-year-old Shane Watson who hit a century in the final match to steer his team to victory.
Dhoni and his men turned the dream of their fans into reality that night.
In your career too, never let age sabotage your ideas and dreams.
What really matters is your hard work and persistence to break down obstacles and a mind that is willing to learn, unlearn and adapt to the changing needs of the situation you face.
2. Keep calm at all times
Dhoni ain't called Captain Cool for nothing. He doesn't melt under pressure.
His calm temperament has not only won over his team mates, but has also helped them cope with heartbreaking losses.
Dhoni was seen soaking in everything with his usual calm demeanour after the Chennai Super Kings notched up their third IPL title.
A calm mind will see you through any crisis. Think professionally so that you can avoid the repercussions you could face when you take decisions fuelled by anger or irritation.
3. The team that stays together wins
When Chennai Super Kings returned to the IPL after the end of their two-year suspension, they did not think twice before retaining Dhoni as their captain.
CSK also retained Suresh Raina and Ravindra Jadeja and bought back Dwayne Bravo and Faf du Plessis.
Since the core team was retained, the players shared a strong bond.
Speaking of their bond, West Indian allrounder Dwayne Bravo has said he will always remain connected to the CSK.
Even after a sensational victory, Mahi had no plans to celebrate.
He wanted to go Chennai, so he could meet the fans and the people close to the team.
Be it in your life or career, a true leader is one who sticks to his team -- it could be your friends, family or colleagues -- in good and bad times.
Also, when you succeed, do not lose focus and remember to be thankful to the people who supported you when the chips were down.
4. Always have a plan B
CSK always had a plan B.
They separated their regular openers -- the in-form Ambati Rayudu was pushed to No 4 and Faf du Plessis opened the innings with Shane Watson.
They also have a quick thinker in Dhoni. When one delivery doesn't work, the skipper advises his bowler about what to try next.
In one of the matches, Dhoni moved Harbhajan Singh and Deepak Chahar up the order to do some pinch hitting.
The fact that they were not rigid with their plans certainly helped CSK.
Having a plan B in your quiver is not always a sign of losing or giving up on the original plan.
In fact, it shows that you don't get fazed when things don't go according to plan and are prepared to deal with the situation.
5. Never give up
India all-rounder Ravindra Jadeja was not in prime form in IPL-11.
In the match against KKR, he dropped consecutive catches off Sunil Narine at Eden Gardens.
The pressure on him was evident in the next match against Royal Challengers Bangalore.
Most bowlers would be ecstatic after claiming the wicket of Virat Kohli, but Jadeja didn't even raise his arms fully.
Yet Chennai Super Kings have persisted with the all-rounder and Jadeja lived up to the confidence that captain Dhoni invested in him.
The team's 'never say die' attitude helped them sail through tough times and the criticism and guided them towards this IPL victory.
This is one of the key ingredients for success. Like author Paulo Coelho says, the secret of life is to fall seven times and to get up eight times.