'A lot of young people, especially women, usually go on in their career path thinking to just put their head down and work hard, and the opportunities will come to them.'
'The only reason I became CEO of Vimeo was because I was pushing to create an opportunity to take the company into a different direction.'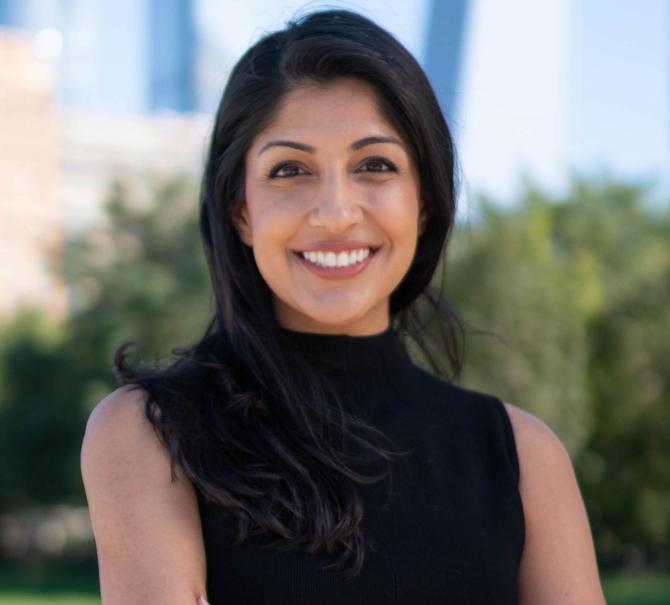 Anjali Sud will turn 38 on August 13. In July 2017, the young Indian American was appointed CEO of Vimeo, the world's leading all-in-one video solution platform with over 200 million users across 190 countries.
Born in Detroit, Anjali grew up in Flint, Michigan, and was educated at the prestigious Phillips Andover Academy in Andover, Massachusetts, graduated from the Wharton School at the University of Pennsylvania with a BSc in finance and management and has an MBA from the Harvard Business School
Anjali worked at Sagent Advisors, Time Warner and Amazon before joining Vimeo in 2014 as head of global marketing.
A bonafide star in the tech universe, Anjali Sud speaks about her career, her company and her plans, especially for India, and about growing up desi in a fascinating conversation with Rediff.com US Contributor Abhijit Masih.
The first of a multi-part interview:
You have been trail blazing on your career path, from graduating in 2005 to CEO of Vimeo in 2017.
What advice would you give to young professionals, especially women, to be as successful in such a short span of time?
First, you have to create your own opportunities.
A lot of young people, especially women, usually go on in their career path thinking to just put their head down and work hard, and the opportunities will come to them.
In my experience, the only reason I became the CEO of Vimeo was because I was pushing to create an opportunity to take the company into a different direction.
This was the case in other parts of my career as well when I was at Amazon and even when I worked for Vimeo in a different role earlier.
When I started at Vimeo, the initial job wasn't the one that I wanted.
I was proactive in saying 'Hey, here's my idea about something else that we could do', or 'There is something else that is happening in the company that I am really interested in that could add value to the business'.
So my best advice is -- it's your own career, own it and take control of it and look to create opportunities.
The other advice is, that there is no linear path to success.
If you look back at my career after graduating from business school, I thought that I'll be this hot shot MBA, but I started off as a toy buyer, then I worked as an investment banker for a firm that no one had heard of instead of a brand name firm.
There were so many instances in my career that I thought that I will ever have a career path to be a leader, but actually along the way I was learning and developing diverse skill sets and gaining experience and all of these contributed to me in getting here.
What are the challenges that you face every day as the 'Boss Lady' and the biggest challenge that you encountered so far?
Great question.
It will be focus and expectation. At Vimeo, we are a video software company and when I became CEO, the biggest challenge was to shift the company's strategy, culture and focus pretty dramatically.
It was challenging and that's when I got to 'rip off the band aid' and do it quickly.
And today we are in a fortunate position where due to the pandemic the demand for video has exploded.
Now there is a different challenge, which is that there is opportunity everywhere and there are so many ways that video is being used by companies and businesses that there is so much that we can do.
And the biggest challenge is that I need to keep the team and the company focused.
Half of the time my job is saying no and making trade offs and remaining clear eyed to know that this is what we must do to win and everything else we don't spend time on.
That is hard to do when you are in a fast paced industry but that is what I ultimately need to do.
If I am providing focus and have a clear vision and expectation then I need to empower the team with the resources and the room to execute.
Talking about the team, what qualities do you seek in a young professional that you would like to mentor or probably include in your team?
First, I look for intellectual curiosity or just curiosity.
This is true for any function or at any level.
You can have a lot of different styles and skill sets, but you have to be curious.
You have to be comfortable asking questions and you have to want to seek the truth.
In my experience, people who are innately curious, who want to understand things are gonna be more likely to learn quickly and get to better decision making.
Another quality that I look for is empathy. For both, the customer or the user and also empathy for your colleagues or your team.
I have never seen anyone wildly successful in business, on their own.
It takes a village, so you should be able to collaborate and build great teams and I think having empathy is really critical for that.
And the last thing I would say is creativity.
We always talk about solutions, not problems at Vimeo.
I am always looking for creative problem solvers.
Someone who doesn't feel helpless with a problem but creatively thinks how to solve that constraint.
I have always found that to be a really important skill set.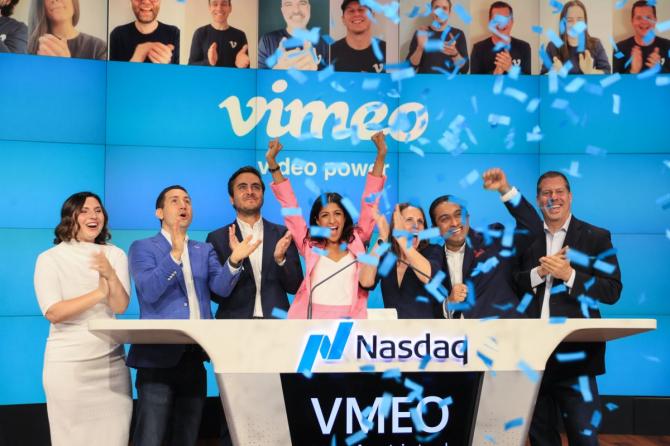 Moving on to India, with almost 2,000 content creators with a million plus subscribers, where does India feature as a market for Vimeo?
I would say that the need for video and Vimeo is global.
We are a global company and a majority of our users, revenue and business is from outside the US.
By nature of that, India is a top market for us.
It has one of the largest economies and population in the world and is absolutely a growth driver of the business.
It is an area we are investing in pretty substantially because we are seeing a lot of interest in our tools.
You will see us do increasingly more in India specifically with our team.
Today we have an incredible team in Bengaluru.
We are growing that team very fast and we are looking to double the team by 2022 and I expect that our India team will be our second largest office in the world.
You will also see us expand that hub and make it a center of excellence and a core part of the company.
So I am very excited for both our user base in India and our employee base.
You Tube has and Netflix has recently announced post production facilities for its users in India. Is Vimeo planning an offline 'brick and mortar' facility in India?
We are not planning an offline platform. Just to give you a sense, we are a cloud based platform.
All of our tools exist in the cloud and don't really require anything more than your browser, your laptop and some kind of a camera.
The tools, that we have designed, is to allow the smallest of businesses or for any employee or person to produce professional quality videos without needing a big facility.
We are not looking to serve the content creators creating content for say a Netflix or the big film-makers.
We are really focused on your local restaurant, bar or laundromat, small start up or even a Fortune 100 company that has global presence and wants a video.
Feature Presentation: Aslam Hunani/Rediff.com