Let Maharaj Jodharam Choudhary of the Khandani Rajdhani restaurant group, which has outlets all over India, inspire you to create some delicious, rang birangi homemade mithai or sweetmeats for Holi.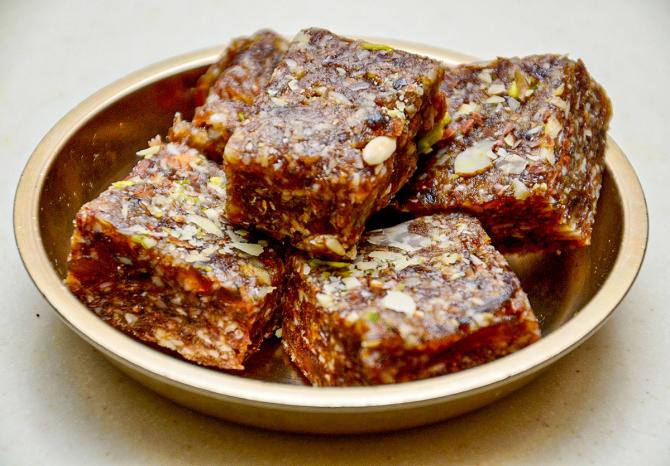 Servings: 10-12
Khajoor Barfi
Ingredients
1 cup khajoor or dried dates, pitted and chopped into small pieces
6 -8 tbsp mixed nuts, like crushed walnuts, broken cashews, silvered almonds and chopped pistachios
3 tbsp ghee
½ cup khoya or mawa or milk solid, that can be purchased at a dairy shop or a sweets store or made at home
1 cup milk
1 cup sugar
½ tsp green elaichi or cardamom powder
2 tbsp grated desiccated coconut
Ghee for oiling the plate or thali
Method
Soak the dates in the milk till they become soft.
Grind in a blender with the milk until it becomes a thick paste.
Heat the ghee in a thick-bottomed saucepan.
Add the pureed dates mixture and keep stirring over medium to low heat, for a long time, until the mixture begins to leave the sides of the pan.
Add the khoya and coconut.
Keep stirring and cooking till the mixture again starts separating from the sides of the pan and the ghee starts separating or oozing from the dates-khoya mass.
Add the cardamom powder and half of the mixed nuts.
Give it a good stir and turn off the heat.
Transfer the mixture onto a greased plate or thali.
Garnish with the remaining nuts and let it cool.
When cooled, cut into squares and serve.
---
Apple Jalebi
Servings: 10-12
Ingredients
1 firm apple, peeled, cored and cut into thick roundels
300 gm sugar
1 gm kesar or saffron strands
250 ml water
250 ml milk
100 gm dahi or yogurt or curd
200 gm maida or all-purpose flour
500 gm ghee for frying
Chopped nuts and saffron for garnish
Method
In a bowl, mix the maidaand curd.
With a spoon or spatula, keep mixing for a few minutes in a round circular motion until you achieve a flowing batter of medium consistency.
The batter should not be very thin or very thick, and there should be no lumps.
Cover the batter and leave it for 6-8 hours or overnight to ferment. In summer, the batter will take less time to ferment, maybe 3-4 hours, so avoid leaving it overnight.
Once fermented, keep aside.
In a non-stick saucepan, add the sugar, saffron and water.
Keep stirring on low heat till the sugar dissolves and a one-thread syrup (do see note below) is formed.
Add the milk to remove the blackness of the syrup.
While the syrup is boiling and almost ready -- timing is important -- in a pan or kadhaiheat the ghee.
Dip the sliced apple in the jalebi batter and deep fry till golden and crispy in the ghee.
Once fried, soak the apple slices in the milk-sugar syrup.
Remove and serve warm, garnished with nuts and saffron strands.
Note: A one-thread syrup is sugar syrup viscous enough to pass the one-thread test.
It is important to keep testing for consistency while the sugar syrup is boiling.
The test for this is: Dip a spatula, preferably wooden, into the boiling sugar syrup and take out.
Some syrup would have coated the spatula.
Let it cool.
Touch the cooled syrup with your forefinger. Some syrup will come onto your finger.
Touch that with your thumb and separate thumb from forefinger.
When one little continuous delicate thread is formed by the syrup, when the coated forefinger is pulled away from your thumb, you have one-thread consistency sugar syrup.
---
Have a Holi recipe to share? Maybe it was passed down to you by your grandma. Or it was something wonderful you invented.
Mail your recipes to getahead@rediff.co.in (Subject: Holi Recipes) along with your NAME and the place where you LIVE.
Please don't forget to share pics of your dish. And a video too, if you have it. We'll publish the best entries on Rediff.com.
Hurry and send us!