When Kishore Singh found himself fielding dieting fads and hints…
Illustration: Dominic Xavier/Rediff.com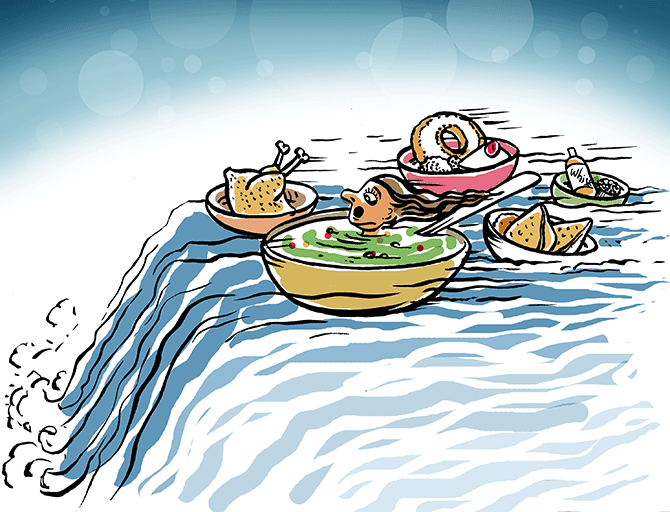 My sister emailed my wife a diet that is supposed to "shrink" the stomach through such devices as boiling turmeric in water along with enough spices to remind you of golgappa water, but wisely I kept my observations to myself.
"I lost five kilos in a week," my sister told her.
"She hides it well," my wife remarked to me later, but she clearly weighed in the benefits because she had the kitchen staff weighing in with measures of cumin and asafoetida and quantities of ginger shavings and barley hops. It seemed quite unappetising, but when on the very next day my wife announced she had lost a kilo, I agreed there must be some merit to it.
It soon transpired that the sum of all the herbs was a laxative paste, and what with drinking the foul mixture and having to go, my wife looked drained but determined to cross my sister's five-kilo loss. Till a doctor we met at a party ordered her to desist if she didn't want to wind up in his ICU, and she was soon back to her normal self and weight but resolute about shedding the extra kilos.
"I'm detoxing," she said after a particularly outrageous orgy at a friend's smorgasbord, "I'll become envy thin if it's the last thing I do."
But she wanted a waiver before she started her regimen.
"I'll never eat anything sweet," she vowed, but wanted one whole day to binge on sugary things to satisfy her inner cravings.
So, she had chocolates in many bars and flavours for breakfast, ordered waffles and doughnuts crusted with sugar for elevenses, made a lunch of cheesecake and tiramisu, enjoyed a high tea with scones and clotted cream, and could barely manage a dinner of baklava and phirni.
To her credit, the following day, she abstained from sugar even in her tea and coffee, but decided it was her binge day for carbs, which she began with potato-filled parathas. I wasn't at home to observe her day's dining, though the staff informed me that pilaf, samosas, crepes, pizzas and pasta had, at various points, been consumed with avidness, before our dinner for which she insisted I take her to a neighbourhood dhaba so she could have her fill of stuffed kulchas, mirchi-rotis dripping with butter, soft roomalis and khamiri rotis.
Over the next few days, as a preliminary to eliminating various fatty foods from her diet, she had her fill of carnivorous produce one day, and alcohol the next.
She foreswore off dairy by helping herself to globs of butter and slabs of cheese.
By now she was having difficulty getting into most of her clothes, yet her renunciation hadn't run its course. She was still to do her daal day, as well as one in which she chomped through bowls of fruit, and was well on her way to fatty nirvana when we happened to run into my sister. "And you've put on weight," my sister marvelled.
For reasons of family propriety, I will draw a veil over the next few minutes, but the outcome of it was that the two are not talking to each other, and my wife is off her diet.
Meanwhile, here's a recipe a friend shared this morning: "Mix together 100 gms each of triphala, amla, jamun, karela, bel and methi, 150 gms alsi, 50 gms ajwain. Have four teaspoons first thing every morning with four glasses of warm water, one spoon of honey and lemon juice."
A hint, I think, for me to start a diet?