From Dudhwa to Veppathur and Havelock Island, the Indian tourism market is booming like never before.
Manidipa Mandal presents a selection of the newest retreats in the country.
Take your pick.
Uber-luxurious, super-exclusive properties, which once catered to an almost purely foreign market, are now being increasingly frequented by Indians.
Some of these properties are barely known, some are just about to open their doors.
Some need you to get on that plane now, and some might be better enjoyed later in the year.
Here is a selection of the newest, most exclusive retreats in the country.
Take your pick. It's an embarrassment of riches.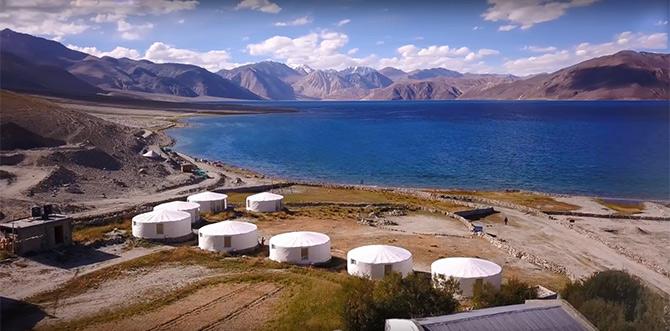 The Hermitage Pangong, Ladakh, Kashmir
Hosted by the residents of Maan village, this glamping site on Ladakh's famed Pangong Lake has eight solar-powered, centrally heated luxury yurts, with 'bay windows' facing the waterfront and sheesham furniture.
'Walking meditation', stargazing, yoga, cycling to Chushul, treks and birding are some of the activities on offer.
Meals include evocative camping fare (chocolate cereals, boiled eggs, omelettes, sausages and hot malted drinks) as well as homemade muesli with local barley, herb- and spice-infused juices, dastuk, stews, fresh fruit and Indian speciaities at breakfast; barbecues and sit-down dinners in fusion flavours (tamarind-glazed cottage cheese, hot garlic drumsticks, stews and local grain dishes, fried chicken with green curry aioli, cumin and coconut milk pudding).
Tariff: Rs 17,000 for two adults (with breakfast)/Rs 20,000 (with all meals).
Children below six years complimentary; 20 per cent extra for an older child with no extra bed; 40 per cent more for extra bed.
Contact: http://www.ladakhsarai.com/hermitage-pangong.html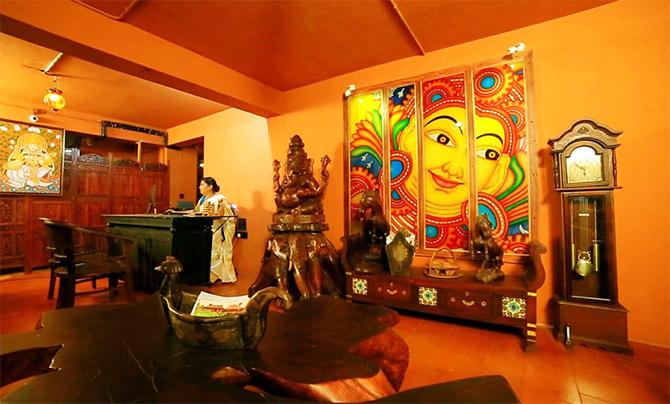 Thejas Resorts, Sulthan Bathery, Wayanad, Kerala
Another luxury option in north Kerala's beautiful, hilly Wayanad district.
Old-fashioned dwellings furnished with antiques and vintage objects, traditional art and the necessary mod-cons of plumbing sit surrounded by tropical rainforests, home to the Nilgiri langur, Malabar giant squirrel, Malabar grey hornbill and yellow-browed bulbul.
Packages offer family-friendly sightseeing, treks, rural tourism, and more.
Accommodation options are considerable, and range from a 1,250 sq ft nalukettu, a two-room malikkapura, a converted kottil and a refurbished kovilakam to the modest illam. Perfect for a family holiday to give your children a taste of times bygone.
Speaking of which, meals are a decidedly traditional weekly rotation of Kerala cuisine, with homegrown vegetables.
Tariff: Rs 6,000 to Rs 15,000 for two.
Contact: thejasresortswayanad.com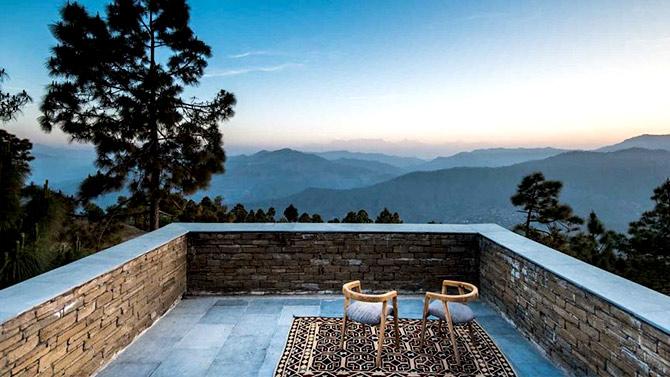 The Kumaon, Uttarakhand
Not only family-friendly but also pet-friendly and non-smoking, this minimalist-luxe boutique property is a treasure, with wi-fi all over and free parking.
Just a year old, The Kumaon sits on a ridge above Almora, in Kasar Devi.
Wrapped in forests of oak, cedar, pine and rhododendron, in the shadow of the Nanda Devi, the contemporary bungalow is designed by Sri Lankan architects Pradeep Kodikara (a disciple of Geoffrey Bawa) and Jineshi Samaraweera, to take advantage of the mountain views from all 10 suites, library, sun lounge and dining area.
Almost all the construction materials were created on-site, obviating any need for expensive and nature-unfriendly transport.
Split-stick screens shade the curtain glass facades and revolving French windows, the walls are stone and the flooring wooden.
Light streams into the rainshowers, low beds invite you to step down into terraced sitouts at dawn.
A leopard may show itself at sunset, if you are lucky -- and quiet.
Tariff: Rs 12,000 for two, inclusive of all meals
Contact: thekumaon.com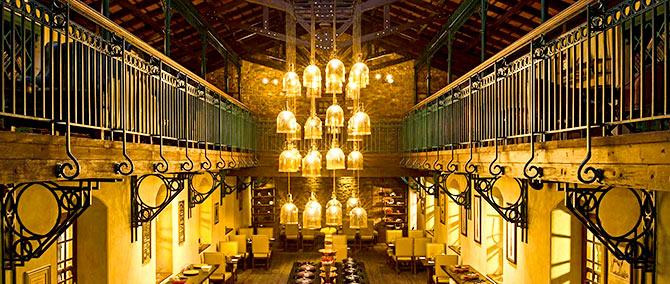 Tamara Kodai, Tamil Nadu
The creators of the exclusive adults-only, luxury Coorg plantation property have now established a family-friendly (no pets, though) resort around a 160-year-old monastery in Kodaikanal.
And if you head there this summer, you'll be one of the first -- it only launches mid-May.
The 18th-century convent onsite is being refurbished.
The colonial La Providence building was only the fourth such established in town, and has been restored in keeping with its history, with traditional lime plaster.
Even in busy Kodai, Tamara cuts its own separate, exclusive swathe, with a historic graveyard tour and cycling routes away from the run-of-the-mill to access the 'unexplored Kodai'.
The all-suite property, with its red-tiled roofs, has a heated pool for year-round swimming and the group's signature Elevation spa.
Bistro 1845 features live music while La Providence has show kitchens and a barbecue.
Construction emphasises tree-friendly practices, with minimal concrete cover, local flora and rainwater harvesting.
Sewage and effluent treatment facilities guide wastewater back to bathrooms and landscaping.
Tariff: Rs 19,840 to Rs 38,400 for two (inclusive of taxes)
Contact: www.thetamara.com/kodai-resort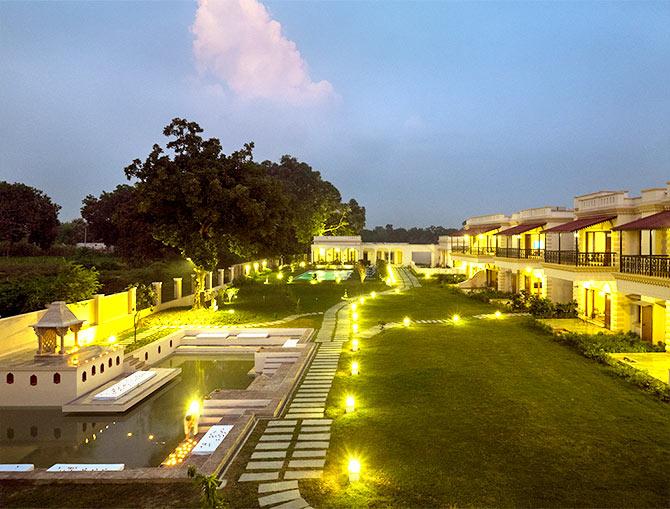 Tree of Life Resort and Spa, Varanasi, Uttar Pradesh
Away from the main bustle of the holy city, Tree of Life's latest all-suite property greets you with a courtyard that is a veritable chequerboard of shivlings, Nandis -- and one world turtle.
Behind the big Nandi at the entrance is an array of prayer wheels flanking the Buddha.
On one side of the courtyard is the Om, the other side has an evolution of the varada mudra.
The lounge-library has a yantra bordered by avatars on the ceiling, over a missionary chest, Chesterfield sofa and rattan-woven chairs. Low bungalow-style accommodation surround a 'Ganga Kund' in which lamps are set afloat in the evening.
There is a swimming pool beyond, litchi trees and a dining courtyard (CheekuVriksh), a tea verandah (Barja) and a spa (Ekam).
The Ann Tripti dining room has modern and old-fashioned glassware, both stem(less)ware and oversized lamps and chandeliers, Indian and continental food with Banaras specialities.
A Harihara/Ardhanareeshwara mural presides over a bedroom with trishuls and herds of cattle on the accent cushion, while birds flock on a bench.
In another, Hara-Gouri frolic on a tigerskin next to an Om mani padme hum scrolled in gold, above a chevron rug.
In the bathrooms, painted wooden menageries gather around Venetian mirrors and a brass 'leaf' basin.
Besides Ganga ghat experiences, you can opt to teach the local school, take on the Sarnath yatra, or plough a literal field.
If you get the impression this property is trying hard to be all things to all persuasions, you would be right.
Tariff: From Rs 11,500 for two, inclusive of breakfast + GST
Contact: www.treeofliferesorts.com/varanasi-home

Azaya Beach Resort, Goa
This new 'unhotel' property aims to offer an 'unscripted', luxurious and authentic all-in-one ride.
The vibe is youthful and contemporary, even though there is nothing gap-year about the massive rooms with private plunge pools (should you hate that, there are six room categories to choose from, with two more under construction).
Décor is modern but with elements of Indian, Maldivian and Portuguese tradition -- like the suspended daybeds and patterned dado tiles.
A Maldivian-style dining experience is offered, with seating dug out in the sand under the night sky.
Culinary experiences include local farm-to-fork eating and Portuguese-inflected delicacies, as well as distillery tours from feni to beer -- and a chance to have the chef take you shopping for kitchen essentials (mortar and pestle, earthenware and more).
Tariff: Rs 16,638.72 (luxury room) to Rs 28,158.72 (Essence plunge pool XL).
Contact: www.azayabeachresortgoa.com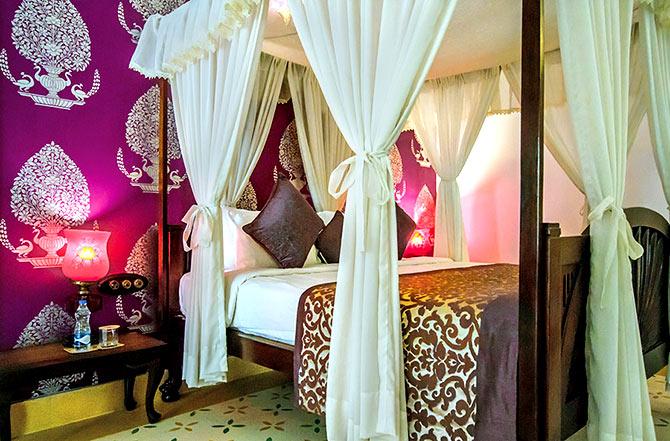 Jaagir Lodge, Dudhwa, Uttarakhand
Constructed in the 1940s, the main colonial lodge is subtended by thatch-roofed villas, decorated in an exuberant style with colourful tiles and feature walls updating the four-poster beds and wooden floors.
Accommodation includes luxury rooms, suites and whole villas.
A stay here will feature sanctuary visits to Dudhwa, Kishanpur, Katarniaghat and Pilibhit, as well as guided walks and photography lessons offered by the lodge's naturalists, boat safaris on the Girwa river.
As also time to spend with the locals in Tanda village, share a meal with the dancing boys of the Tahru tribe, pay obeisance at the frog temple in Oel.
Besides tigers, rhinos and leopards, the swamp deer and the fishing cat are key wildlife attractions in an ecosystem with 90 different types of fish and the Ganges river dolphin.
The Lodge has a small pool and mango groves, with cycles for hire and a machan to shoot the breeze from.
No TVs in rooms; Internet access in the reception area/club lounge.
Meals are a mix of Indian and continental, burra sahib style.
Interested in this super-luxury wildlife experience? Head out soon -- it is operational only till June 15 (sanctuaries and camp shut after).
Tariff: Starts at Rs 45,000 per person on twin-sharing basis for 2N, safaris extra.
Contact: www.tutc.com/jaagir-lodge-dudhwa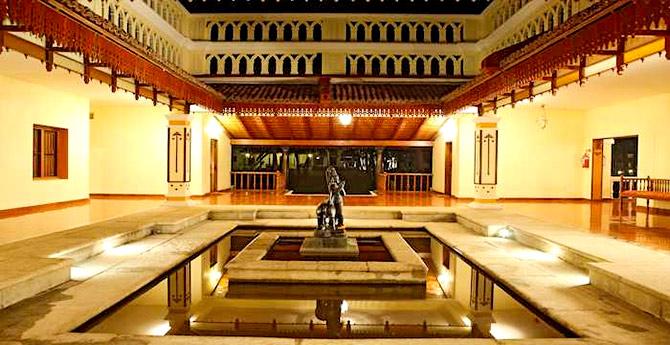 CGHearth Mantra Koodam, Kumbakonam, Tamil Nadu
In the town of Veppathur, CGHearth's newest offering recreates a traditional village experience, of illams alongside an iagraharam ('garland of homes'), surrounded by 5,000-odd shrines.
Constructed in the Chettiar style with carved teak doors and the famed Athangudi tiled floors, accommodation options include Mantra cottage, illam and Pannaiyar illam.
Meals highlight the Tamil tradition of balancing sweet, sour, spicy and bitter in a 17-course maharaja platter -- which the chef can teach you to recreate on request.
The historic navagraha temples, Tanjore and Gangaikondacholapuram are all nearby, as are silk weavers' homesteads and Kalamkari workshops, lost wax sculptors and potters.
For the luxury of authenticity and graciousness it comes with, this experience is nothing less than a steal.
>Tariff: from Rs 5,499 for two, breakfast included.
Contact: www.cghearth.com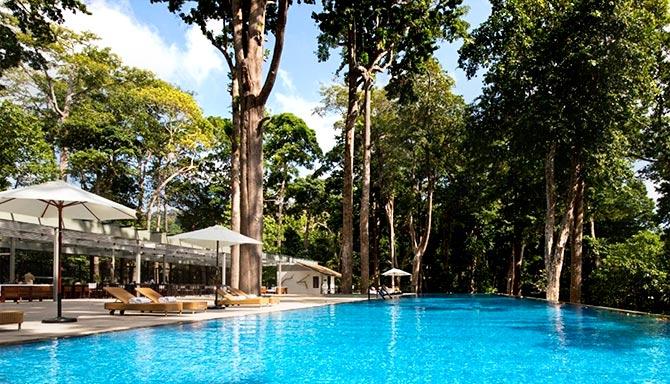 Taj Exotica Resort & Spa, The Andamans
Off Radhapuram beach, this brand-new Havelock resort comprises 72 luxury villas on stilts with five-fixture bathrooms -- and not a single tree felled to make room for them.
Villas feature the indigenous Jarawa style of pitched roofs.
There's an Olympic-length pool and cycling tracks, in addition to the gym and spa; picnic baskets packed for the beach on request; lots of adventure (kayaking in the mangroves, off-shore fishing, scuba diving in the coral reefs, snorkelling, sunset cruises, birdwatching, and nature walks), including a Junior Island Explorer programme.
The multi-cuisine Settlers restaurant highlights the melting pot of Tamilian, Bengali, Bihari, Malayali, Burmese and Indonesian traditions, with seasonal menus of fresh-caught seafood, local produce and the fruits of their own kitchen garden and orchards.
Beside the pool is the Turtle House bar and grill.
No liquor licence yet; all villas non-smoking; wi-fi only in the lobby.
To protect the local environment, there is a bottling plant onsite to avoid plastic bottles and a bio-gas and composting unit for wet waste.
Tariff: Special opening rate of Rs 25,000 plus taxes for two adults, inclusive of a poolside breakfast.
Contact: www.tajhotels.com