Approximately 25 mn Indian women suffer from excruciating pain that affects the abdomen, lower back or pelvic areas during their periods.
Have you suffered from endometriosis? What's your story?
Supermodel Padma Lakshmi is known to speak about various causes that promote equality, humanity and empower women.
But her campaign raising about endometriosis is one of the most significant ones so far.
The 48 year old author and Top Chef host was diagnosed with the condition when she was 36.
The model who was told that she cannot have a baby, went on to become a doting mother to Krishna who is 9.
Inspired by her struggle dealing with the condition, Padma Lakshmi along with Dr Tamer Seckin co-founded the Endometriosis Foundation of America, a non-profit organisation that helps research and create awareness about the condition.
The organisation founded in 2009, recently completed 10 years.
In her speech at the celebratory event held on May 8, 2019, Padma Lakshmi got emotional as she shared her own story.
"I really wasn't thinking about having a baby yet, but when someone tells you you can't, at least if you're me, of course you want to, right away," Lakshmi said. "And I was very saddened by that. Because of the immense pain and sadness I felt, (endometriosis specialist and co-founder) Dr Seckin counselled me to talk about that. Beyond restoring my motherhood -- I have a nine-year-old daughter named Krishna -- he taught me to open my mouth, he taught me to use my voice, he encouraged me to speak out about an issue that is incredibly personal and not easy to talk about."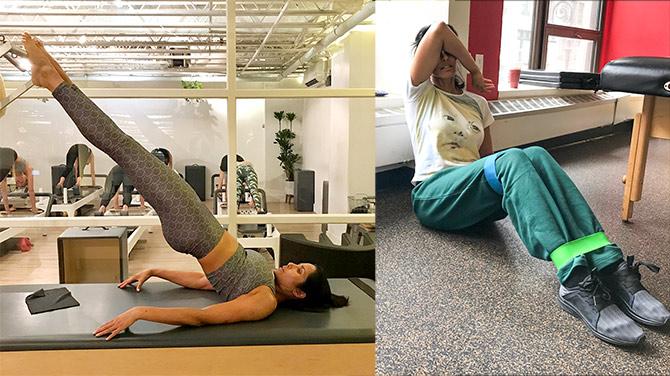 What is endometriosis?
We all know how a mature female body releases an egg or an ovum every month.
To prepare for fertilisation, the uterus is lined with a tissue of cells called endometrium.
Every month, this endometrium is shed by the body and released out of the system as menstrual blood.
In endometriosis, this tissue that lines the uterus abnormally grows outside the uterus -- like your ovaries, intestine or bladder -- causing extreme pain and discomfort.
The period which lasts anything between 3 to 7 days is characterised by severe, debilitating pain that is often mistaken as menstrual pain.
Endometriosis affects the abdomen, lower back or pelvic areas, exactly where women experience pain during their period.
According to the Endometriosis Society of India, approximately 25 million Indian women suffer from this condition.
What makes treating the condition difficult, according to experts, is a lack of awareness and misinformation.
While several women take years to recognise and differentiate the pain from menstrual cramps, most others fail to talk or seek medical intervention leading to stress and other disorders.
Padma Lakshmi is among the few models who constantly inspires women to open up and share their stories, to seek support and help, so they can lift each other.
'If I had a problem with my prostate or if I had erectile dysfunction, there would be many treatments readily available for me. But because I have a women's reproductive health issue, I had to suffer,' she told The Cut.
Dear readers, do you suffer from endometriosis?
How and when were you first diagnosed with the condition?
How did you cope? What did you learn from it?
What advice or message would you like to share with readers who are struggling with it?
Simply write to getahead@rediff.co.in (subject: My Endometriosis Story) along with your NAME, AGE, LOCATION and a photograph, if possible. We'll feature the best ones right here on Rediff.com.