With the ever evolving social media, the threat of child abuse often manifests itself in new avatars like the Blue Whale Challenge and Sarahah.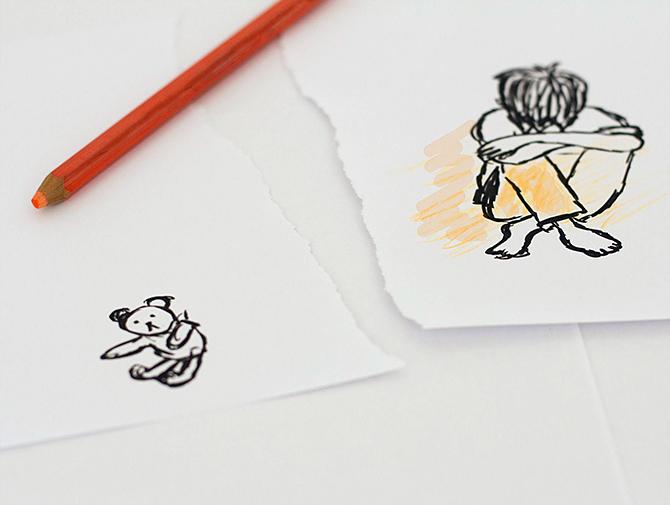 Does your child spend more time on smartphones?
Is your child very active on social media?
Do you feel that they spend more time online than offline, then it time for you to be on alert?
India and cyber bullying
The risk for Indian kids being cyber bullied has increased over the years.
According to available data, India ranks much higher when it comes to cyber bullying, in comparison to other Asian countries.
The rise can be felt with the number of cases we get these days.
For instance, a Class V student approached us for a fake Facebook profile created to defame him. Similarly, a Class VIII girl's Facebook account was hacked for personal vendetta.
Studies have highlighted that 53 per cent of the Indian kids in the age group of eight to 17 have been subjected to cyber bullying at least once.
Rough calculations say that 13 crore children in the same group will get an access to Internet data by the end of year 2017.
Thus, this makes Indian children highly vulnerable to cyber bullying. Needless to say, cyber bullying will have an sociological and psychological impact on the young minds.
ABC of cyber bullying
Cyber bullying can be classified into -- direct attacks, and bullying by proxy.
Direct cyber attacks are those in which the attacker targets the victim via:
Text messaging on messenger or WhatsApp.
Posting mean comments, private details or fake information on blogs etc.
Denting the victim's image by posting obscene contents or hate message in chat rooms.
Hacking into victim's account or stealing their password and locking them out of their account or creating a fake account (females) with the motive of sexual favors or for defaming etc.
Sending pornographic content through email, messengers or WhatsApp.
Creating an online poll, with the victim's name to body shame them or embarrass them.
Creating a website with an intent to share untrue information, obscene photographs or hateful messages, with the intention of damaging the reputation of the victim.
Spamming the victim's mail with porn or junk mails.
Online messaging apps and websites can be exploited to use video camera of the computer, laptop or mobile.
Trojans (malicious software), which can hack computer system and can be accessed by the hacker remotely, can even disable the computer system's camera's LED, which notifies the user that your camera is on.
It often leads to exploitation of kids -- especially girls -- by recording their activities.
New threats and challenges
With ever evolving social media, the threat of child abuse often manifests itself in new avatars like the Blue Whale Challenge and Sarahah.
The Blue Whale Challenge is an Internet game, which challenges the player to complete 50 tasks, which often compel the child to commit suicide.
Sarahah is another online application that allows people to post anonymous comments, which often are rude, mean and embarrassing.
Sarahah's anonymity makes it a potential threat as it can be used to both blackmail children and even send offensive messages, seeking sexual favours.
Such online applications often expose the kids to a greater risk of being abused or bullied online or even are forced to commit suicide.
Why are kids abused or targeted?
While most of us would want to believe that our kids are safe and no one would particularly target kids, let's be honest and face the fact that complete online safety for kids is not possible.
There is no particular answer to the question of why kids?
But data suggests that children often have to bear the burden of child abuse. This is primarily because offenders find it easy to exploit them.
Online abuse mentally disturbs the child, often causing academic loss.
Fear of restrictions being imposed on mobile and internet usage often makes the kids not share such incidents with parents.
Often, kids have directly approached us, as they didn't want to share such cases with parents, and we often counsel them.
Preventing child abuse
Parents play can play a vital role in curtailing child abuse, by being more alert and following a few guidelines:
Use parental monitoring software applications to restrict certain websites and monitor their activities.
Set rules for appropriate use of computers, cell phones, and other technology.
Keep abreast with latest trends in the cyber world.
Monitor your child's online and gaming activities.
Be tech–savvy as there is no alternate.
Report incidents of cyber bullying to the nearest police station.
Parental guidelines to avert online child abuse:
Teach your kids to save evidence of abuse (harassing messages, sexually–explicit pictures, or threatening texts) and not to reply to them.
They should attend cyber awareness programmes (online/offline).
Guide them to report online abuse to their parents/guardians or teachers.
Ask them to block the bully's email address, social media account or cell phone number, or to change their details.
Teach them to keep their personal information private. Check their social media account's privacy setting.
Never post or share name of parents, address or details like they are alone at home etc., on the social networking site.
Never share passwords with anyone, except parents.
Don't post/chat online when angry.
Be open with parents about online activities.
Don't make friends with strangers on social media.
Be polite to even those bullying.
Remember, online abuse is scary, as the child being abused often thinks that there is no way out as the offender can offend anytime, anywhere, even when the child is home.
Being your child's confidante is the only way to protect them from online perverts.
Lead pic: Courtesy Andreasfuchs8732/Pixabay.com