Sameer Chopra, 40, who works in the computer department at DAV Institute of Management, Faridabad, shares his story.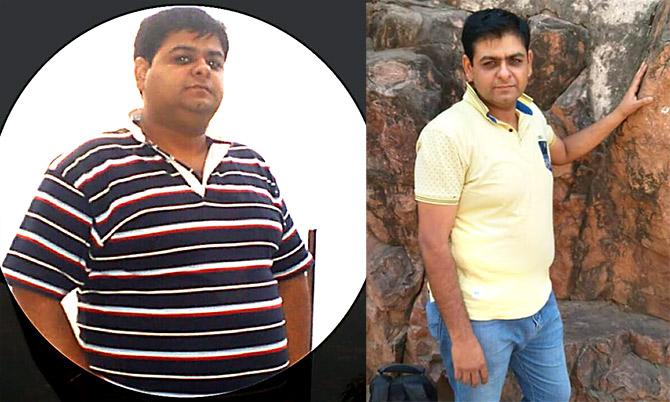 Inspiration
I was very fat. I weighed around 124 kg in 2016. Nothing was going right for me.
When I went shopping, I'd be disappointed as none of the clothes would fit me.
I started feeling very depressed, so I decided to lose weight.
People in my office would joke,"aap kuch karte kyu nahi? (why don't you do something about your weight)"
I joined a gym near my house and took help of the instructor.
I lost 20 to 25 kilos in eight to 10 months.
Weight loss and diet
In the first year, I would work out for a total of 3 to 4 hours in a day.
I tried a combination of cardio and weight training, which I still continue.
I realised that I was addicted to junk food, so I had to control my cravings. This was the most difficult part of my journey.
It wasn't easy to say No to a hot plate of masala dosa.
Also, I completely gave up on aerated drinks.
Once when I stepped out of my home, I saw this guy who used to be bulkier than I was. Seeing him lose those extra kilos really motivated me.
I thought, 'If he could do it, why not me?'
I don't know his name, but if I meet him some day, I will definitely thank him.
As I lost weight, I decided to keep at it and slowly changed my eating habits.
For breakfast, I would have poha or boiled eggs without the yolk. Lunch would be roti, sabji with curd.
For snack, I have tea without sugar along with biscuits.
If I have hunger pangs between meals, I try and have a bowl of sprouts or a fruit.
My dinner is mostly roti with boiled dal.
Tips to readers
Losing weight requires a lot of self motivation.
I feel your diet should be high on protein and carbs, low on fat.
If you are hungry, have a fruit but resist the temptation to snack on packed foods or dig into a samosa.
Losing weight is a combination of smart dieting and good exercise.
Increase your metabolism by eating at short, regular intervals.
Change your eating habits and switch to healthy options.
Today, the same people who mocked me, come to me and say: 'Please share your weight loss secrets with us. Tell us how you did it.'
I think everyone can lose weight. You just need to be focussed. It is very easy to get distracted.
If you are mentally prepared, set yourself a time limit and work on it.
---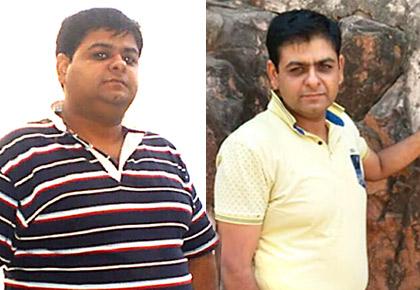 Reader Invite
Have you recently lost weight? We want you to share your weight loss story with us.
Share your detailed diet plan, tips and advice with our readers.
Write in to getahead@rediff.co.in (subject line: 'Fat to Fit'), with a before and after photograph, if possible, and we'll feature the best entries right here!