The television personality uploaded a pic of her post-baby body, which has upset fans.
Photographs: Courtesy Kylie Jenner/Instagram
It has been seven week since Kylie Jenner gave birth to Stormi.
And while new mothers across the globe take months to shed the post-pregnancy weight, the reality star seems to have snapped back really fast!
Kylie, who has been updating fans with pics of her newborn daughter, flaunted her post-pregnancy tummy on Snapchat.
Dressed in leggings and a black hoodie, she revealed her toned abs in the video captioned, 'Goals!'
While it is commendable that in just seven week since Stormi's birth, Kylie has managed to achieve such a flat tummy, fans don't seem very pleased with the video.
'It's called surgery everyone!! We all live in the real world,' wrote a follower.
'That is surgery ,stop telling these young people lies,' added another follower.
According to Kylie's Instagram feed, the secret behind her trim stomach is waist training.
'My girl @premadonna87 hooked me up with the @waistgangsociety snap back package' she captioned a photograph of herself wearing a postpartum snapback trainer.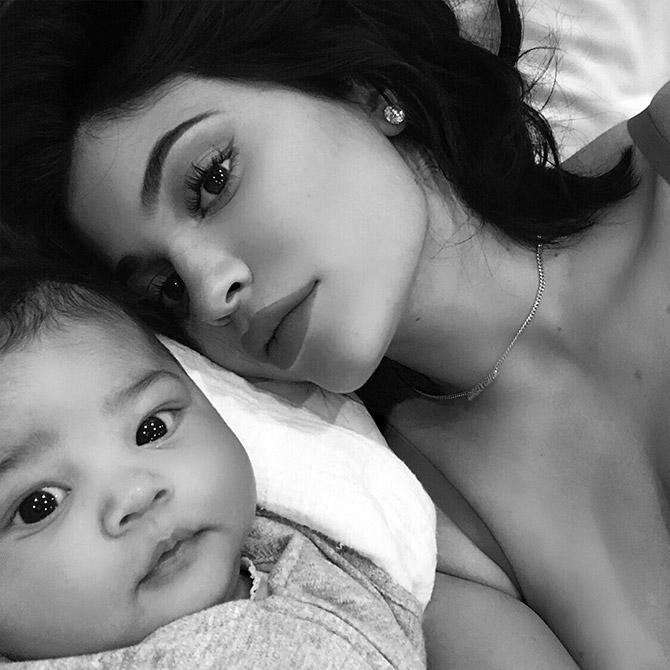 The beauty mogul also shared first selfies with her daughter Stormi.
The 20-year-old took to Instagram to post some black and white pictures with her six-week-old baby.
The post, reportedly, garnered nearly five million likes in its first hour.
She simply captioned the selfies with, 'stormiiiiiiii!'
(With inputs from ANI)