Tremor is the most common presenting feature of Parkinson's disease, warns Dr Paresh Doshi.
This tremor disappears while performing any action like eating, drinking, writing etc.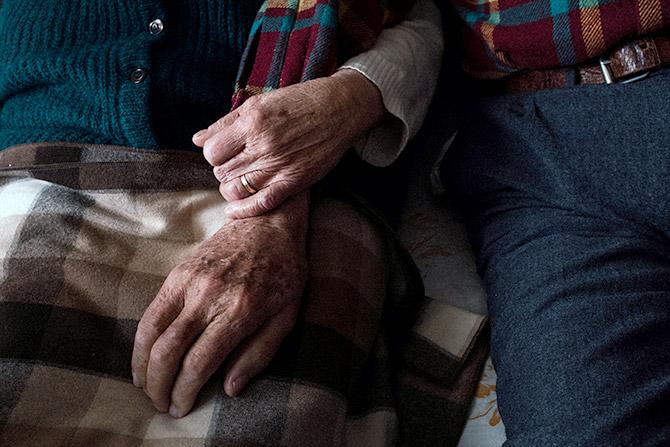 Dr James Parkinson was one of the first persons to describe the signs and symptoms of Parkinson's disease through his essay titled 'Shaking Palsy.' Even today the description offered by him remains the backbone of the diagnosis.
If you are living with elders or parents, here are some early signs of Parkinson's disease that you should be aware of:
1. Tremors
Tremor is the most common presenting feature of Parkinson's disease.
The typical tremor of Parkinson's disease patient manifests as mild rhythmic shaking of the hand whilst at rest.
This tremor disappears while performing any action like eating, drinking, writing etc.
People also notice some change in handwriting and the typical presenting complaint is that the signature is not being accepted at banks.
The other typical feature associated with tremor is what is called micrographia. Micrographia means, progressive decrease in the size of the letters as the person tries to complete a sentence.
2. Slowness
Slowness is also known as bradykinesia in medical terminology.
Slowness is one of the most deceptive features of Parkinson's disease.
When this occurs in an elderly patient who is about 65 to 70 years old we attribute this to natural aging and ignore this.
The typical giveaway sign is some asymmetry i.e., the patient is more slow on one side than the other side, disproportionate slowing as compared to the age and the onset slowness is very sudden.
3. Lack of smell (Anosmia)
This is one of the features that has not been described very commonly in literature.
It has been found that patients of Parkinson's disease have actually lost their smell and secondary to this lack of taste before the original symptoms of Parkinson's disease like tremors and slowness appear.
Every person who has decreased smell is not going to develop Parkinson's disease but this is something that needs to be kept in mind.
4. Loss of balance
This is another disturbing feature of Parkinson's disease and it is more commonly seen in elderly people than in younger patients.
Usually disappears after a couple of years of Parkinson's disease and this is mainly due to freezing.
Freezing is a symptom which occurs while walking, and as the word describes it, the person freezes at one spot while walking and it takes a lot of effort for him to take the next step.
In trying to do this he loses balance and has a tendency to fall. The freezing can be controlled and managed with medical treatment. However when this treatment is not effective than a surgery called Deep brain stimulation surgery may be useful.
5. Rigidity
Rigidity is a very subtle sign of the disease. Usually it means that the person feels that his body movements are not as smooth as they were before.
If someone tries to move one side of the hand and compare it to the other hand he would be able to see the difference.
Because of rigidity, the patient finds it difficult and slow to do the daily chores that s/he used to do before.
The least common signs
If the presenting symptom of the patient is falling, loss of balance or memory dysfunction, he may not be suffering from Parkinson's disease.
The second thing is about the tremors -- if the tremors persist during the activities like eating, drinking, you must be watchful.
Patients should seek medical advice before self-diagnosing or arriving at a conclusion.
There are no direct diagnostic tests for Parkinson's Disease. However, MRI scan and TRODAT scan help differentiate it from Parkinsonian Syndrome.
---
Dr Paresh Doshi is director of Neurosurgery at Jaslok Hospital and Research Centre, Mumbai. He can be contacted on ga@rediff.co.in.
---