The actor may have given many new mums fitness goals, but has her weight gain spiraled back again, questions Zofeen Maqsood.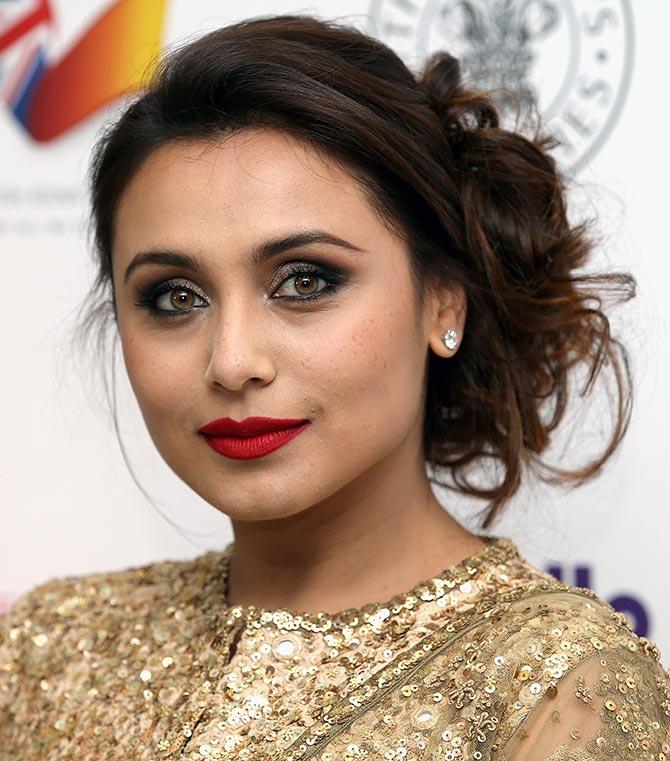 Photograph:

Chris Jackson/Getty Images
Ever since having her baby Adira, a year ago, Rani Mukerji has been maintaining a low profile.
But last when we saw her making a public outing a couple of months ago, we were left impressed with her significant weight loss.
Rani looked lean, trendy and totally in shape, in fact with her stunning, slim look she gave goals for many new mums -- that they should take it easy and lose the post-baby weight in due course of time.
But cut to the time Rani made another outing to Gauri Khan's store, she seemed to have put on her weight back again.
Though Rani sported a casual confident look in a short dress, one couldn't help but notice a lot of chubby weight, back again on Rani.
Maybe, Rani is practicing a yo-yo diet, which results in a cyclic loss and gain of weight.
Losing weight considerably and gaining it back again after the pattern of watchful eating is broken, is often seen when tries to lose weight by extreme dieting.
Nutritionists advise against trying to use these extreme dieting methods to lose weight and recommend a healthy diet along with moderate exercising to lose weight the healthy way.
While we do not know for sure whether Rani went on a binge-diet to lose her post baby fat or had been sweating it out in the gym, the way her weight gain has spiraled back again we feel she needs to keep a tab on her regimen.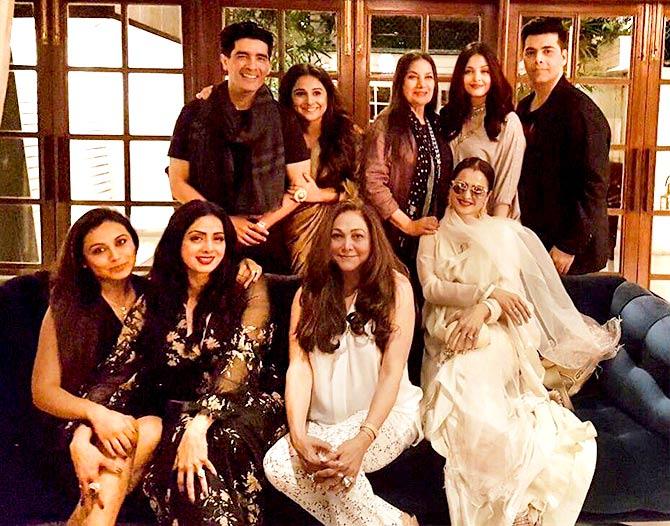 Rani Mukerji was recently spotted at Sridevi

's birthday bash.


Photograph: Kind courtesy Manish Malhotra/Instagram
What is yo-yo dieting?
Yo-yo dieting is described as the losing of weight, which is then seen returning back.
The term was coined because the pattern resembles the motion of a yo-yo and goes up and down just as the weight of the person.
In a typical case, the dieter loses weight, but after some time the weight is seen returning back on the person again.
In a bid to attain the success of weight loss, the person goes on a diet again and the cycle continues.
Why it is advised against to go for a yo-yo diet
The results are often attained when the person goes on a stringent food deprivation resulting in a noticeable weight loss.
The initial success encourages the person to continue the extreme method.
But just as a person returns to old habits as the body refuses to endure the extreme methods for a long time, the dieter is seen putting weight back again.
Scientifically this type of weight loss results in the loss of both muscles as well as fat in the body.
This type of diet control method also has emotional repercussions as the person experiences mood swings and even frustration at the pattern.
Healthy ways to lose weight
Instead of crash diets or weight loss programs, the best way to lose weight is to regulate a healthy diet along with a reasonable physical activity.
Here are a few easy ways to lose weight sans any drastic diets:
Make every meal wholesome
Instead of starving yourself try to make every meal meaningful.
Look at your dinner plates and see what the ingredients may be doing for your body.
Begin your day with a protein rich breakfast followed by a mid-noon snack comprising a whole fruit or fist full of nuts.
Say no to processed food and drink plenty of water.
At least an hour of active physical activity is recommended for a healthy lifestyle.
Brisk walking, climbing the stair, skipping ropes or the treadmill whatever works better for you is one of the most obvious ways to lose weight.
Sugary drinks, processed food and fried stuff should be thrown out of the window.
Once you start practicing clean eating you will notice that you are craving raw, fresh foods instead of greasy stuff.