Eating disorders are on the rise in India.
Veer Arjun Singh reports.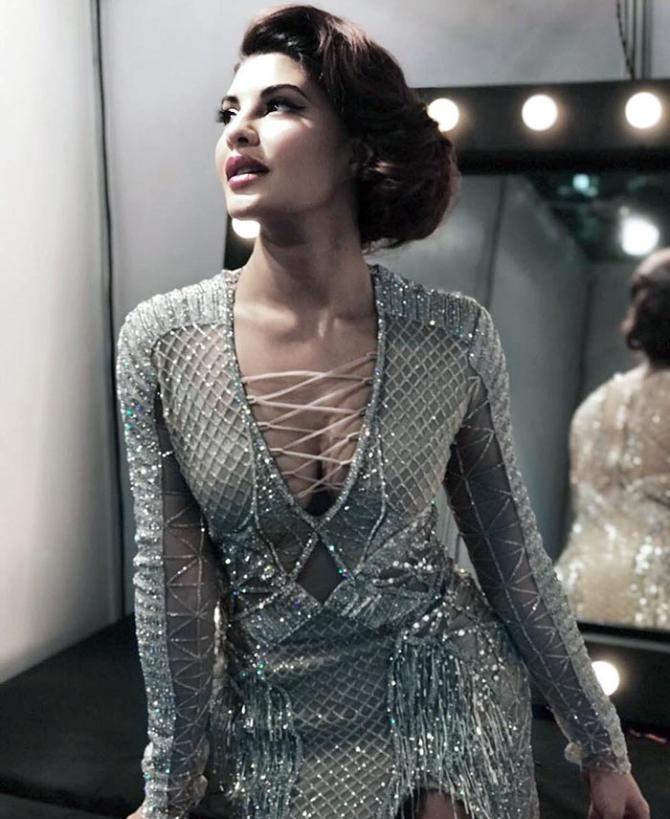 Actor Jacqueline Fernandez has spoken about how she used to "punish myself by not eating at all" and binge-eating and purging, and how she continues to fight that battle.
Photograph: Daniel Bauer Makeup And Hair/Instagram.
Akshita Singal was 18 and weighed just 35 kg when she was brought in for a medical checkup.
A team of doctors -- a psychiatrist, a gastroenterologist, a nutritionist and her family physician -- implored her to bite into a bar of chocolate, a treat she loved as a child. She refused to ingest even a tiny bit of it.
Singal was diagnosed with anorexia, coupled with osteoporosis and a severe infection of the oesophagus. It took weeks of psychiatric sessions before she would accept the course of treatment.
Singal is one of the many Indian teenagers who are today pushing themselves to the brink -- even risking death -- in their obsession for perfectly sculpted bodies.
With the concept that "thin is beautiful" being hammered into young minds, eating disorders such as anorexia nervosa and bulimia nervosa -- virtually unheard of only a decade or so ago in India -- are becoming serious issues of concern.
Anorexia is an aversion to food due to an extreme fear of gaining weight.
Bulimia is a food disorder characterised by a cycle of binge-eating in a short duration followed by purging or self-induced vomiting due to guilt.
The two conditions can, and often do, co-exist.
What's worrisome is that both these disorders often go unrecognised and, therefore, undiagnosed.
In many ways, the reason they remain invisible is because they fit perfectly with disturbing stereotypes and distorted facts around body shape and beauty. That is, until they manifest into mental disorders that can have morbid physical implications.
According to the US-based National Eating Disorders Association, anorexia and bulimia, among the worst of mental disorders characterised by an extreme fear of gaining weight, take more lives than any other psychological ailment.
According to the National Association of Anorexia Nervosa and Associated Disorders, over 600 million Americans are affected by anorexia.
In India, however, the prevalence of eating disorders is largely unrecognised because of a lack of quantitative research and ignorance around mental health.
Anorexia affects men, too, though it's 10 to 15 times more prevalent in young women, says Samir Parikh, director of the department of mental health and behavioural sciences at Fortis Healthcare, Delhi.
"Eating disorders are egosyntonic, which means the patients believe they are perfectly healthy and that makes them refuse treatment," he explains.
While a person might be genetically predisposed to anorexia or bulimia, Parikh says the increasing number of cases speaks of the burden that societal pressures and Western constructs of beauty are putting on youngsters.
Depression can also be a reason.
In fact, while anorexia and bulimia can lead to depression, the reverse is also true, as Rachit Malik's case shows.
Malik weighed 110 kg at the age of 16, but his parents weren't seriously concerned till they received a complaint from his school. While he had been accused of stealing food from classmates on earlier occasions as well, this time he had been caught in the act.
His parents were ready to shrug this off as an act of mischief until the school authorities informed them of his habit of gorging at lunch buffets and missing classes immediately after doing so.
The upscale Delhi school thought this was uncharacteristic for a Class XII student.
"The child weighed over 130 kg when his parents brought him in," says Tanu Arora, a nutritionist at Aakash Healthcare in Delhi. "They wanted a quick weight loss diet, but his aloof, irritable and uncooperative behaviour indicated a larger problem."
A psychiatric evaluation and a few sessions to understand his eating habits revealed that Malik was suffering from chronic bulimia.
"He would binge-eat and force-vomit later," says Arora, "a practice he believed would rid his body of the extra calories."
Malik also suffered from depression, but his parents refused to accept this. While he was being treated by a team of doctors and his condition was improving, his case was referred to a psychiatrist who specialises in eating disorders. But his parents backed out.
"They refused to understand that bulimia is a mental disorder and cannot be treated superficially," says Arora, who kept trying to convince the family to resume treatment.
"The boy would gobble up 12 samosas at a time before vomiting them out and be unaffected by the pain," she says, "And his parents thought they could police him into eating less."
Arora also blames "nutrition-deficient buffets at schools" for the increase in such cases. (The nutritionist finally gave up after the parents refused treatment.)
Eating disorders can be co-dependent and can lead to worse addictions.
"They often have an associated co-morbid disorder such as depression, anxiety and even substance and/or alcohol abuse," says Sanjay Chugh, a Delhi-based consultant psychiatrist who specialises in eating disorders.
He explains the difficulty of an expected prognosis through his experience of treating a 17-year-old anorexic girl who, he says, would survive on 700-800 calories (1,800 to 2,000 calories are recommended universally). This was along with extensive exercise and regular cycles of binge-eating and purging.
She also had a history of alcohol abuse and depression.
As with any mental condition, Chugh says the treatment becomes slow and long-drawn-out as the illness becomes chronic.
Regular follow-ups with the doctor and the therapist are the only way to detect a possible relapse.
The first, critical step, however, is acknowledging the problem to oneself.
At Sophia College in Mumbai last month, the Canadian First Lady Sophia Grégoire Trudeau was welcomed by women with garlands. As she took to the stage to make a speech on women's empowerment, she spoke of her teenage years that were blurred by bulimia -- "cycles of binge-eating, purging and thinking" -- and of her road to recovery, which, she said, "began when I started sharing my story".
"I got to the path of wellness because I reached out and because I said, it was enough, why am I harming myself?" Trudeau told the packed hall.
Actor Jacqueline Fernandez, too, has spoken about how she used to "punish myself by not eating at all" and binge-eating and purging, and how she continues to fight that battle.
Diya Sethi's present life as a Cordon Bleu chef and restaurant consultant is in sharp contrast to her past as an anorexic young woman who almost killed herself. Sethi, who bares it all in her memoir, The Addict, has travelled on an arduous 13-year-long journey from anorexia, depression and substance abuse to finding normalcy.
"Addiction is not a disease. It is a consequence of a diseased emotional system," she says.
Her sheltered life as the daughter of a diplomat also shatters the misconception that mental disorders necessarily stem from emotional traumas or a lack of privilege.
"I had it all, but it wasn't me, I was an impersonator," says Sethi.
Her recovery also exposes the lack of recognition of the disorder and unconventional treatments in India.
"It requires penetrating the sub-conscious that not just treats the addiction but also cures the causes of it," she says.
As a chronic anorexic, whose life now revolves around food, Sethi criticises conventional therapy in favour of the "dynamic psychotherapy" practised at The Rusk Institute or Rehabilitation Medicine in New York, which, she says, worked for her along with spiritual healing through yoga.
"In India, the lack of comprehensive treatment is part of the problem," she says.
While experts underline the importance of early detection, continued treatment and parental support, survivors argue the importance of reaching out.
The fact remains that anorexia and associated conditions are serious mental disorders.
The treatment begins with acceptance and recognition.
And India, which prides itself on the strength of its young population, has a lot of catching up to do.