Bhavya Sharma, beauty expert at UrbanClap.com offers helpful tips.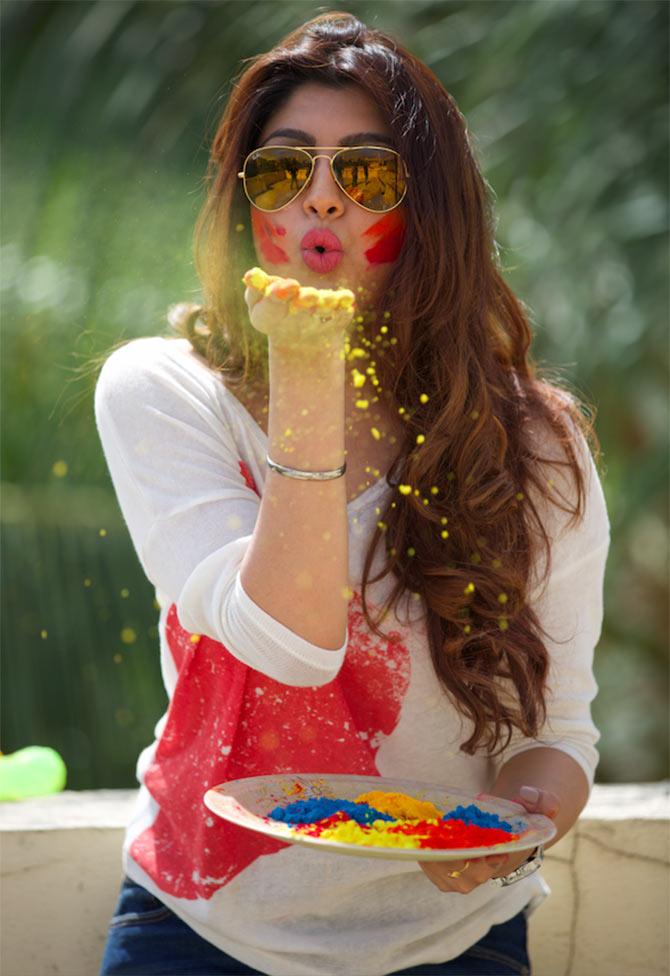 We all love the festival Holi. But all the festivity and jubilation takes its toll on our skin and hair.
Here are some tips to help you prepare before and after:
BEFORE HOLI
How to care for your skin
It's very important to prepare your skin for Holi.
The amount of colours and water one ends up playing with on Holi can have a serious toll on your skin unless you are well prepared in advance.
So, here's what you should do before venturing out:
Rub ice cubes on your face
Doing this helps close pores on your skin and ensures colours don't seep into your skin and cause breakage.
Apply oil on your face
For those who have dry or normal skin, I recommend applying oil on your face and body.
Oil will act as a barrier between your skin and colours while keeping your skin moisturised all along.
You can opt for coconut oil, castor oil and olive oil.
Paint your nails
Let's face it, we don't want to be stuck with ugly nails at the end of it all.
So how do we fight that? Simple.
Paint your nails beforehand so that the colour can be easily removed later.
Nail paint will also protect your cuticles.
Keep that lip balm handy
With all that colour being splashed around, your lips are bound to get some of it on them.
Protect your lips by applying Vaseline or lip balm in advance.
Apply sunscreen
After all these steps, you still need your sunscreen.
Be generous with your sunscreen as those long hours in the sun and water will leave you severely tanned.
Apply it 20 minutes before you step out.
How to care for your hair
Snip the split ends
Synthetic colours make your hair dry and promote growth of split ends. So, it makes sense to clear your hair of split ends before you start playing Holi.
Wash your hair
I suggest washing and conditioning your hair the evening before Holi.
This will ensure that colours don't cling to your hair and scalp owing to dirt or grime in hair.
You can even apply a leave-in conditioner to keep your moisturised.
Oil your hair
Oiling your hair helps in washing off the colours easily. Plus, it prevents hair breakage that can be caused by Holi colours.
Thoroughly massage your hair using coconut oil or olive oil to create a protective layer for your hair.
Cover your hair
Another trick to protect your hair is to cover them using a scarf or a bandana. Tie your hair in a tight pony or bun and cover them to reduce impact of synthetic colours.
AFTER HOLI
For your skin
Dry clean yourself
Before hitting the shower to wash off the Holi colours, it's important you dust the dry colour off you. Use an old dry cloth and wipe it over body and hair to remove dry colour.
Use organic soaps and face washes
Most of the skin cleansing products available in the market are chemical based which can further damage your skin while removing colour.
Therefore, go for organic or natural soap and face wash to avoid causing skin rashes.
Apply face packs
Using natural face packs or masks can help you get rid of tough Holi colours and restore your skin's moisture.
Use oil to get rid of stubborn colours
Dip a cotton ball in natural oil, preferably olive oil, and gently rub it on areas with stubborn colour. Oil will help in removing colour and nourishing your skin.
Moisturise your skin
Apply a mild moisturiser on your face and body before you tuck in for the night.
It is easier to remove stubborn colours from a nourished and moisturised skin.
Also, as colours make the skin dry and patchy, all this nourishment is a must.
You can also mix rosewater and calamine lotion and apply on skin.
For your hair
Comb your hair
Combing will help in detangling your hair and removing all the dry colour in it. Make sure you brush well.
If your hair are badly entangled, use fingers to detangle them and not a comb to prevent hair breakage.
Wash your hair
Before applying any shampoo, wash your hair with cold water.
The idea is to remove as much hair as possible without using shampoos and other chemicals.
Once you have removed as much colour as possible, use a mild organic shampoo.
Don't forget to deep condition your hair.
Apply a hair mask
After a couple of days, apply a hair mask or pack as part of damage control.
Use any of these ingredients to make a hair mask and apply -- lemon and yogurt, eggs and olive oil, banana and cream, among others.
You can also opt for a hair spa treatment at home to help your hair regain moisture.
How to get rid of stubborn colors
If colours have not been fully removed yet, you can try the following home remedies:
Papaya pack
Mix honey, papaya and multani mitti to make a pack. Apply this pack on areas where colour is still present.
The colour may not disappear in one go but will certainly lighten. Do this every alternate day till the colour disappears completely.
Turmeric and lemon pack
Make a paste of besan or gram flour, turmeric, lemon juice and olive oil.
Like before, apply this pack on areas where colour is still visible.
Gradually, your skin will return to its natural colour and glow and synthetic colours will be completely removed.
WHAT TO AVOID
While taking care of your skin and hair are essential post Holi, there are certain don't as well.
Avoid hot water
Contrary to popular belief, using warm water to remove colours will make it worse.
Hot or warm water will make the colours to stick for longer.
Instead, use cold water only to fast track the colour removal.
Avoid facial and bleach treatments
If Holi colours are visible on your face even after a day or two, avoid the temptation of getting a facial.
Bleach and facial treatments use chemicals and will make your skin more dry and patchy.
They will accentuate the impact of colours on your skin and might cause rashes and irritation.
Avoid them for the initial couple of days.
Try the natural and organic remedies mentioned above.
Lead image used for representational purposes only.