Does looking good in the gym matter?
Yes! says fitness expert Brinda Sapat and tells you just how you can knock everyone's socks off.
Exciting gym wear is a big exercise booster.
When you look good, you are more charged up, hold yourself up better and feel more confident.
The choices available are aplenty; and here are a few guidelines to make sure you pick the right stuff for yourself. Read on...
Wear form-fitting pants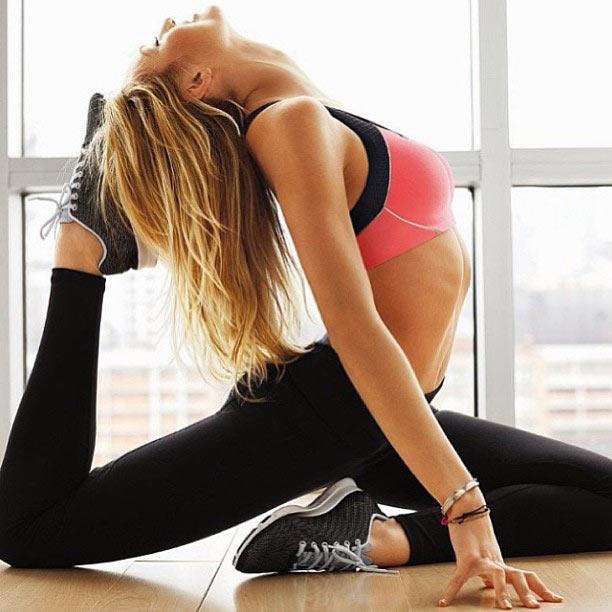 Posture and technique are key elements of exercise and you and the trainer should be able to view them clearly.
Baggy tracks are impossible to tell with. Form fitting will also make you look neater and slimmer; and help you see your weight loss progress.
Photograph: Candice Swanepoel on Instagram
Wear slim-fitting tops or tees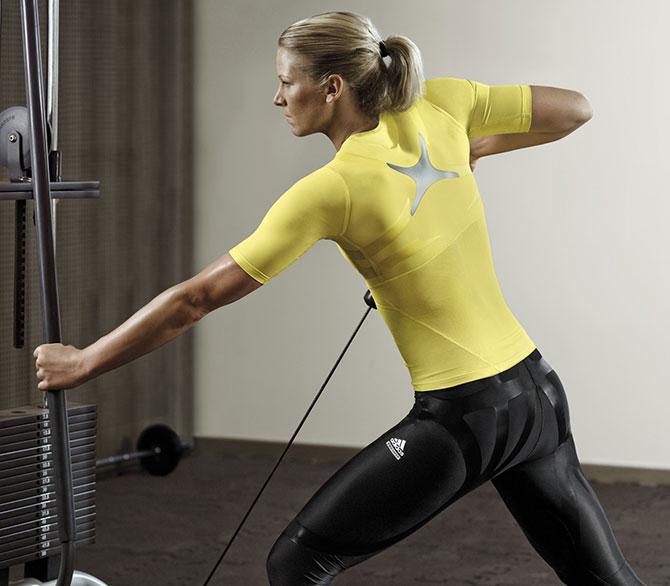 For the same reason you avoid baggy tracks, loose tees do not give you a proper idea of form.
They also look bunchy and untidy.
You can go with tee's that skim the body or skin tight ones.
Photograph: Adifansnet/Creative Commons
Pick dry-fit fabrics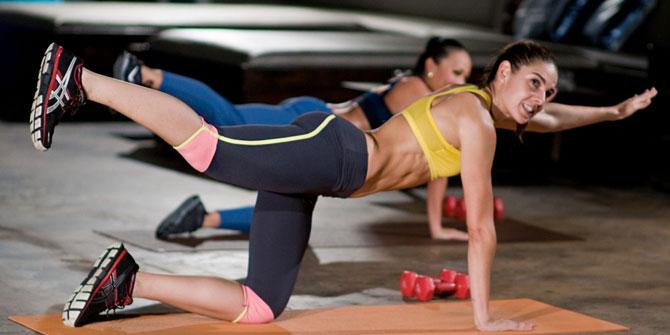 Ordinary cotton will stick to your body as you sweat, making you feel uncomfortable.
Dry fit fabrics are constructed for exercise and sport specifically, to absorb sweat and make you feel dry all the time no matter how much you sweat.
Photograph: Calibe Thompson/Creative Commons
Wear a sports bra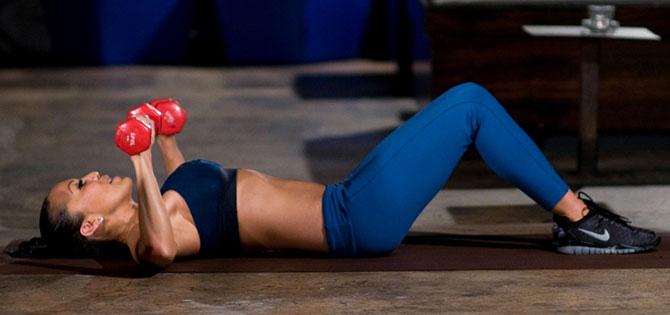 Sports bras are designed to support heavy activity unlike regular bras. Definitely invest here!
Photograph: Calibe Thompson/Creative Commons

Pick a style you love
With so many options available, you are bound to find a style you love... something that you can't wait to wear to the gym.
Try it on to make sure it suits you too.

Go for bright colours


No matter what size you are, a pop of bright colour makes the outfit look really cool.
It doesn't have to be your top or bottoms; you can pick bright shoes, a hair band, or clothes that have bright embellishments.

Wear socks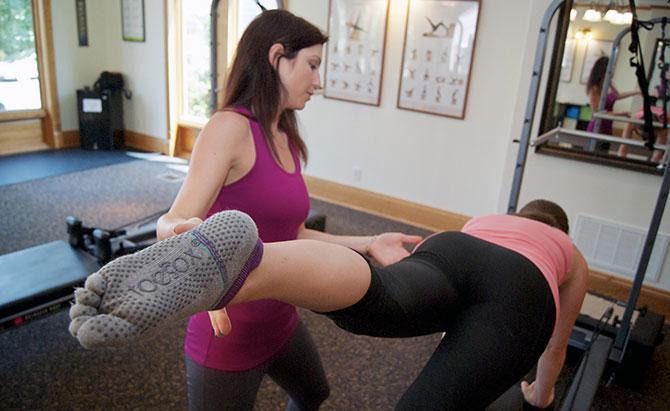 Socks give your feet the much required friction inside the shoe; without which the feet can slip or move around inside losing the support.
This can result in instability and ineffectiveness of the exercise.
Photograph: Lis Ferla/Creative Commons

Buy the right pair of shoes
The shoes you need to wear depend on the kind of workout you do.
Cross trainers work for most.
If you do a lot of aerobics classes, you need to find cross trainers that have more cushioning under the front part, just under the ball of your foot.
If you run a lot, get running shoes.
Deo
Keep yourself smelling good while you workout as courtesy to others and yourself! Choose a fresh smelling, long lasting one.
Jackets or cover-ups
After a big sweaty workout, the body is hot.
Sudden exposure to cool air will make you feel a chill and catch a cold.
Cover up soon as you have finished with a gym jacket.

Gym bag
A smart gym bag completes the look.
Get a mid-sized one that can fit in everything neatly.
Oversized or tiny ones look out of proportion.
Towels
Carry a hand towel with you when you work out to wipe off the sweat and look clean.
Get one that compliments the colour of your clothes.
Gym-style hair
You do need to keep your hair away from your face and neck but glam it up instead of the boring old ponytail!
Try a one sided braid, a messy bun, a funky bandana, glittery hair pins; anything you love.
Make-up
While bare skin is best to avoid the pores from clogging; you can wear make up to the gym.
Skip the foundation and compact.
Use a concealer to hide any spots.
Go for a cheek and lip tint with a cheek and lip stain, a non sticky lip gloss and a sweep of transparent mascara.
Then the workout will add more colour to your face!

Best gymwear brands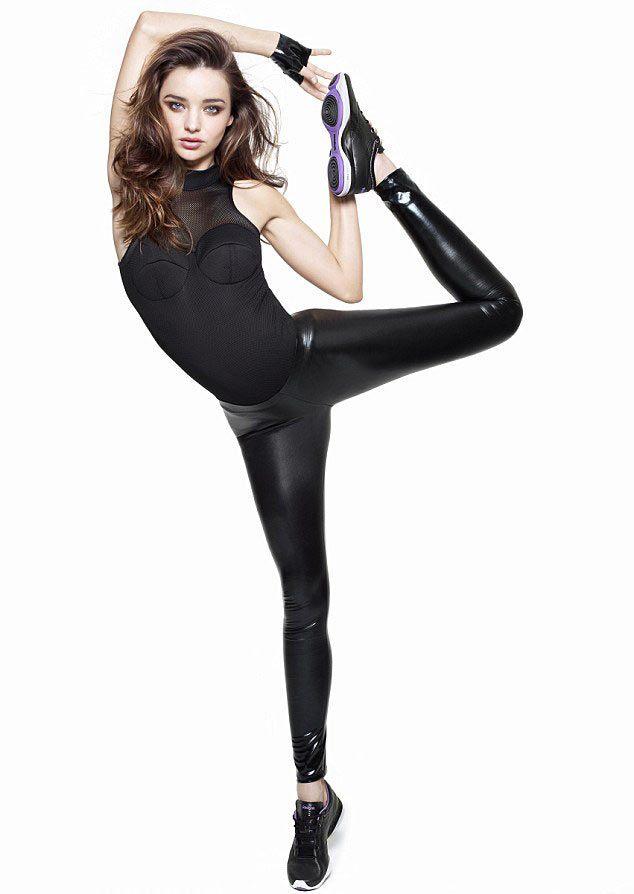 Nike, Reebok and Adidas are the best brands locally available.
They have a dry fit range, are extremely durable and have a good selection.
Reebok has many fun tops to choose from.
These are expensive brands. A lot of regular clothes stores also make a line of gym wear.
These are more reasonably priced.
You need to select carefully, looking for more flexible sturdiness and good quality.
Gymwear should be able to withstand a lot of movement and wear and tear, so stay clear of low quality gear.
Photograph: Miranda Kerr for Reebok