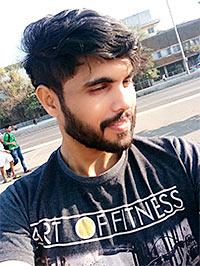 Mumbai-based businessman Abhishek Horilal Chauhan (now 27) was 100 kilos at 18.
He was determined to lose weight... and in just two months he lost 25 kilos.
Unbelievable, isn't it?
Well, read his inspiring weight loss story here. You can share yours too!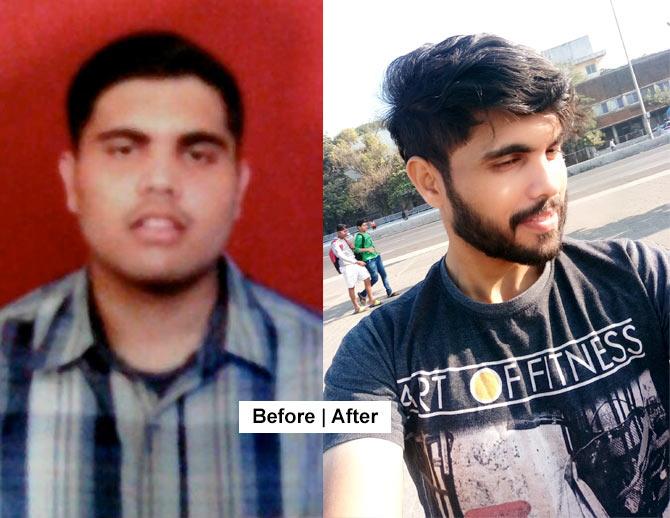 Photograph: Kind Courtesy Abhishek Horilal Chauhan
Being 100 kilos at an age of 18 was quite embarrassing.
I wanted to lose weight but I wasn't motivated enough.
I went to gyms, but I only did weights training. It just pumped up my muscles over my body fat. And that made me look even bigger.
Eventually, I started to think that I would never be able to lose weight and that's how I would die.
But then an incident changed my life completely.
In 2007, when my relatives had come to visit me, a distant cousin of mine exclaimed in front of all, "Bhaiya (brother) how come you are so fat? Why don't you lose weight?"
It was really humiliating. I was discouraged a bit, but it also helped me make up my mind to lose weight.
I had around two months in hand before my college started.
I started going to the gym regularly. This time, I indulged in cardio workouts too.
I used to go regularly to the gym -- for six days a week -- for one hour and 25 minutes.
I devoted 25 minutes to cardio training and the remaining time I would be in the weights training section.
There was a strict diet routine too. I started my day by drinking one litre of lime juice.
Right after that, when I went to the gym, I finished another litre of lime juice. It kept my body hydrated and as it's acidic in nature, it helped in digestion.
For lunch and dinner, I ate two chapatis and dal with veggies.
My mid-day meal and evening snacks used to be unsalted popcorn and a glass of Tang. As I stopped taking tea and coffee, this was my only source of sugar.
Twice a week, I had a bowl of chicken curry.
I completely quit eating rice and junk food. I missed having my favourite vada pav -- which I would earlier indulge in at least seven to eight times in a week -- and bakery products.
So I ended up eating a small piece of dark chocolate, once in three days.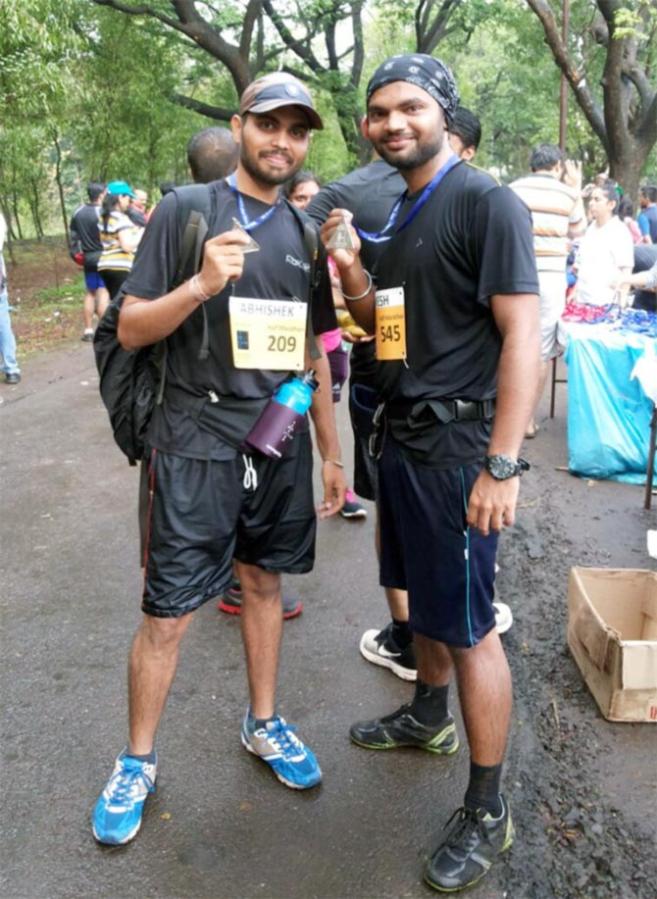 IMAGE: Abhishek poses with his medal received at the Running and Living Marathon in Mumbai. He is accompanied by his college friend Umesh Mishra (right) in the picture above. Photograph: Kind Courtesy Abhishek Horilal Chauhan
Within two months, I lost a whopping 25 kilos. My weight reduced to 75 kilos, but I still wanted to lose another 10 kilos.
Although I was regular at the gym, it was getting difficult for me to lose more weight as I hardly got the time to do cardio workouts.
Moreover, life got hectic as I had to go to college and take tuitions.
After a few years, when I got done with my diploma and degree course, I started going for a run every day. I was 25 then.
Initially it was very difficult to run for a long stretch. Gradually, I picked up pace and ran for 5 km and later 10 km in a day.
Not only did it keep me fit, but my body posture improved too.
I could run around 55 to 60 km in a week. I stopped running on treadmills.
I now weigh 63 kilos. Recently I took part in the Running and Living Marathon in Mumbai organised for a cause. I covered 21.1 km in one hour and 37 minutes.
Even today, in order to be fit, I make sure that I regularly go for a run and follow my diet regime religiously.
The only change I have brought in my daily routine is that I eat out on Sundays.
But on Mondays, I run a little more to keep my weight under check.
ALSO SEE
#FatToFit: How I lost 36 kilos in 7 months
Weight loss: 'I lost 44 kgs in 10 months'
How Arjun Kapoor went from fat to fit
Have you recently lost weight? We want you to share your weight loss story with us.
Write in to getahead@rediff.co.in (subject line: 'Fat to Fit'), with a before and after photograph, if possible, and we'll feature the best entries right here on Rediff.com!