We'd asked you, dear readers to share your weight-loss story.
Rediff reader Sitaram Phadke from Dombivli, Mumbai tells us how he shed those extra kilos.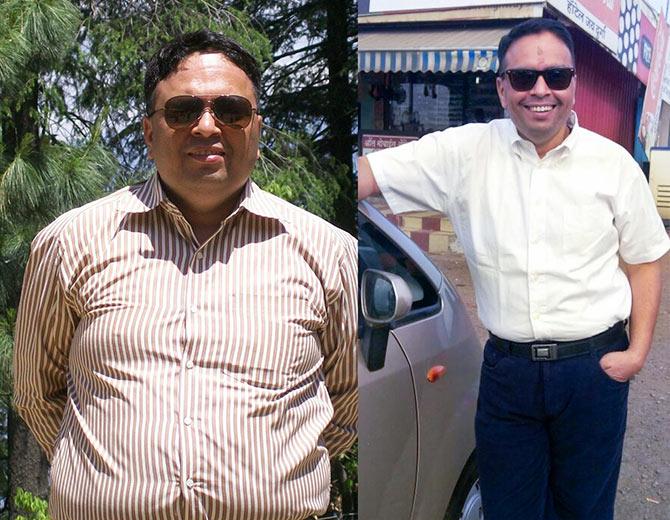 Photograph: Kind courtesy Sitaram Phadke
I am 43. I have been working as a sales professional for the past 15 years.
I have been fat since childhood and weighed around 103 kg. My height is 5'7".
I never tried any method to lose weight, but I'd run at least 3 times a week.
Motivation
During my school's alumni meet, my school mates clicked some photographs.
When I saw my photo, I was shocked. I realised I was too fat and need to lose weight.
I was 103 kg in April 2017.
I contacted Dr Meenal Mulherkar from Kolhapur. She was my school friend and wellness consultant.
I requested her to guide me. As I knew her since childhood I was sure her advise would definitely work. And it did.
For weight loss, your diet contributes 60 per cent, exercise is 20 per cent and consistency in both is 20 per cent.
Dr Meenal took details of my diet schedule along with few blood tests.
She gave me a weekly meal plan. At the end of each week, she noted details like weight, body measurements and even took photographs.
Accordingly, she made changes in the meal plan.
I'd run for 5 km daily along with HIIT (high intensity interval training) training.
The rule was simple -- no sugar, no fried food and follow meal plan.
Meal Plan
Post workout: Whey protein
Breakfast: Eggs/ cheese, cucumber, peanuts
Lunch: Egg bhurji/ soya /paneer bhurji
Snack: Protein biscuits/ cheese
Dinner: Egg bhurji/leafy vegetables with rice or roti
Along with this plan, I had to intake sufficient water daily along with 8 hours of sleep.
I kept track of my weight on a daily basis.
With perfect advice from Dr Meenal, support from my family, my wife and my mother, and consistent efforts, I lost 24 kg.
My weight is 79 kg and the journey is still on.
The challenges
The first 15 days were very difficult. I was not able to cope up with the newly designed meal plan with no sugar and less oil.
After 30 days, I saw my waistline reducing, clothes getting loose. Watching comparative photos helped and motivated me.
After nine months, my waistline reduced from 44" to 38".
A lot of positive things have happened due to my weight loss.
I feel more energetic and get compliments that I am looking younger.
My success mantra is: Maintain discipline in diet and exercise.
Don't give up. Don't allow anyone to divert your mind from your goal.
Tips
If you are tired of carrying your weight, you need carry your own lunch box.
Don't give up. You will not lose your fight against obesity unless you give up.
Follow your meal plan and exercise.
---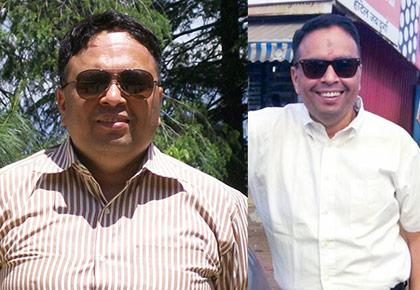 Reader Invite
Have you recently lost weight? We want you to share your weight loss story with us.
Share your detailed diet plan, tips and advice with our readers.
Write in to getahead@rediff.co.in (subject line: 'Fat to Fit'), with a before and after photograph, if possible, and we'll feature the best entries right here!