Rediff reader Jay Talsania, 22 from Andheri, Mumbai shares his weightloss journey.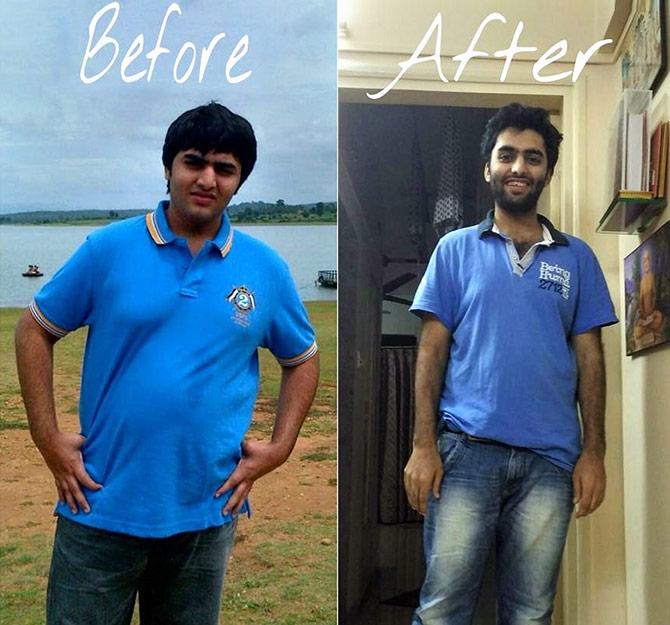 My name is Jay Talsania. I am 22.
I am working as a graphic designer at Swabhav Techlabs in Mumbai.
I was normal and light weight at birth. I gradually got obsessed towards food.
As my tastes and diet changed, my body went out of shape. My cravings also improved.
I started having fast food for breakfast, lunch and dinner.
At one point, I had made my mind to consult some doctors but couldn't go ahead.
I thought of taking steroids too, but couldn't.
When I realised I was struggling to move from my bed, I made up my mind. I opted for the safest idea -- workout.
I remember that I once went for a spiritual pilgrimage. It was the Sammed Shikharji mountain.
I started climbing the mountain with above 2,000 steps at early morning and ended the journey late evening.
The entire journey took me seven days and I cherished them all.
On my way home from the airport, I felt lighter. But a question lingered on.
Did I really reduce or it was my assumption?
It was a dream come true for me.
I weighed 104 kg before. After two years of efforts it came down to 76 kg. I lost 28 kgs in two years.
Diet
Four almonds soaked overnight almonds every morning
Breakfast: A bowl of roasted makhana with regular breakfast
Lunch : Three chapatis, 2 bowls of dal and 1 bowl of vegetable along with salads. Two glasses of buttermilk or 1 bowl of dahi
Snacks : Any one seasonal fruit with 2 walnuts, pistachios, cashewnuts and a handful of peanuts.
Dinner: One bowl of kidney beans or black beans, 2 bajra chapati; 1 bowl of green vegetables, juice or soup.
Besides these, I included the following in my diet:
One spoon of flaxseeds after lunch and dinner
Matar paneer twice a week for lunch or dinner
One cup of green tea before sleeping
6 to 7 litres of water every day
The challenges
The main challenge was I had a bulky body which took longer to shed weight.
Few days after I lost weight, everyone in the building I stayed in wanted to know about my transformation.
Tips
Never give up and give your best shot.
Keep working harder and harder and you would get your results.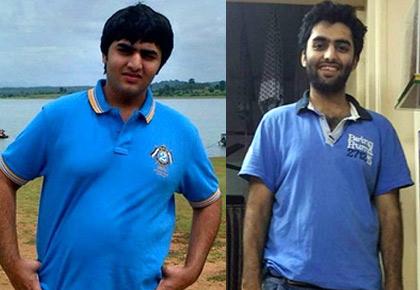 Reader Invite
Have you recently lost weight? We want you to share your weight loss story with us.
Share your detailed diet plan, tips and advice with our readers.
Write in to getahead@rediff.co.in (subject line: 'Fat to Fit'), with a before and after photograph, if possible, and we'll feature the best entries right here!
Earlier in this series: How Sitaram Phadke lost 24 kilos in 9 months