Satyendra Sahay from Jamshedpur lost 24 kg of body fat in six months by just changing my food habits and style. This is his inspiring story.
If you too have recently lost weight, you can share your story with us.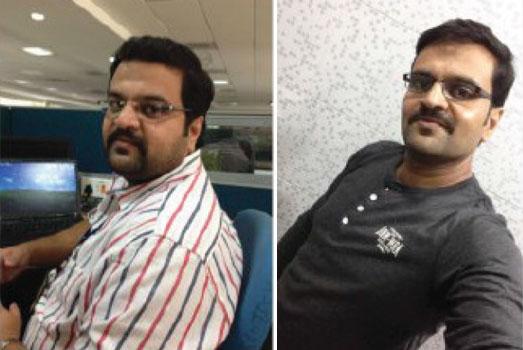 I have been working as an IT professional for the past 13 years.
I have a sedentary job. For 10 years, I have been fat and weighed around 100 kg. My height is 5'10".
I tried all methods to lose weight -- exercise, sauna belt, morning walk, (drinking) warm water with lemon and honey --- after seeking advice from every one. But nothing helped.
Motivation
I developed back pain in April 2016.
My doctor advised to lose weight and maintain correct posture while sitting on chair for long hours.
I have an 18-months old daughter. I wanted to run and play with her. I want to enjoy life with my daughter.
I decided it was high time I lost weight.
After detailed research on the Internet and with some help from my colleague Ravneet, I realised the following:
For weight loss, diet contributes 80 per cent, exercise only 20 per cent.
Spot reduction is a myth.
The concept -- you can eat whatever you want if you are working out -- is wrong.
Kitchen contributes more to building abs than the gym.
To maintain my body weight of 100 kg, I required 2000 calories / day.
To lose 1 kg of body fat, I need to create a calorie deficit of 7000.
My approach
I applied simple mathematics. Consuming less than 2000 calories /day will reduce my body fat.
I reduced my calorie intake to 1200/day.
I chose foods which were less in calories and more in volume. Again, the Internet helped me in selection of such food items.
The rule was simple -- no sugars, no fried food and less grains.
I made a note everything I had throughout the day.
There are many free applications you can take help of. If you enter the food item, it will give you the calorie count.
To increase my metabolism, I increased my numbers to 6 meals a day.
Support from family
I am blessed to have a supporting family.
My wife, Amrita always packed a lunchbox for me. As I had to eat every three hours, I'd carry a meal box whenever I stepped out.
The challenges
The first 15 days were very difficult. I was craving for junk food.
There was some negative criticism too.
Why are you doing this? You will feel weak etc etc.
Why don't you go for morning walk?
As per the Internet research, running for 1 hour will burn 600 calories, walking will burn 200 calories only.
Consuming fried food items like 1 samosa /1 paratha will add up 200 calories. Same goes with rosogullas (my favourite).
When you lose muscle mass, you will only feel weak. On an average, if you lose less than 6 kilos/month, it is absolutely safe.
I had enough proteins and vitamins in my diet. I only cut down fats and carbohydrates.
After 20 days, I saw my waistline reducing, clothes getting loose.
With results, my motivation grew.
After six months, my waistline reduced from 38" to 32".
A lot of positive things have happened due to my weight loss.
My ailments and diseases have vanished or reduced to negligible levels. People at work and elsewhere have started asking me my diet plan and approach.
I have guided at least 10 people, but only person, Ranjeet Sinha took my advice seriously.
Ranjeet has lost 11 kg in two months.
My success mantra is simple -- discipline your mind, your body will naturally follow.
Reader Invite
Have you recently lost weight? We want you to share your weight loss story with us.
Share your diet plan, tips and advice with our readers.
Write in to getahead@rediff.co.in (subject line: 'Fat to Fit'), with a before and after photograph, if possible, and we'll feature the best entries right here!