Rediff reader Anish Kumar, 26, who weighed 105 kg tells us how he rose from being bedridden to a fitness freak.
You too can share your weight loss journey with us.
I was born in Punjab but did my schooling and college from Delhi.
I'm currently business manager at a multinational company in Mumbai.
How I gained weight
When I was in school, I used to be very good at cricket.
I even thought of pursuing it professionally. But in 2009, when I was in class 11, I met with an accident and I broke my left ankle.
Due to a minor mistake while treating the fracture, my ankle didn't recover normally and took longer than usual.
In the next 15 months, I gained enormous weight. In a Punjabi family, eating ghee and sweets (Panjiri, for example) are considered good for giving strength.
At the start of my graduation year (2011), I found myself weighing 105 kg.
The incident that changed my life
I made minor changes to my diet and started playing again. It took me around 2.5 years to lose approx 20 kg.
When I signed up for MBA in 2014, I didn't keep track of my food and indulged in pizzas, burgers and coffee.
It wouldn't be wrong to say that I survived on fast food for two years. It affected my health badly.
In 2016, when I got my first job and moved to Mumbai, I continued my unhealthy lifestyle. Until one day, I was rushed to hospital.
In May 2017, I had a mild attack of pancreatitis.
After multiple tests, it was concluded that I had very high levels of lipase and amylase.
Doctors were surprised to come across a non-drinker like me, to suffer from pancreatitis.
The treatment went on for months. I was fed up of living on medications and didn't want to depend on them.
I decided to take control and be my fittest best.
Inspiration to lose weight
The most difficult part of being overweight was I could not play the way I used to.
Coming from a sports background, I have never liked myself underperforming, but since I was overweight, I didn't have the stamina to sustain in the field.
I used to feel lethargic in my day to day life as well.
Diet plan
Breakfast: Ginger tea/black coffee, peanut butter-brown bread sandwich or muesli+oats+skimmed milk or upma
Lunch: I bowl brown or white rice, dal, sabji, salad and yoghurt
Dinner: 1-2 rotis, dal or tofu/paneer bhurji
On my cheat days, I go out for lunch/dinner with my friends. I ask them to order anything from the menu.
This way, I not only get to taste different cuisines but also break monotonous eating routines.
Workout
I used to perform weight training followed by cardio. But I changed my workout schedule to challenge myself and push my fitness to its extreme.
I joined Crossfit where every day, I got to do a different workout.
Fitness formula
It's 100 per cent workout. 100 per cent diet. 100 per cent rest.
You have to keep pushing yourself every single day.
How I stayed motivated
I remembered those two weeks after coming back from the hospital. I could not even stand properly.
Even walking from one room to another was a task for me. I didn't want to live on medications.
Adopting a healthy life is a great stress buster for me. It is like meditation.
For that one hour, I don't even touch my phone. I keep my eyes on the whiteboard (where names of top performers are mentioned) and on workout timer.
Having abs or chiseled physique is just a byproduct of a healthy lifestyle. If you enjoy the process, you'll get the results.
Lessons learned
We all are products of our choices. We all can go beyond our mistakes and past. All we have to do is to take a STEP.
Advice for readers
Be consistent
Enjoy the process. Results will come.
Do not fall for marketing gimmicks displayed in ads. Every individual is different and will have different results.
Earlier in this series: How a 2-yr-old inspired her father to lose weight
---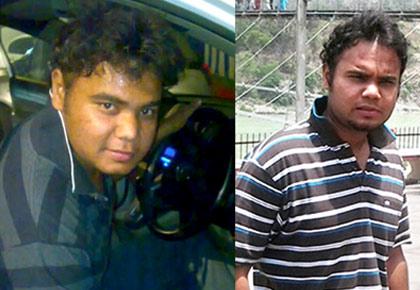 Reader Invite
Have you recently lost weight? We want you to share your weight loss story with us.
Share your detailed diet plan, tips and advice with our readers.
Write in to getahead@rediff.co.in (subject line: 'Fat to Fit'), with a before and after photograph, if possible, and we'll feature the best entries right here!