We Indians love our chai, so much, so, how do we lose weight at all?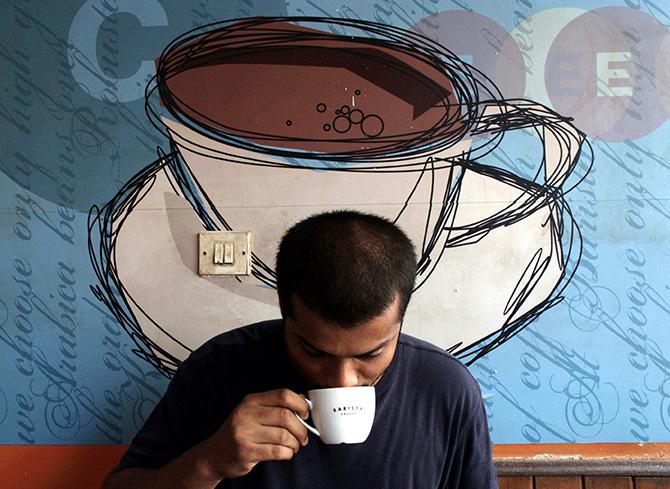 Like every other Indian woman, I put on loads of weight during my pregnancy and had a tough time losing it, despite trying every diet plan on the planet.
I also tried various exercise programmes for speedy weight loss. From spinning to cycling to running -- I tried everything but nothing seemed to be working and that's when I realised that what I was doing it all wrong.
So while I was having small meals and keeping away from junk, I was munching on digestive biscuits whenever I felt the hunger pangs.
Similarly I was avoiding rice and other carbs, but having a very late dinner.
However, once I came to know of my diet habits and put a cap on it, I lost around 10 kg in four months flat. That too with very little exercise.
During those four months I came to know that there are many Indian habits we follow that ruin all our weight loss efforts.
Here are 8 Indian habits that are contributing to your weight gain in some way or the other.
1. Skipping breakfast
I have seen many mummies completely skipping dinner saying that they will have a heavy lunch and substitute for the missed calories.
Instead they would have a cup of chai (tea) or doodh (milk) and think it's completely normal to skip breakfast.
This is wrong.
Your breakfast is your first meal of the day and should be filling one. This is the time for you to have an oil-free parantha, poha, upma, dosa, and other Indian delicacies that you like.
Add one helping of fresh fruit as well and you are set for the day.
2. Having a very heavy lunch

We Indians love to have our dal-chawal (dal-rice) and love to have it every day.
While there is no harm in having rice for lunch, you don't need to make a little mountain of rice on your plate.
Have a balanced meal comprising one bowl of dal, half a bowl of rice, 1 roti, dahi, and salad. Make sure that you don't overeat.
3. Having an even heavier dinner at 11 o'clock in the night
Dinner should be the lightest meal of the day.
Experts have told us time and again, but we can't do without our rotis, dal, sabji and chawal.
You should be having not more than one roti at dinner along with a bowl of dal and sabji. But what actually matters is the time at which you are having your dinner.
I have seen many people having dinner as late as 10 and even 11 in the night and they hit the sack immediately after that.
This should be avoided at all costs and your last cut off dinner time should be no later than 8 pm. In fact, the sooner you have dinner, the better would be your weight loss.
4. Skipping dinner altogether
And then there are some who skip dinner altogether thinking that it is making them put on weight.
This is another habit that does more harm than good to your weight loss plans because your dinner is the last meal of the day before body stays hungry for around 10 to 12 hours.
5. Munching on namkeens (snacks) during the day
We Indians love our snacks and the diet conscious stick to homemade snacks thinking that they are healthy.
That is not true; even homemade namkeens contain a lot of salt. Too much salt makes your body retain water and leads to unnecessary weight gain.
6. Treating fruits as an add on snack
Fruits such as apples, watermelons, papaya, and bananas can make a complete meal for you and you can actually have a fruit for dinner. So give up this Indian habit of treating it as a mere add on.
Have a freshly cut fruit for dinner. Add a glass of buttermilk or plain milk and you're set for the night.
And don't juice it. Have a fruit in it its most natural form as it gives your body the much-needed fibre.
7. Drinking chai throughout the day
We love to have a cup of masala chai at almost any time of the day.
While a cup of chai with a teaspoon of sugar is fine two times a day, having cups and cups of chai would add unnecessary sugar to your diet.
8. Having a lot of processed food
Always remember that anything that comes from a packet is a processed food and has some or the other form of preservative, no matter how it is marketed. So, while you think brown bread and whole wheat bread is good to have on a diet, let me tell you that you're wrong.
Same goes for fruit juices, biscuits and other items that have "no preservatives" written on the pack.
Weight loss can be a trying journey for many, but you can achieve your goal if you follow a plan and stick to it for a month if not more to see if it works for you or not.
Eat fresh, home-cooked meals more often and give yourself that much-needed cheat day by binging on the foods that you like. Also, stick to your desi Indian food instead of going for low fat, preservative free diet food.
Lastly, don't treat weight loss as a battle, take it as something that would make you fitter and healthier and am sure you will hit the Bull's eye.
Lead image used for representational purposes only. Image: Adeel Halim/Reuters
Courtesy: