These super cool workout regimes will burn those tough body fats faster.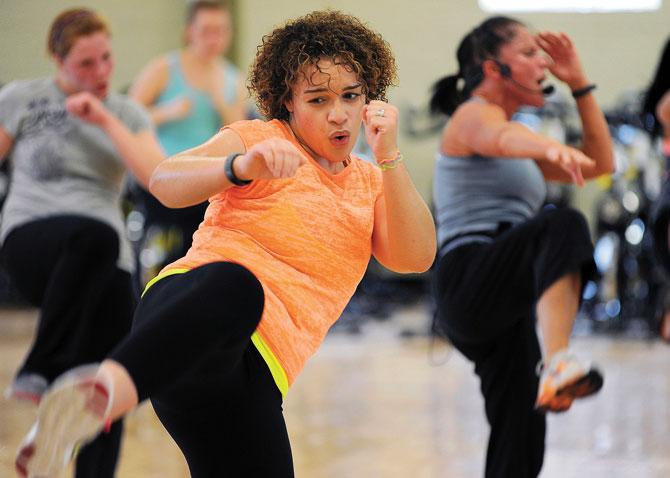 IMAGE: Kick out those extra calories. Photograph: Joint Base Lewis McChord/Creative Commons
Remember when people simply headed out to the gym to pump iron or the local running tracks to feel the burn of a nice, long run?
Of course, most of us still do that, but over the years there has been a rise in new fitness trends, simply because people are easily bored with the usual, more traditional methods of working out.
And, if you're one of them, we suggest five of the most popular, upbeat workout trends, that will keep you enraptured and on your toes.
1. CrossFit
This fitness trend dates all the way back to the year 2000.
The concept was founded by Greg Glassman and is one of the most popular workouts amongst those who want to build up their stamina.
CrossFit workouts consist of a combination of Olympic weightlifting, gymnastics and high-intensity interval training, which makes for a highly competitive workout. These workouts are fast paced and are usually a mix of aerobic exercises.
Equipments for CrossFit usually involve the use of dumbbells, barbells, pull-up bars and medicine balls among others.
However, you need to maintain a certain level of caution while doing CrossFit.
The techniques and exercises could cause some serious injury if not done right.
2. Functional Training
Functional training involves functional movements as workouts which help in improving your overall strength and balance.
It gives your whole body a workout and builds muscles that you use on a daily basis. Its branches off from rehabilitation methods by therapists and chiropractors, who used this approach to train patients with movement disorders.
It provides you with strength, stability, mobility, endurance and flexibility.
The workouts are tailor-made for each individual and depend on the needs of their body.
The biggest difference between CrossFit and functional training is that in functional training you will not be using equipments or weights.
Many of the workouts in functional training require you to use only your body weight.
If you need a challenge you can incorporate weights. These workouts are limited and depend on what your physical abilities are. This type of training also reduces most chance for an injury.
3. Kickboxing
Developed from Karate, Western boxing and Muay Thai, Kickboxing is a group of stand-up combat sports based on kicking and punching.
It is practiced for self defence, general fitness and as a contact sport. Its techniques involve punching, kicking, knee and elbow strikes and defence.
Although kickboxing can be a lot to handle, it serves as a great form of cardio.
Originating in Japan in the 1960's, it is used by athletes, models and laypeople alike as a means of intense activity which burns oodles of fat and helps in breaking out a sweat.
However, keep in mind that this form of workout does not come sans injury and will involve making some diet and lifestyle& alterations.
4. MMA (Mixed Marshal Arts)
This one is no child's play. It is a full contact combat sport which mixes a myriad of martial art forms such as Thai kickboxing, Brazilian Jiu-Jitsu, Judo, Karate and Jeet Kune Do among others.
Considering that it applies principles from so many different martial art forms, MMA guarantees a build in discipline of the mind and body.
Those who practice it are usually expected to eat right, sleep well and train diligently in order to succeed.
If you've ever noticed someone who practices mixed martial arts, you'd know that they have some of the best physical forms out there. It's because just doing 3 to 5 minutes of boxing and grappling provides them with almost an hour of cardio.
5. HIIT (High Intensity Interval Training)
High Intensity Interval Training (HIIT) is a workout that involves high-intensity workouts interspersed with short intervals of low intensity workouts. It is considered to be more effective than cardio activities such as running because the intensity is higher.
A single session usually lasts for close to 30 to 40 minutes and comprise of a warm up session, high intensity exercise repetitions, medium intensity exercises and finally a cool down period.
So, if you incorporate running into your workout, you could be doing 30 to 40 seconds of hard sprinting and alternate it with 15 to 20 seconds of jogging or walking.