Getting into shape is one of the most popular New Year resolutions.
But how do you give up everything you've been doing all year and suddenly start a new regimen?
Dhruv Gupta, founder of weight loss programme, Fitho.com tells Rediff.com how to how to warm up your body so you can hit the ground running on January 1.
Ready?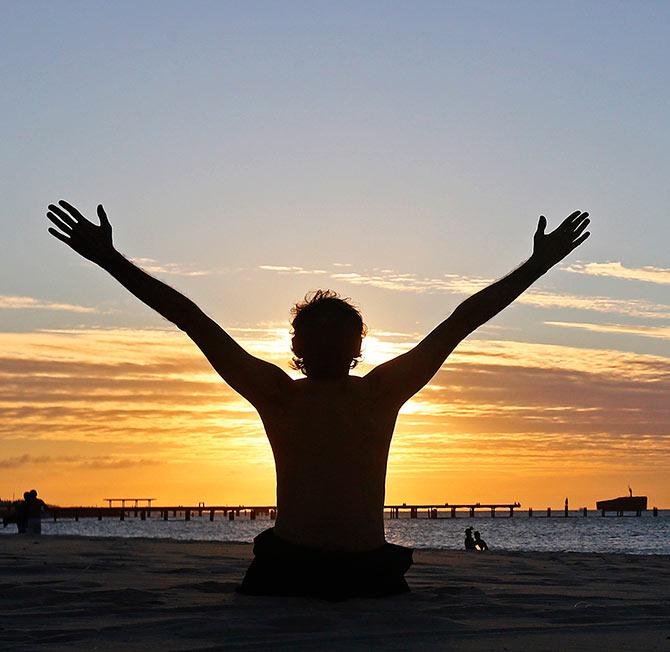 Everyone wants to get fit in the New Year, right?
If you've been there and tried that you'd probably know that this is easier said than done.
Your body has been conditioned to a certain routine that goes back months if not years.
Getting into a new routine is still a long way off; your first challenge will be to break your old routine.
Use the coming weeks to do just that so on January 1, you can kick start your new fitness regimen.
Here are five really simple ways to get ready for a fitter 2015.
1. Start walking
There's nothing quite like a brisk walk.
If you can't wake up in the morning, go for a 20-minute walk in the evening.
Start by doing it two to three times a week so you get into the groove.
Walking is a passive exercise but for a couch potato, this is a great beginning.
If you have been working out off and on, try doing something slightly more intensive.
Do a quick 10-minute home workout -- go for jumping jacks, push-ups, or a round of skipping.
If you can squeeze in, add squats too. If you find push-ups too difficult, try knee push-ups.
2. Start your day by drinking water
Target to have at least two glasses of water the first thing after you wake up.
Water plays an important role in most bodily processes.
Since you've most likely not had a lot of it during the time you've slept, these processes tend to slow down.
Drinking water helps kick-start these processes and therefore your metabolism too.
3. Replace one cup of tea or coffee with green tea
Green tea is a better replacement for tea or coffee.
It has the caffeine and a lot of anti oxidants.
It is typically had with no sugar and no milk.
So it is a nice healthy drink to energise you.
Research has shown that drinking two cups of green tea helps is weight loss.
But tell that to someone who is a tea or a coffee addict!
So instead of giving it up altogether start by replacing one cup of tea or coffee during the day with a cup of green tea.
4. Get a weighing scale or a measuring tape
These instruments offer a great reality check.
If you have to start your fitness regimen in the New Year, it would help to know where you stand today.
And while weight is a good way to measure your success (or otherwise) a measuring tape helps you put a number to what you see in the mirror!
Also, when you begin working out, your muscle weight tends to increase and therefore you may not necessarily see the change on your scale immediately.
The measuring tape however will tell you a different story because you will now be getting leaner and more toned. :-)
5. Have one healthy meal a day
Several of us promise ourselves that we will stop eating junk from January 1.
But the fact is that it is difficult to change your dietary routine all of a sudden.
So here's what I suggest: start with one healthy meal a day.
It could be any meal (though it'd be preferred if you start with dinner) but let it be healthy and something that you stick to doing at least a few times a week.
Alternatively, look at eating healthy food throughout the day on any one particular day of the week.
Simple enough?
The key is to start small, take one day at a time and then on January 1 half your battle will already have been won!
Photograph: Yves Herman/Reuters